Today we have some super adorable, but oh so easy mermaid tail cupcakes!
These cupcakes look amazing and professional, but can easily be made from home. These would be perfect for a mermaid themed birthday party.
They would also be a great addition to an ocean themed party!
To make these you do have to get a little creative. For example, we used a few generic sprinkles and created our own special mermaid sprinkle mix.
But you can find some amazing premade mixes too like this one that would really make your mermaid tail cupcakes really stand out!
How We Made Our Own Mermaid Cupcake Sprinkle Mix
To make our own combo of sprinkles we used the following sprinkle mix combo:
You can actually find mini pouches of these sprinkles at the Michaels craft stores for about a dollar each. (At least in our area.) 1 Puch each of the following sprinkles:
light green nonpareils
light green jimmies
light blue nonpareils
light blue jimmies
purple nonpareils
purple jimmies
In case your wondering the difference, nonpareils look like these sprinkles and the jimmies are these ones.
Once you have all 6 of your different types of sprinkles, pour them all in a good sized bowl and mix together.
Once you have your sprinkles ready, you can start making your mermaid tails for your cupcakes.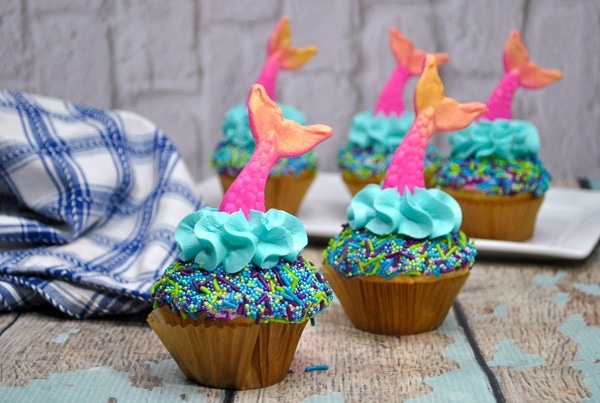 Supplies for your Candy Mermaid Tail
For your mermaid tail, you'll need the following ingredients.
1 Cup of Corn Starch
A food safe paint brush
How to Make Your Mermaid Tails
To make your candy mermaid tails for your cupcakes, you'll want to start by lightly powdering your hands with the cornstarch. This will prevent the fondant from sticking to your hands.
Now start working your pink fondant until it becomes soft and pliable.
Using of the brushes, lightly coat your silicon mermaid tail mold with a bit of cornstarch too (a little goes a long way.)
Grab a tablespoon amount of your fondant and press it into the tail mold. You don't want edges to spill over.
Let your tail sit for 5-10 minutes and then flip it over and carefully work it out of the mold. You can loosen it by pulling away at the edges first.
Continue until you have enough tails for your cupcakes.
Once all of your tails are made, line them up and spray the top of the mermaid tails with your edible gold cupcake spray.
Let your tails dry completely for at least an hour.
Here's a neat little video from Nauty little treats where they show you to actually make multitoned mermaid tails using a similar technique but with multiple colors of fondant.
It'll give you a good idea of how to mold your mermaid tails.
Making Your Mermaid Cupcakes
To make your mermaid tail cupcakes start by making your favorite cupcake recipe. We used a boxed white cake, but you can use any mix or recipe you like!
Making the Mermaid Frosting
The frosting that the mermaid tail sits in really takes center stage in this cupcake recipe. Making it from scratch helps give you a fluffy gorgeous frosting to work with.
Frosting Ingredients:
1 Cup of unsalted sweet cream butter (softened)
2½ cups of powder sugar
1 teaspoon of vanilla extract
3-5 Tablespoons of heavy whipping cream
Pink and Blue gel food coloring
2 piping bag
1 star tip for piping bag
1 Cup of your Mermaid Sprinkle Mix
To Make Your Mermaid CUpcake Icing
Combine the butter, sugar, vanilla and 3 tablespoons fo whipping cream into your stand mixer and mix on medium speed.
If your frosting starts looking like powdery rocks, add another tablespoon of your whipping cream to soften it.
Mix until your see stiffed peaks start to form.
Once the frosting is made, split it into two bowls.
Add 2 drops of each color in their own bowls and mix until the color is completely mixed. You should have pink icing and blue icing now.
Scoop up the pink frosting into on piping bag, and scoop the blue into the other, adding the star tip.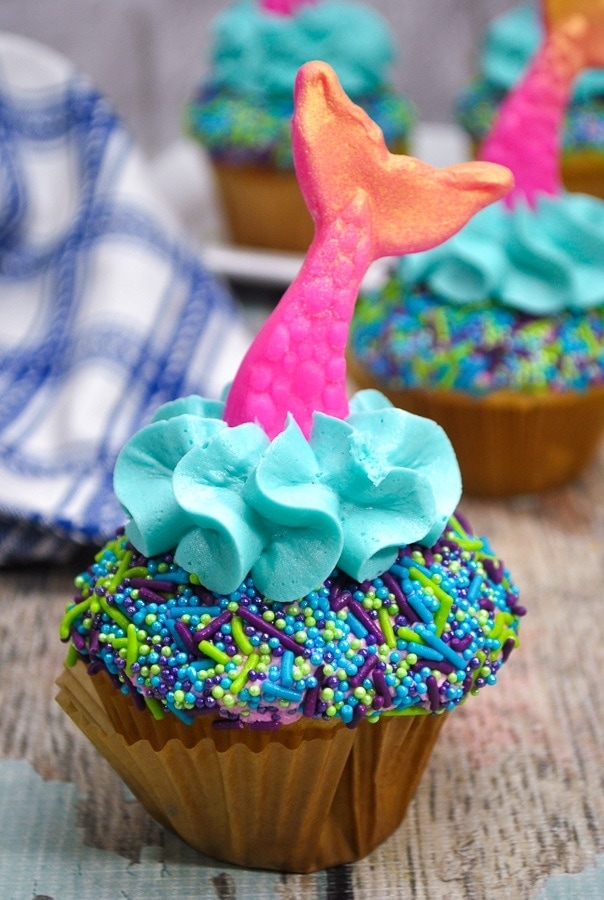 Yield: 18 Cupcakes
How to Decorate Your Mermaid Tail Cupcakes
Prep Time: 1 hour

Active Time: 1 hour

Total Time: 2 hours

Difficulty: Easy

These mermaid tail cupcakes are so much fun and relatively easy to make.
Materials
Favorite premade cupcakes
Finished candy mermaid tails
Pink frosting
Blue frosting
Mermaid sprinkle mix
Tools
Mixing bowl
Piping bags (2)
Star tip for piping bag (1)
Instructions
Now is the fun part! Piecing all of your cupcake parts together to make your mermaid themed fun!
Using the pink frosting, pipe a medium size dollop onto the top of each of your cupcakes
Use a silicone spatula, smooth the frosting over the top of your cupcakes.
Dip the top of your cupcake into the mermaid sprinkles to give it a coating of mermaid colors.
Now, using your blue frosting, pipe a good sized dollop into the center of your cupcake.
Now insert your candy mermaid tail into the center of your blue frosting.
Enjoy your mermaid themed cupcakes! I know they'll be a hit.