Looking for some fun DIY bookmarks for kids? Then these bookmark crafts are perfect to get you inspired and crafting!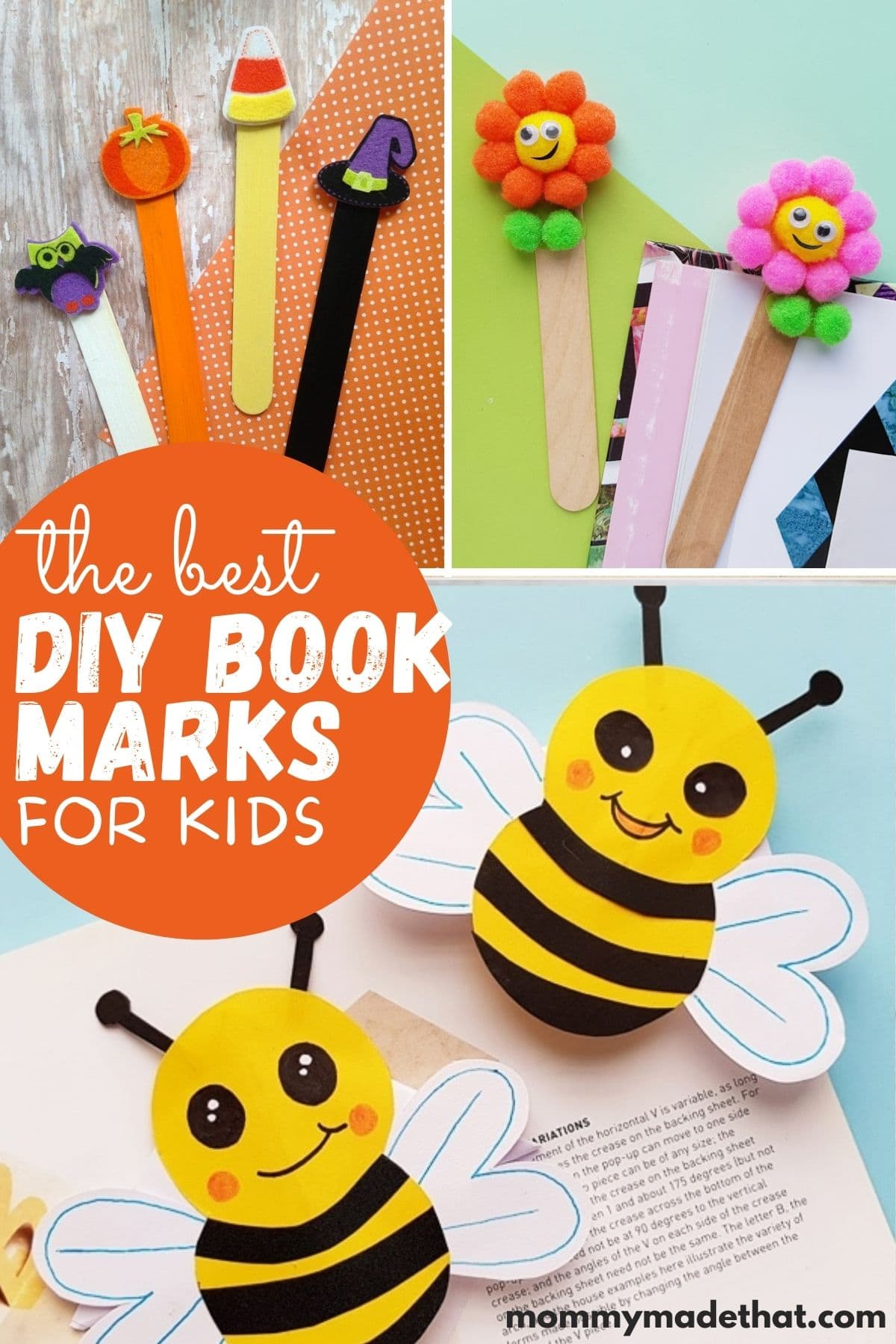 We love making useful crafts and we've got lots of cute DIY bookmarks on this site!
So if your looking to create cute bookmarks or just looking for some inspiration on making your own handmade bookmarks, you've come to the right place.
Flower Bookmark Craft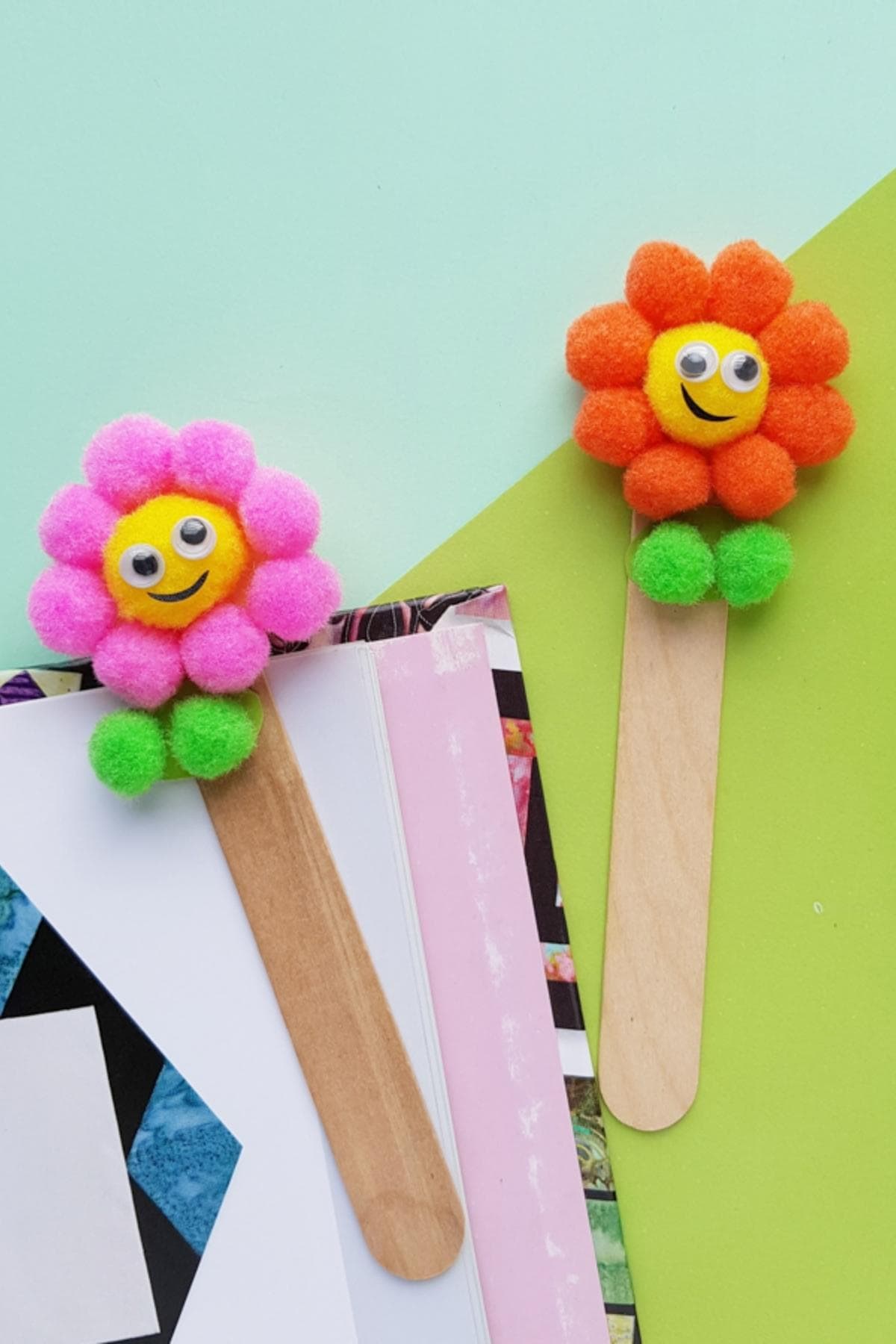 These uber cute bookmarks are such an easy DIY bookmark and a wonderful spring craft idea for kids.
The colorful pom poms form a simple and easy flower on top of a popsicle stick.
Kids can make a ton of these bookmarks with just a handful of the pom poms. You can find the full pom pom flower bookmark craft tutorial here.
Ladybug Bookmark Craft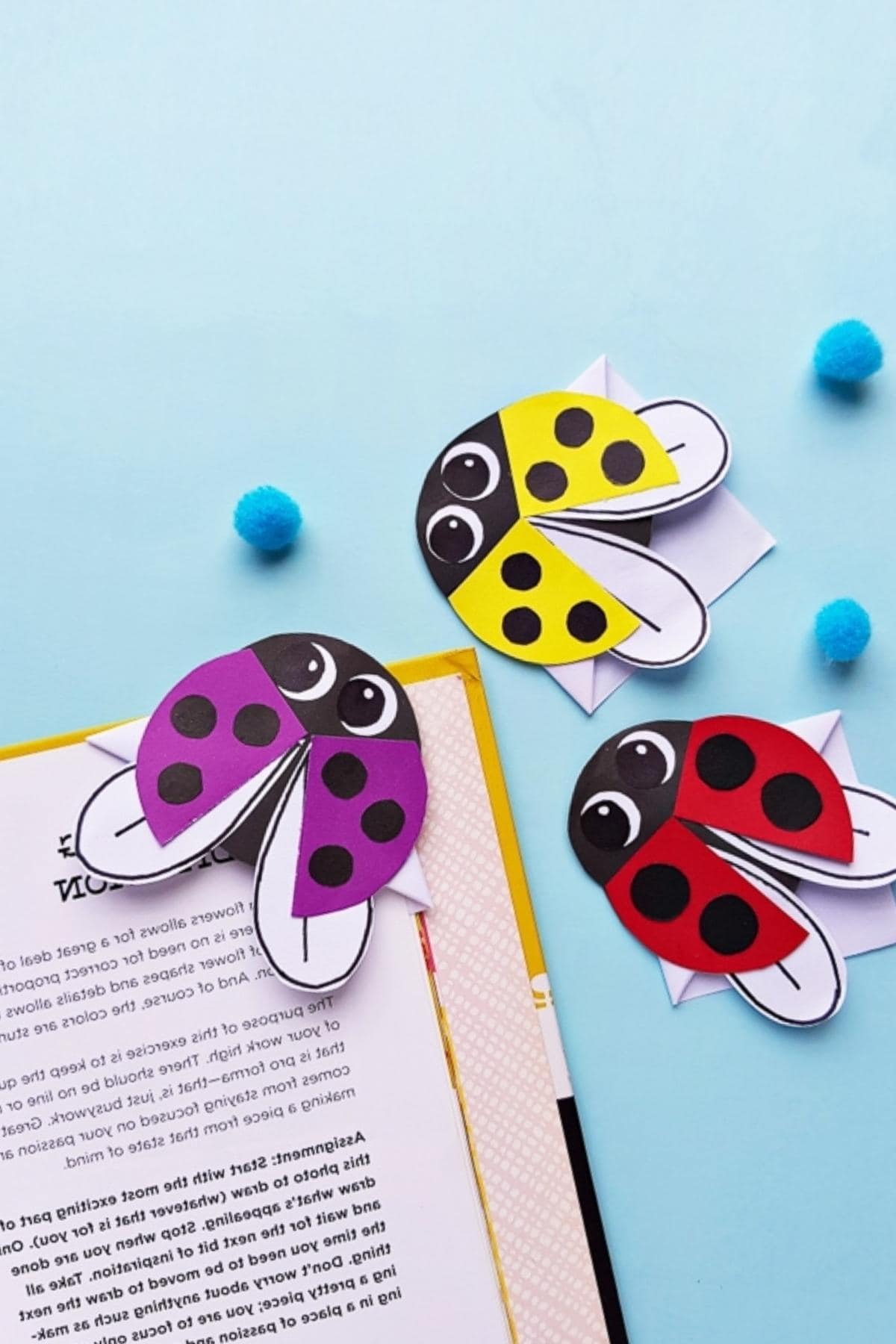 These DIY ladybug bookmarks are created using an origami corner bookmark.
You create the base for the corner bookmark, and then print out the free bookmark template to make a gorgeous bookmark kids will love to make and keep, or give as gifts.
And if you like ladybugs, we've got lots of great ladybug craft ideas.
Angel Bookmarks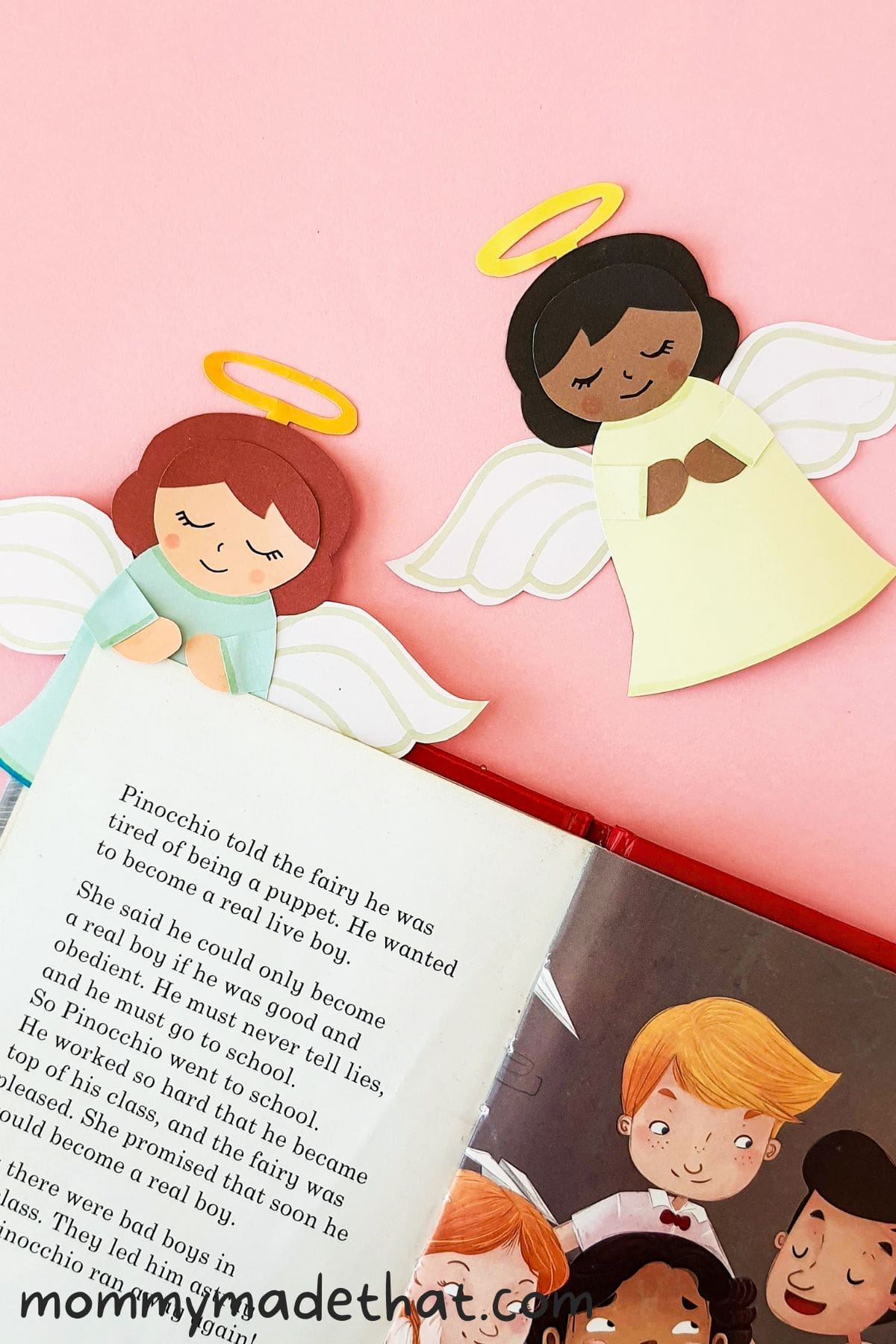 These sweet angel bookmarks are an adorable angel craft that would be perfect to make during the holiday season.
They'd be cute to give as homemade gifts holding a little gift card or inserted into a card, telling someone their your angel.
Bumble Bee Bookmarks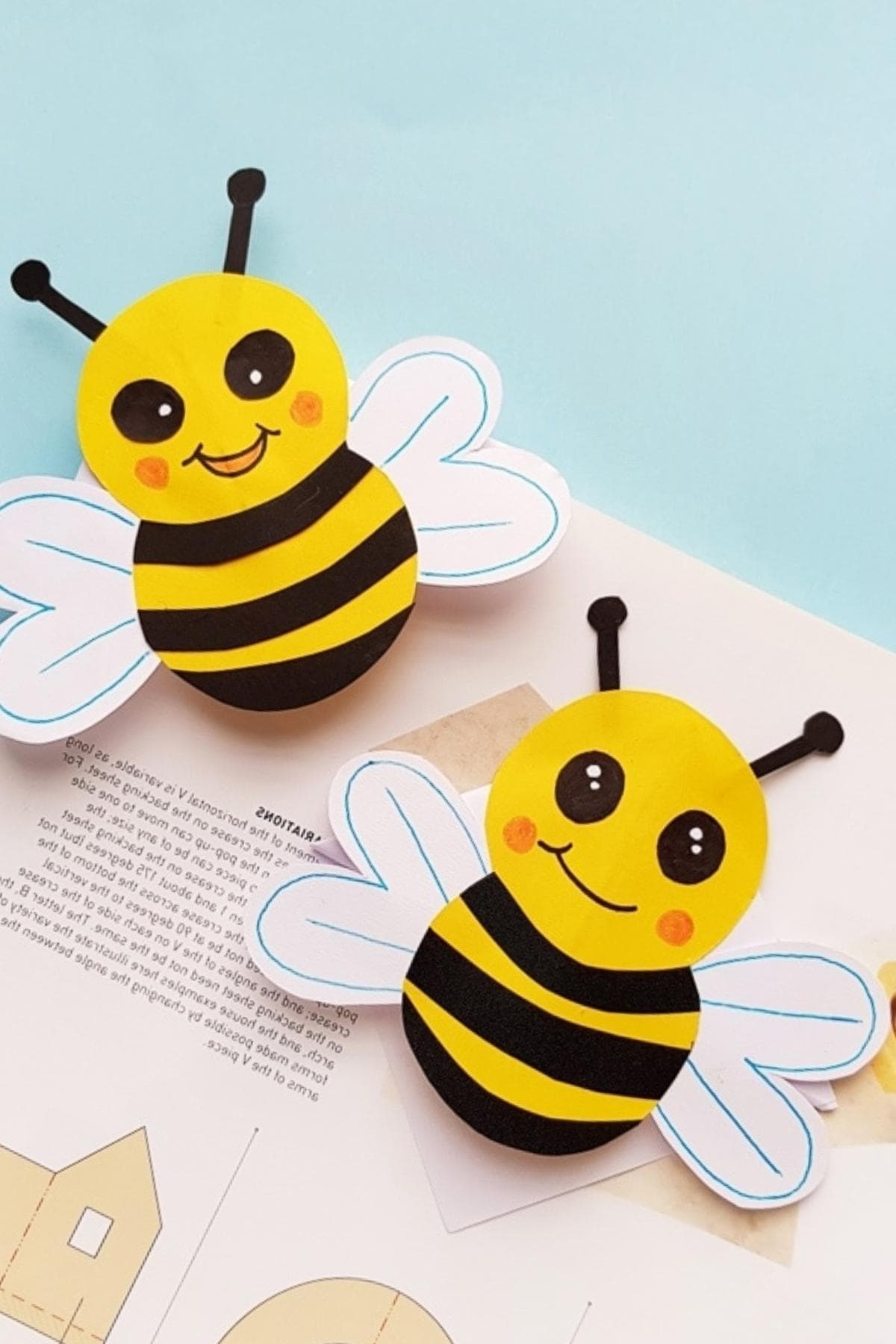 Similar to the ladybug ones above, these bumble bee bookmarks also come with a bee template to make it so easy to make these beautiful bookmarks.
It's a fun bumble bee craft for older kids.
You start by making a corner bookmark with a few folds of a piece of paper.
Then make your cute little bumble bee to put on top!
Easy Holiday DIY Bookmark Ideas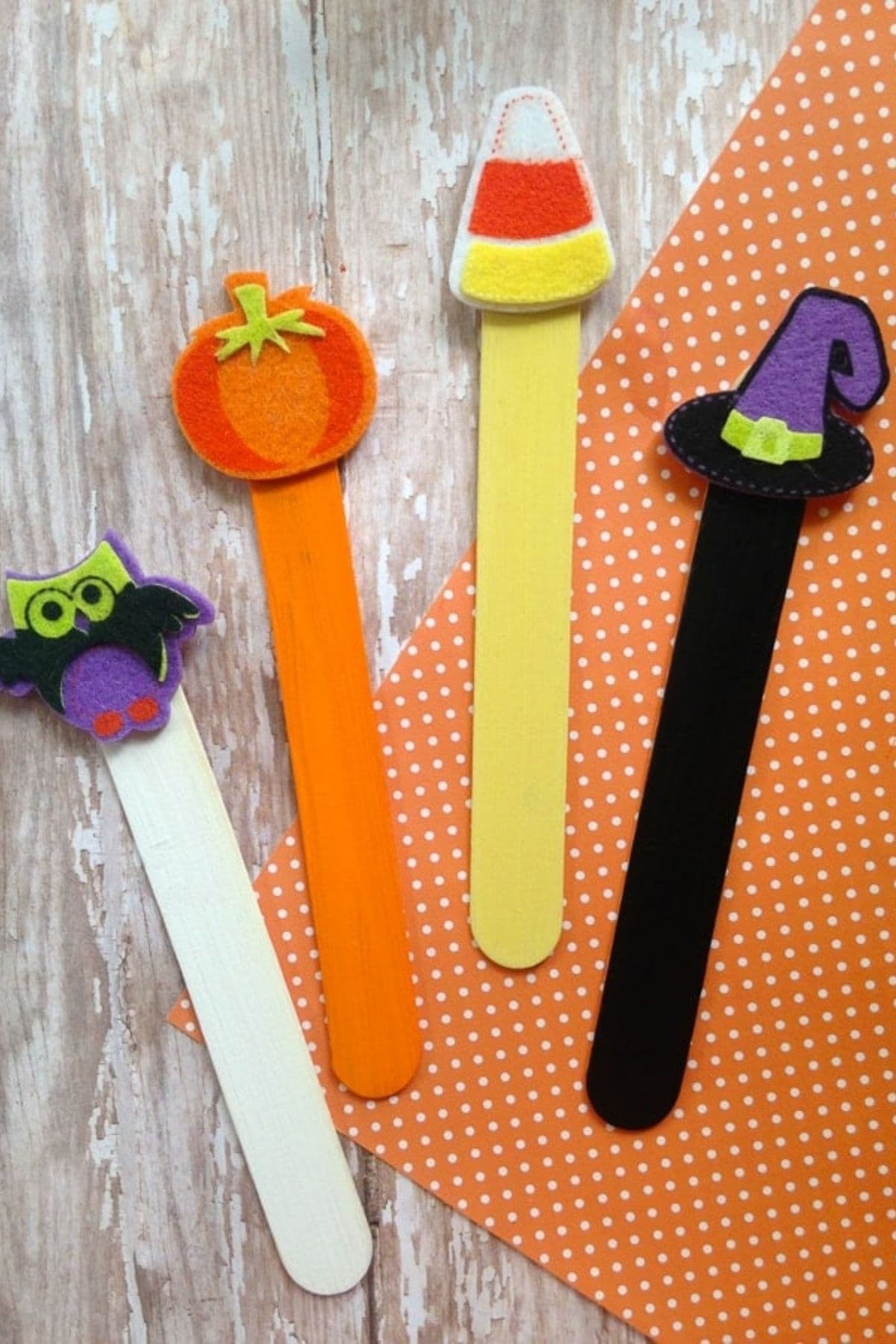 If you are looking for a quick and easy way to make a simple bookmark craft, I highly suggest trying this idea. (Seriously, this is the easiest DIY bookmarks for kids to make.)
All you need are some popsicle sticks and some seasonal stickers! We like the felt scrapbooking stickers.
We created these Halloween DIY bookmarks using this exact method.
It's crazy simple, but they come out cute and the kids just love making them! Plus they can paint their bookmarks with coordinating colors.
They're a fun fall craft for kids.
DIY Dinosaur Bookmarks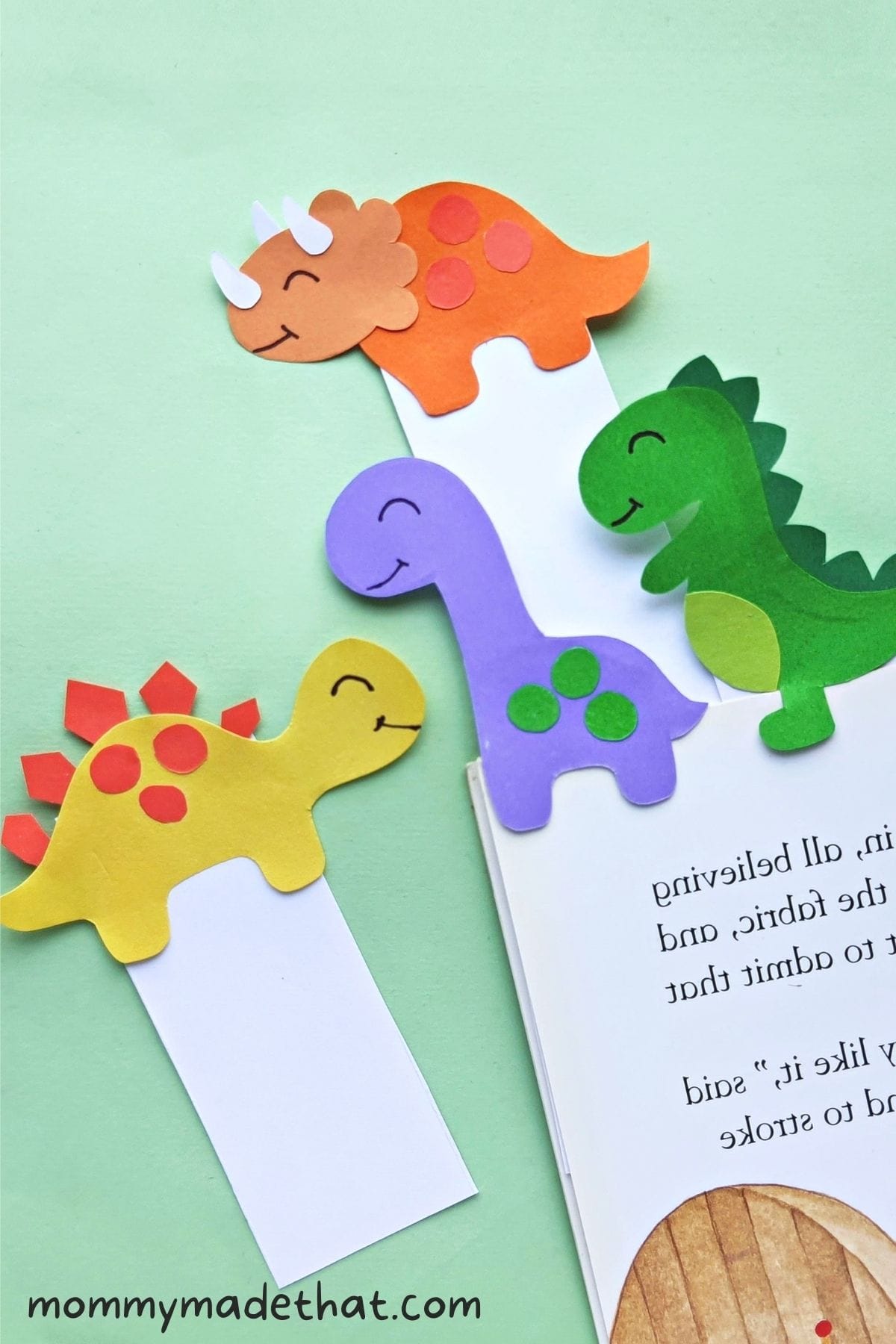 These adorable dinosaur bookmarks are tons of fun for kids who love the Jurassic world.
Dinosaurs are just tons of fun, and turning them into bookmarks makes for a fun project.
Snowman Bookmarks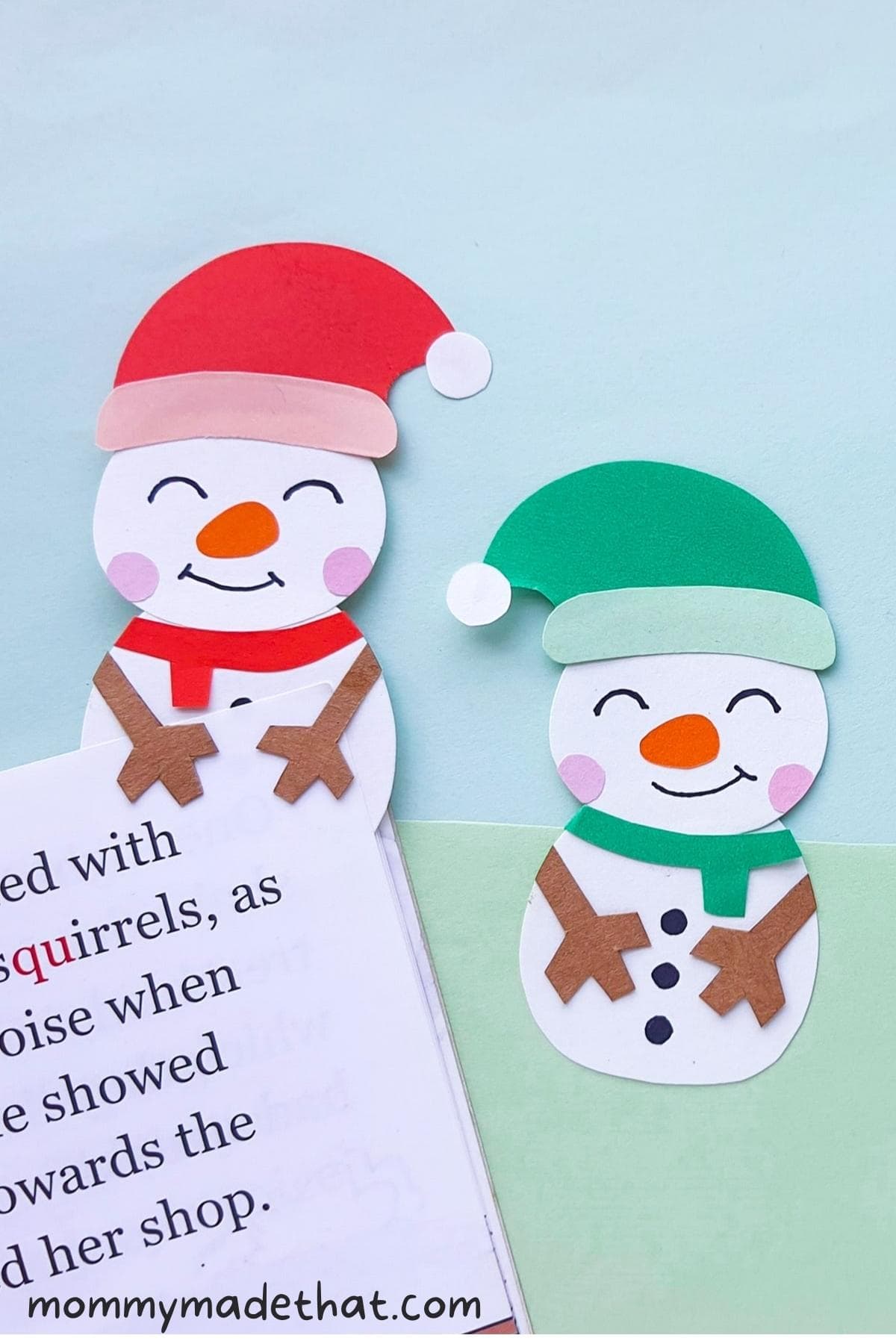 These fun snowman bookmarks are perfect for the holiday season when things start getting frosty!
I just love how their arms grab the pages of the book!!
I like the idea of making a few of these to give out with some hot cocoa mix to friends and loved ones as a just because gift when the weather starts to cool.
Peacock Bookmarks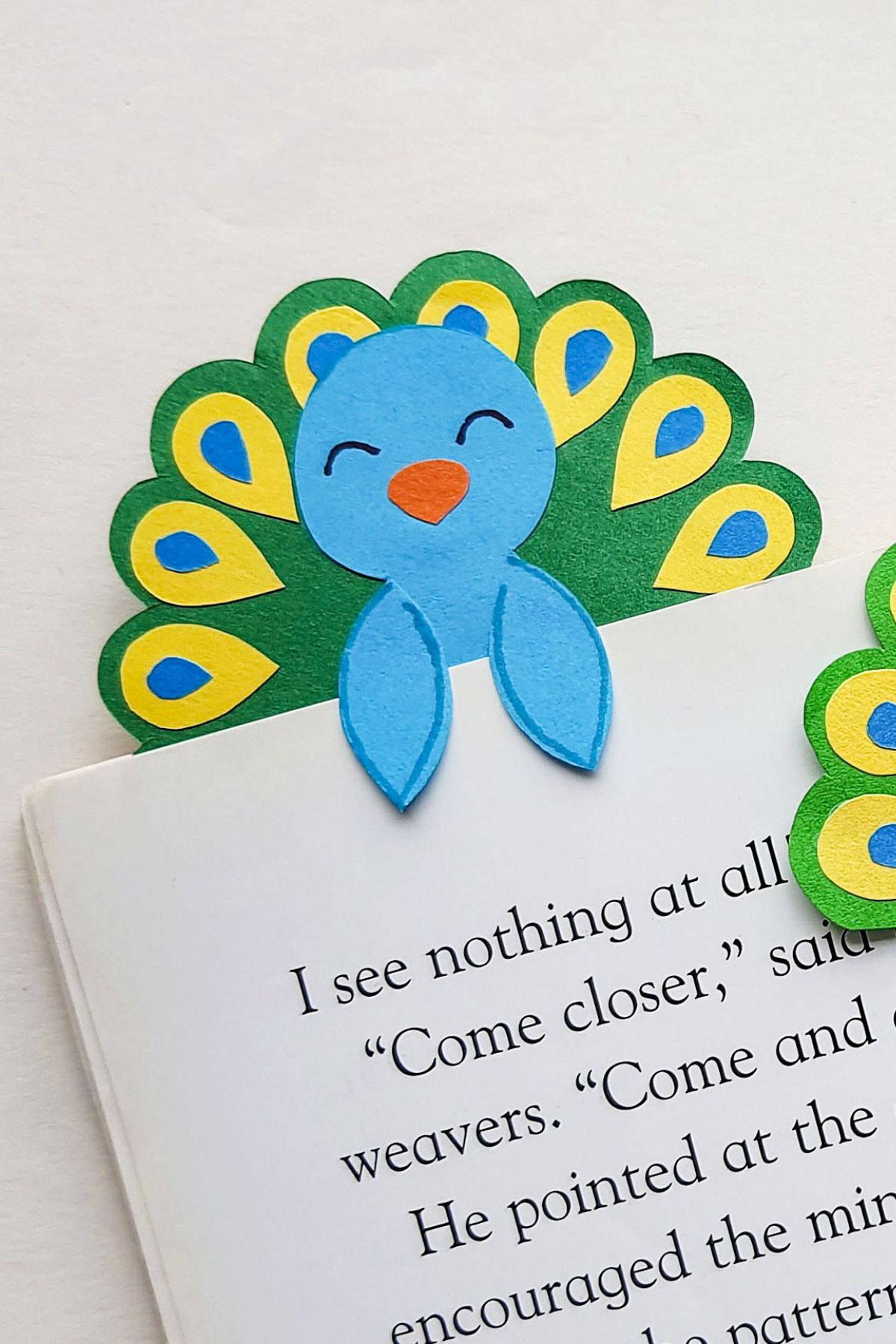 This adorable little peacock bookmark craft may be one of my favorites on this list.
The little birds are gorgeous and actually a lot easier to make than they look!
Giraffe Bookmarks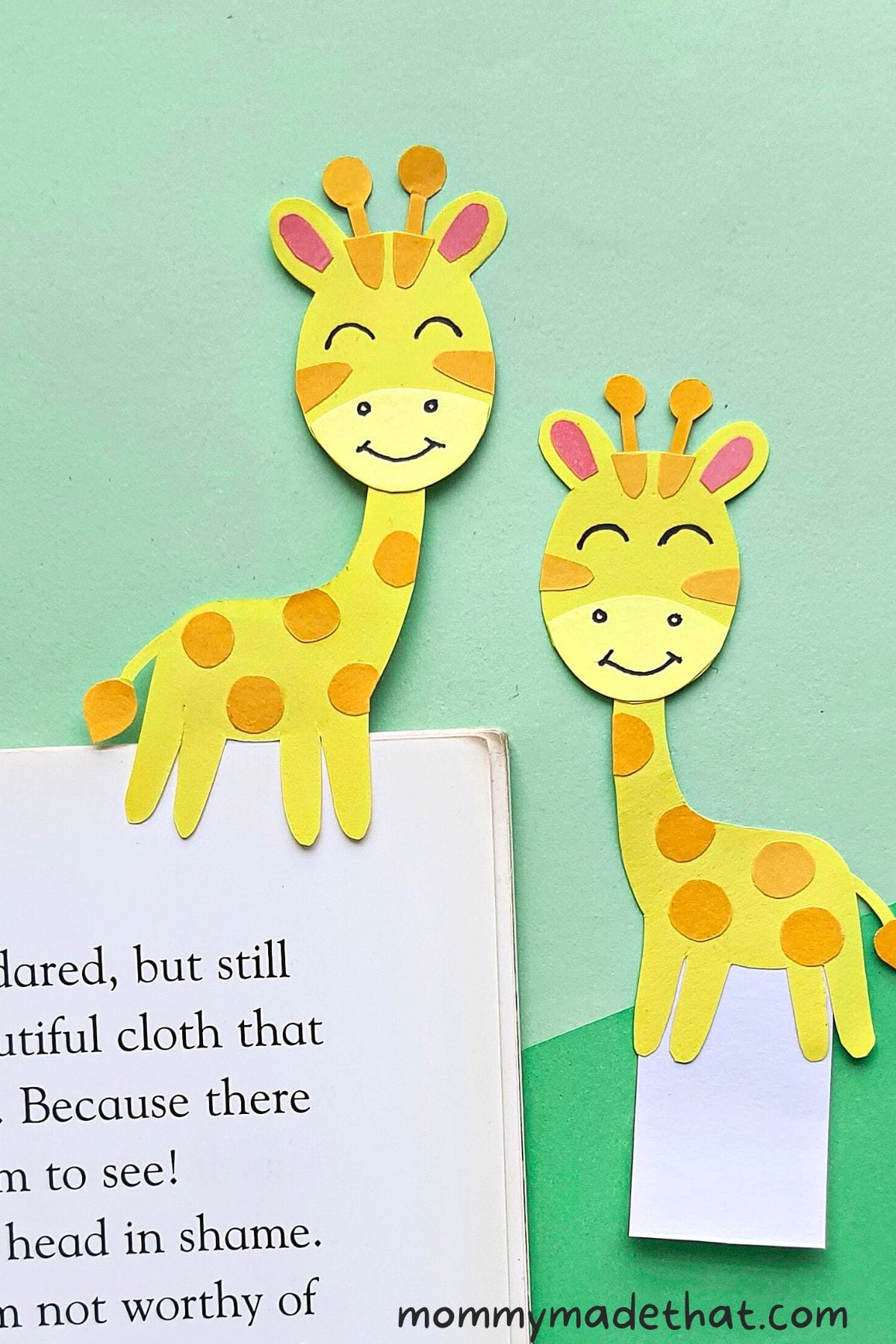 These super cute giraffe bookmarks are a fun giraffe craft that doubles as a fun way to encourage reading.
Make sure to grab the free template that goes with it so you can get crafting your own little giraffes too.
Snail Bookmarks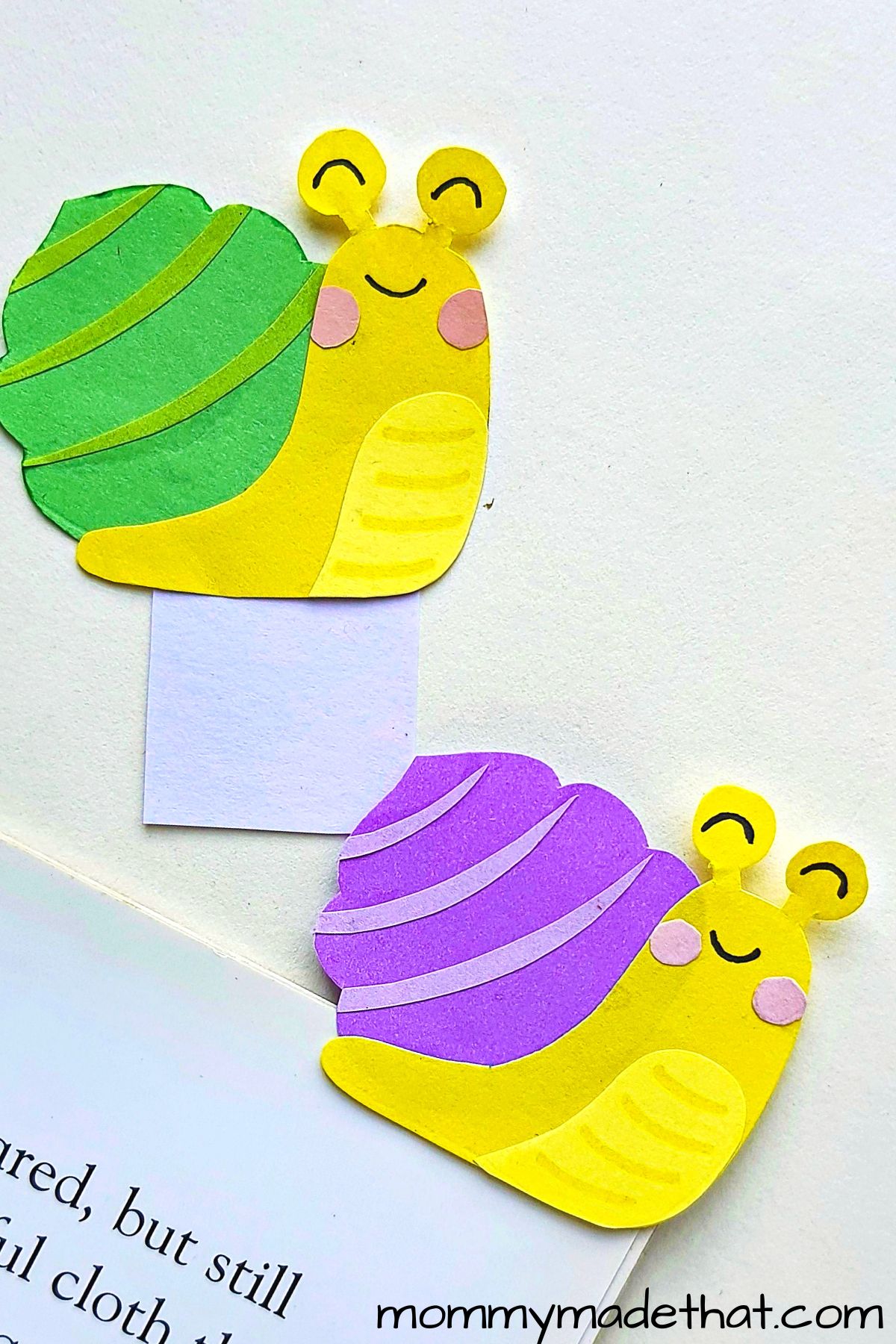 Next up we have our cute snail bookmark craft. Using the free printable template you can craft up a few snails to hold your place while reading.
They're super cute, and my kids say they remind them of Gary the snail, from Sponge bob.
Turkey Bookmarks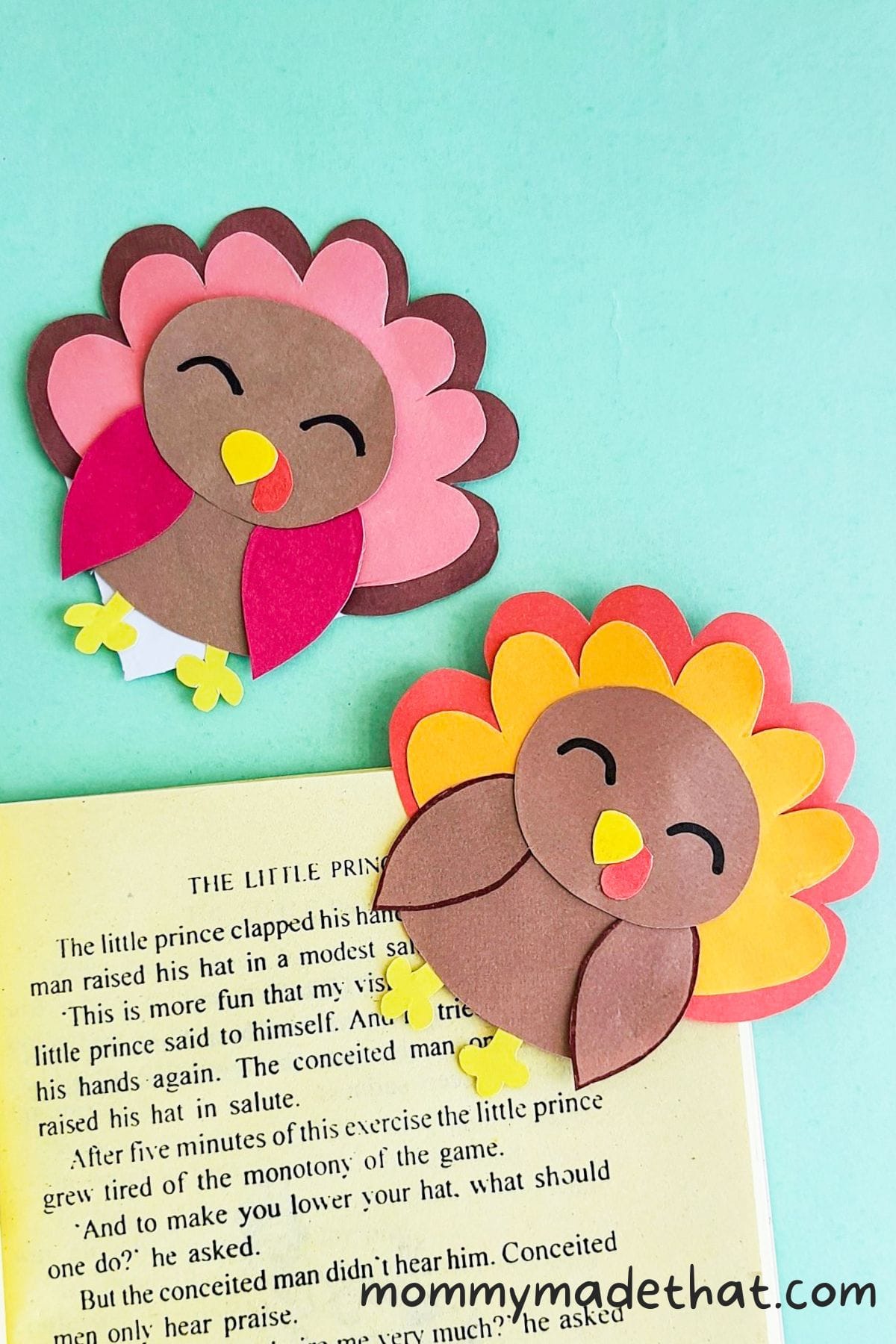 These adorable turkey bookmarks are a fun fall DIY bookmark.
You start out by creating a cute little turkey using our free printable template.
Then create an origami corner bookmark. Attach that turkey and your bookmark is ready to go!
Bug Bookmarks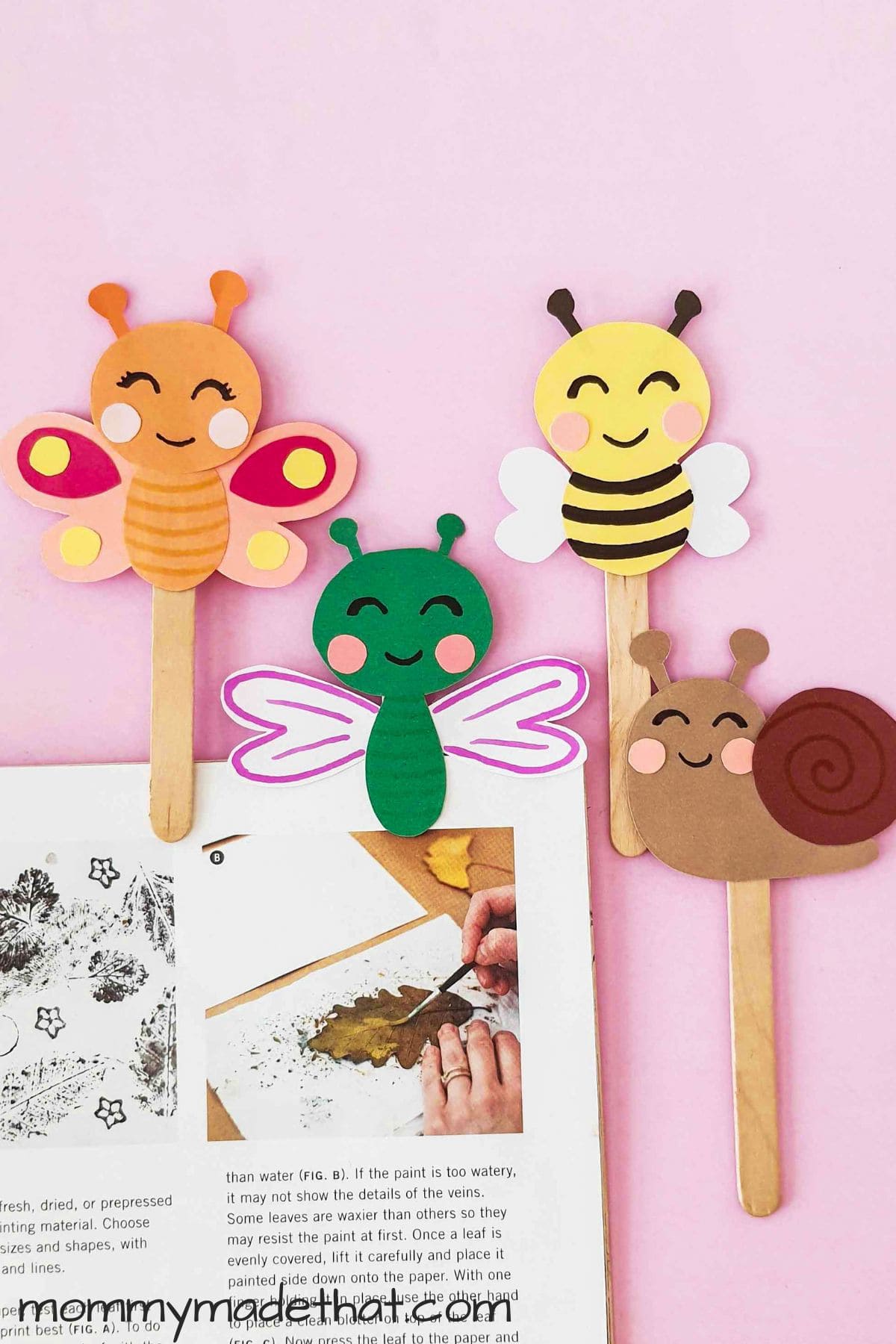 Get creative with your reading and make these adorable bug bookmarks!
The templates make it easy for kids and adults alike to craft these unique and eye-catching bookmarks in no time, and it's perfect for a little spring reading.
DIY Micky Mouse Bookmarks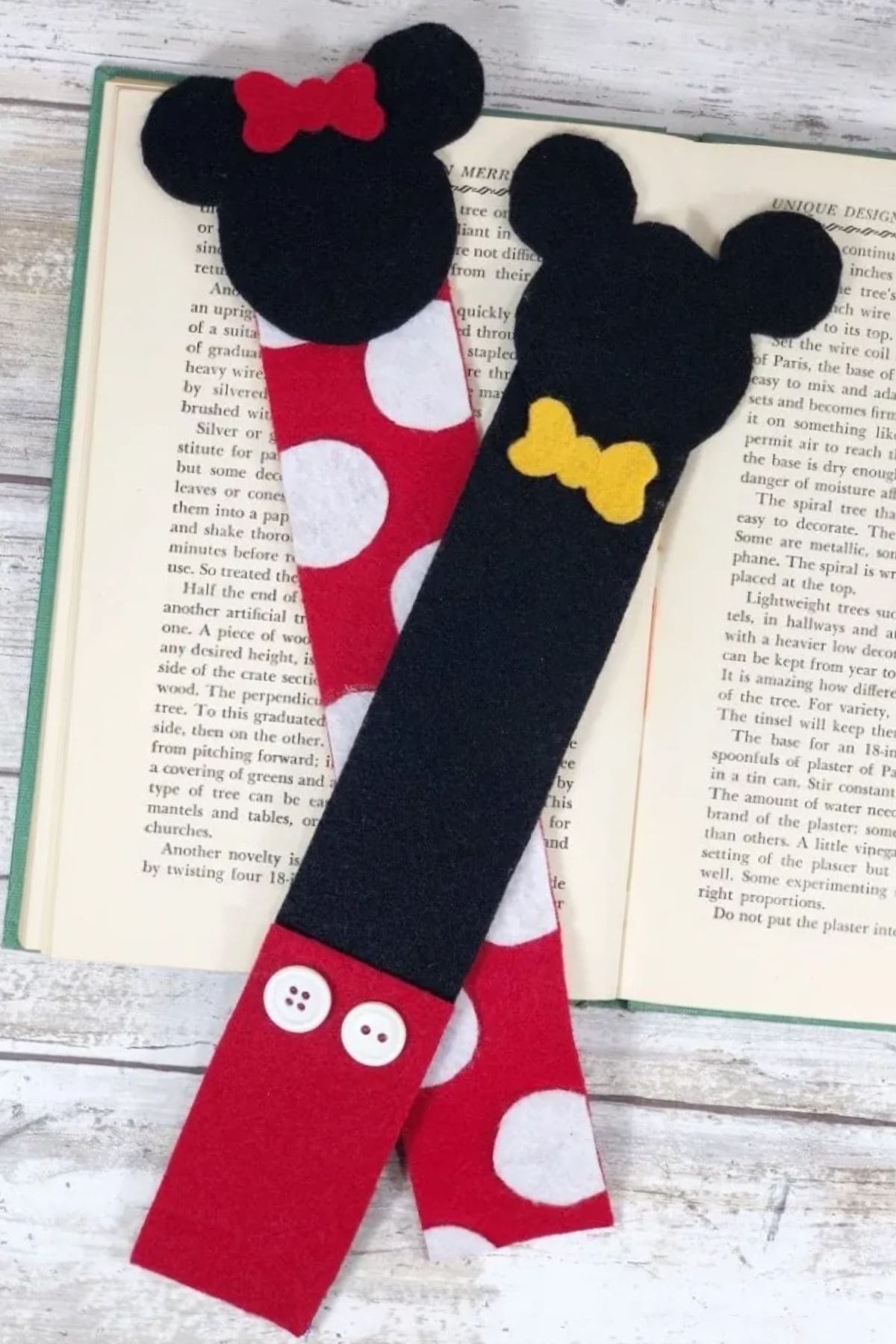 These super cute Disney felt bookmarks are surprisingly easy to make with some craft felt and glue!
You end up with adorable Mickey and Minnie Mouse bookmarks perfect for the Disney lover!
Plus kids will love cutting out all the fun shapes from the felt.
Cute Cat DIY Bookmarks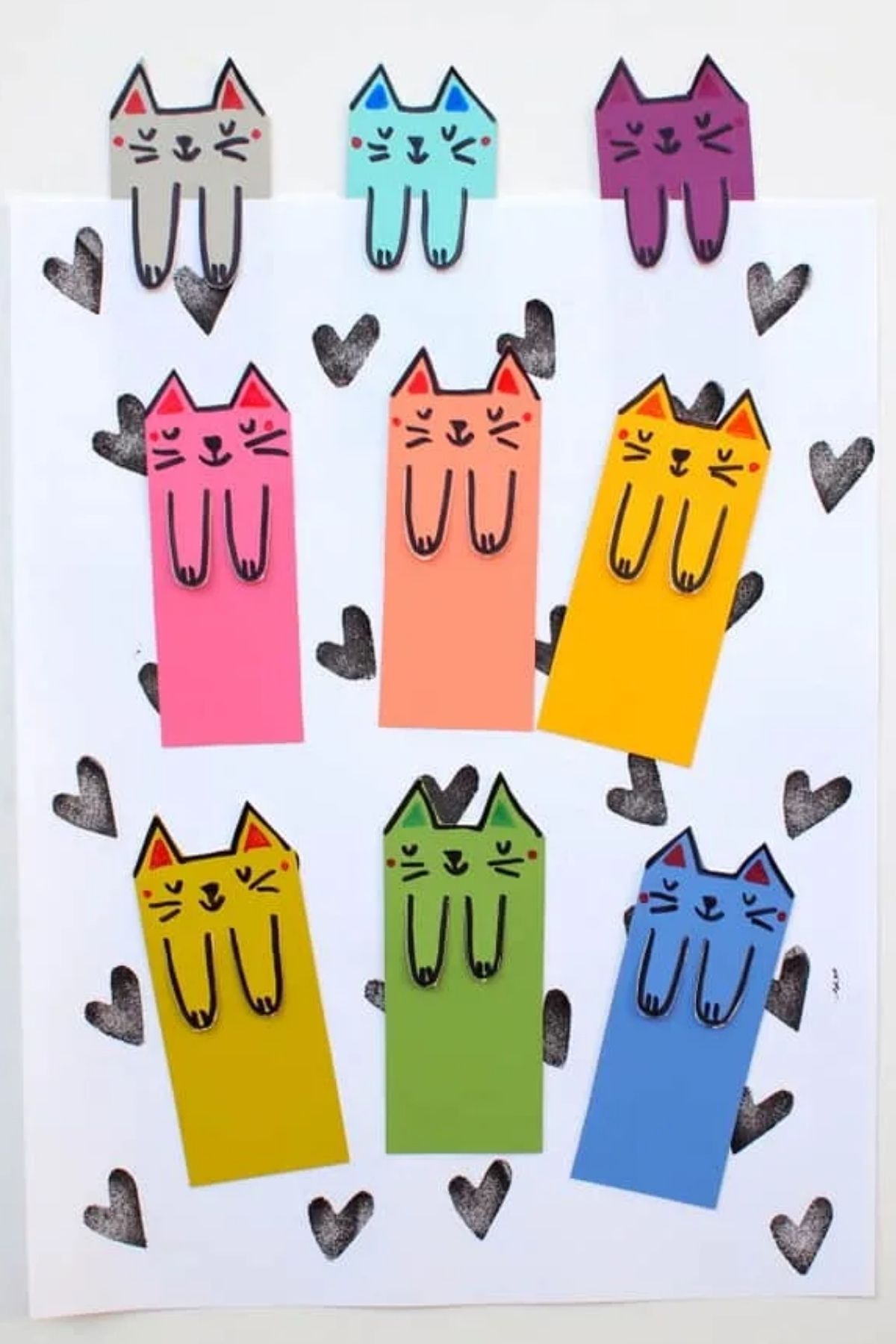 These crafty DIY bookmarks are possibly one of my favorites on this list.
These DIY cat bookmarks are genius, where their little paws grab onto the edge of the page, keeping their place.
Seeing the little cat peeking above my book would definitely have me reading more.
Watermelon Bookmark Craft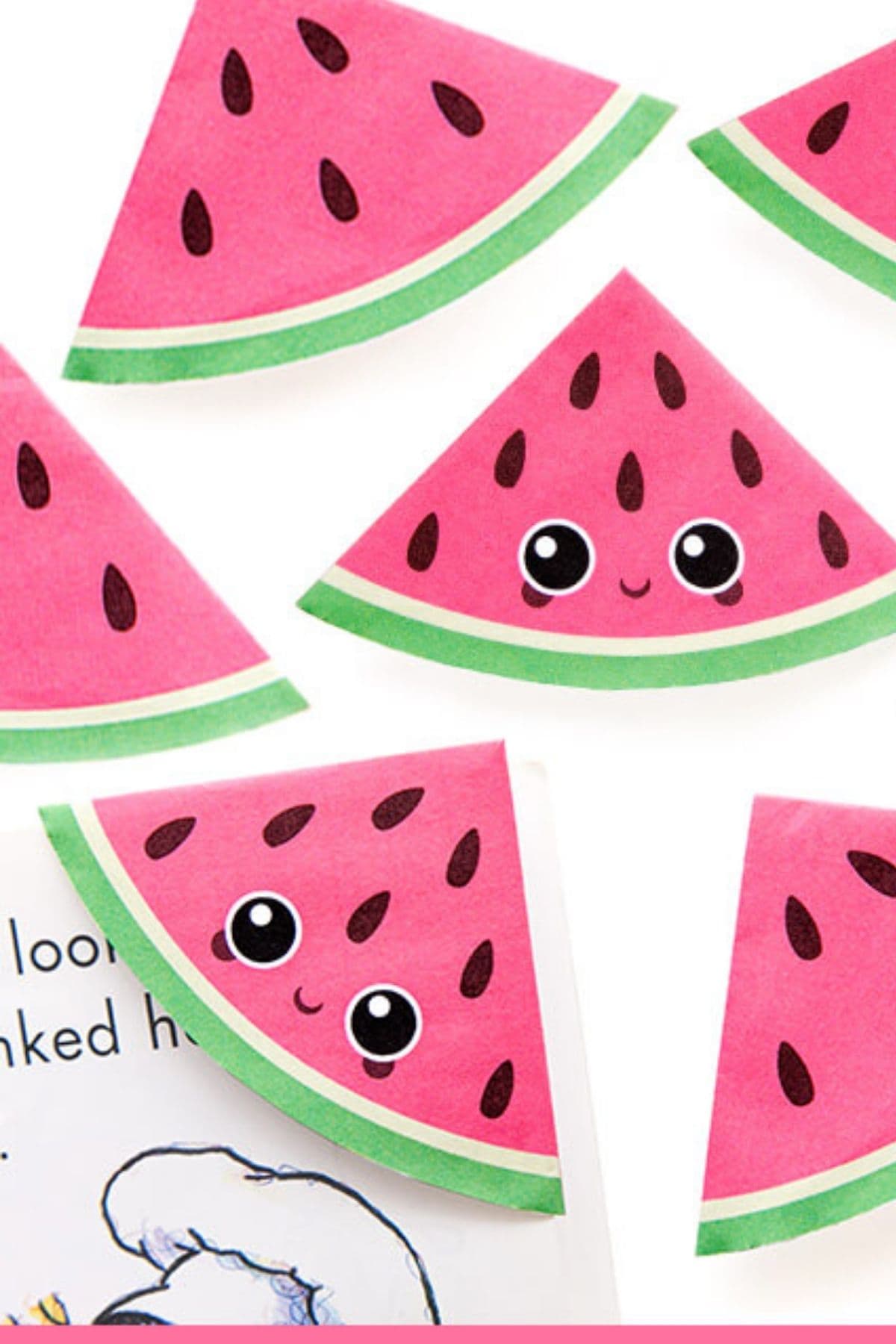 Much like the corner bookmarks above these watermelon bookmarks are so much fun.
These would be perfect for a summer craft to kick off a little summer reading.
Felt Cactus Bookmark Craft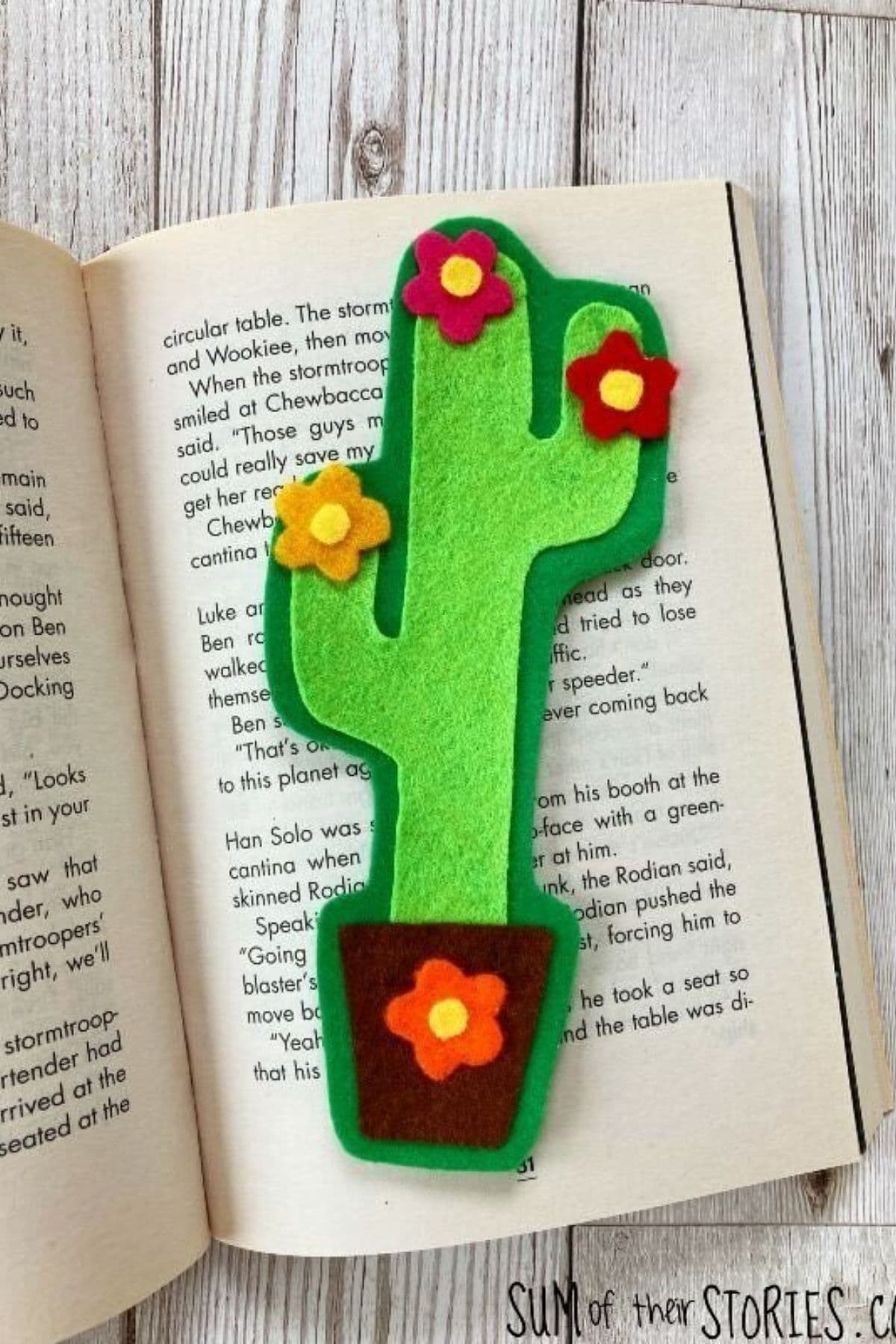 This adorable DIY felt cactus bookmark is tons of fun and would make a great gift to give.
It's easy to make using the free cactus bookmark template and will hold up for even the busiest of readers.
Fall Leaves Bookmarks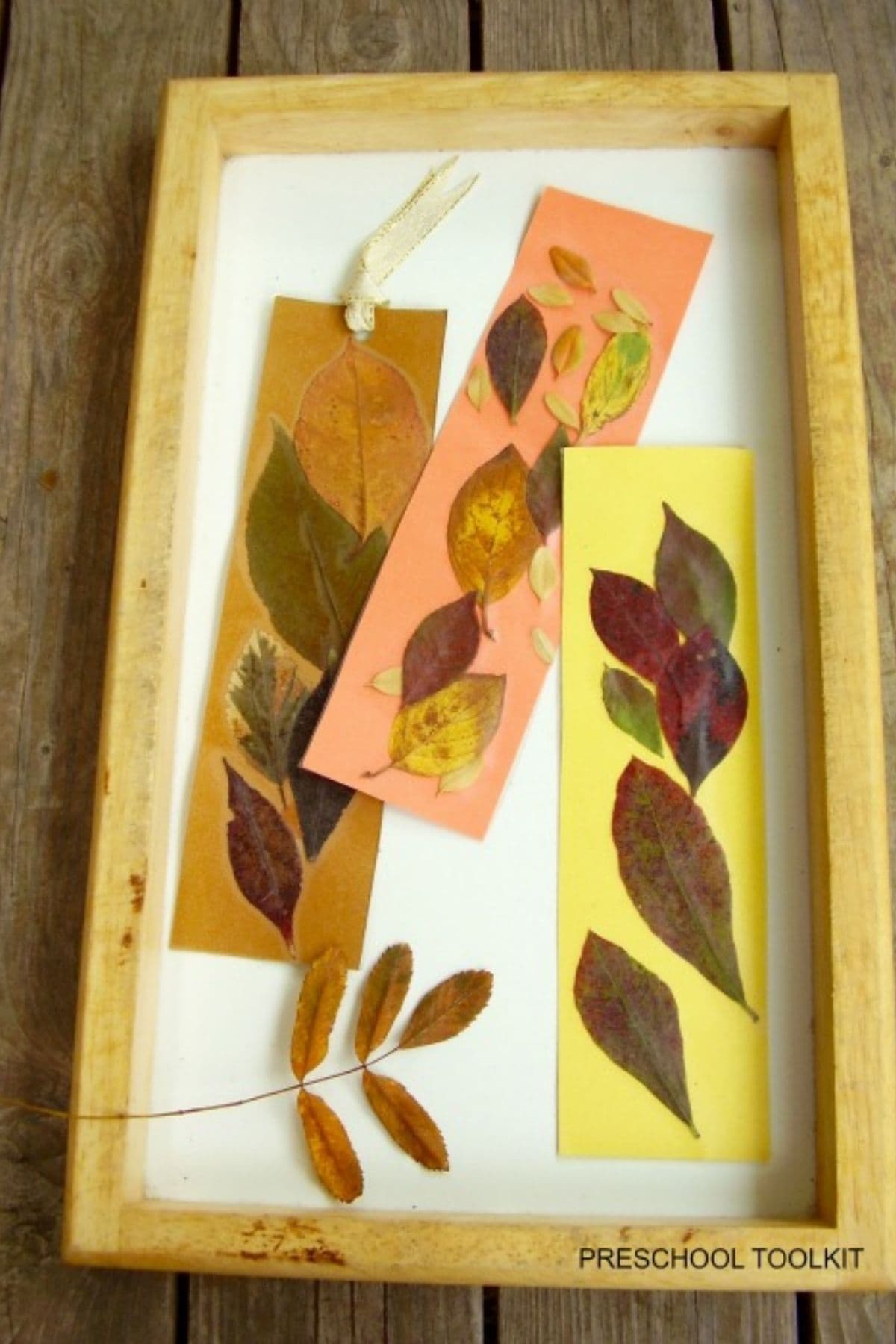 These fall leaves bookmarks are a fun and creative way for kids to use all those fun colorful leaves falling around them.
Kids will love mixing and matching the different types of leaves and making these fun fall bookmarks.
You simply press the leaves for a few days so they dry out fully and become nice and flat.
Then attach them to a bookmark sized piece of paper. So simple yet such a creative way to encourage some reading.