DIY Grinch Pipe Cleaner Christmas Tree
Today we have this fun pipe cleaner Christmas tree. And since we love a good grinch craft our tree has a little Grinch twist! These fun and easy little trees are made from just pipe cleaners and a bit of felt and make cute DIY grinch decorations!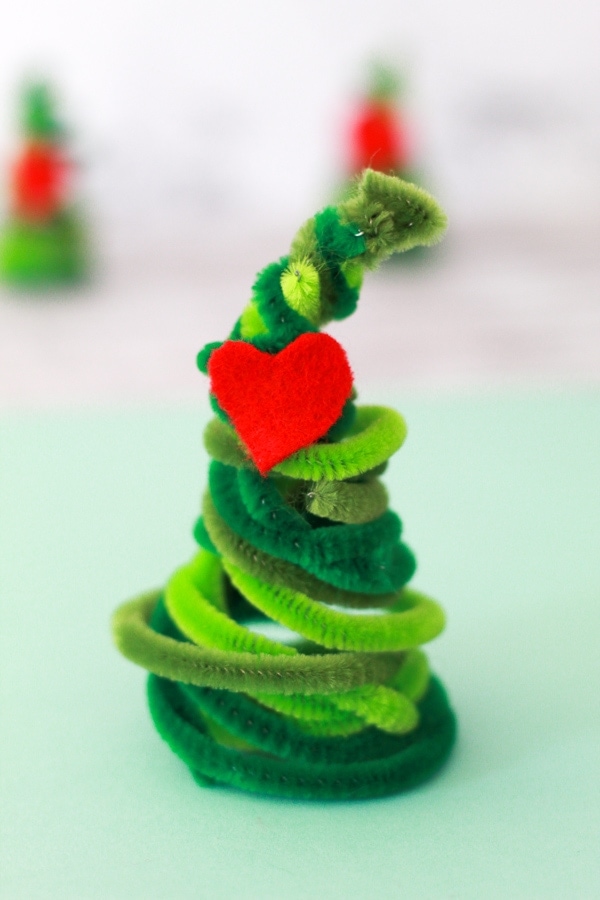 It's nearly Christmas time. So naturally, we are breaking out all of the fun Christmas crafts.
Today we're making cute pipe cleaner Christmas trees, but we also have some fun pipe cleaner snowflakes to make too!
We are also big fans of the grinch in this house. I mean, the grinch is such a great story.
It emphasizes all the wonderful things about Christmas.
Instead of focusing on the presents and stuff, it teaches the importance of togetherness.
Of loving those around you, and finding joy in loved ones.
It's a great lesson to emphasize with the kiddos, while still being a great story.
Of course, while talking about all the wonderful lessons, why not make a fun grinch Christmas tree while you're at it! We've also got a fun and easy DIY grinch ornament that's perfect to pair with the story as well.
In this tutorial, we'll show you how to make your own DIY pipe cleaner Grinch Christmas trees!
They make cute DIY ornaments or would be adorable in a Christmas village or among the trains in a trainset!
And if you like these, be sure to check out the rest of our cute Christmas tree crafts, like our printable Christmas trees activity and other fun winter crafts for kids!
This post may contain affiliate links. We only recommend products we think you'll use and love. You can read our full disclosure here.
Supplies Needed for the Grinch Pipe Cleaner Tree
To make this cute little grinch Christmas craft, you'll need only a couple of supplies and a bit of glue.
Variety of pipe cleaners (we used 3 different types of green)
Red craft felt
Ribbon (optional)
Craft glue
How to Make Your Pipe Cleaner Grinch Tree
To make these little pipe cleaner Christmas trees, start by finding something to form the trees.
Forming the Pipe Cleaner Christmas Trees
This part is optional but highly recommended.
We used a cardboard cone, but you could use a funnel or even make your own cone out of a piece of cardboard.
Once you have your cone shape start by wrapping one green pipe cleaner around the cone.
Make sure to secure the bottom of the Christmas tree shape by tucking the end of the pipe cleaner into the base like shown below.
Once your first pipe cleaner is shaped and secured, start by layering as second pipe cleaner over the first one.
Now you can continue to layer more pipe cleaners until you get the desired fullness of your Christmas tree.
Once your pipe cleaner tree is formed and full, you can remove it from the cone and your all finished with the Christmas tree part.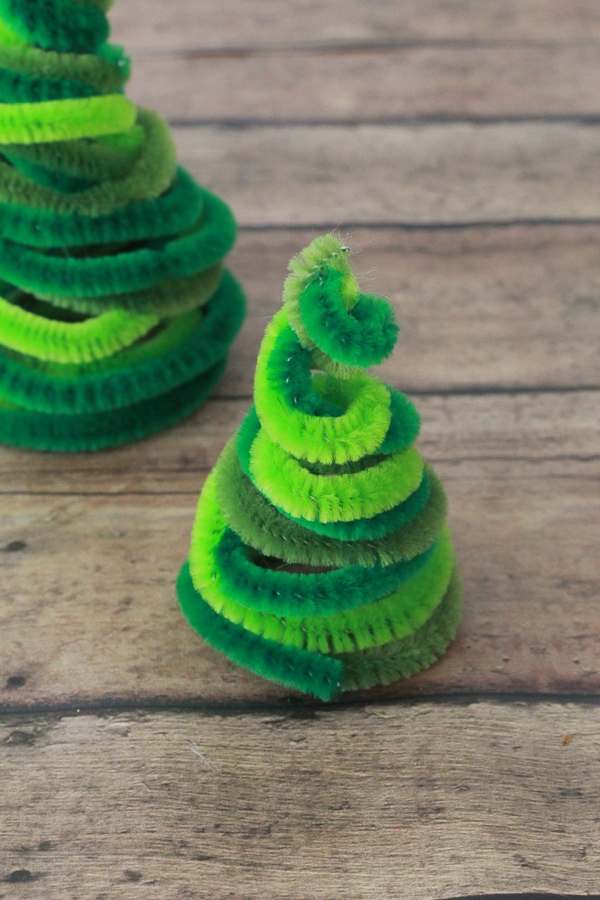 Repeat the process until you have as many pipe cleaner trees as you want.
You can vary the sizes by using less or more pipe cleaners and either lengthening them on your cone form or squishing them down and making them shorter and wider.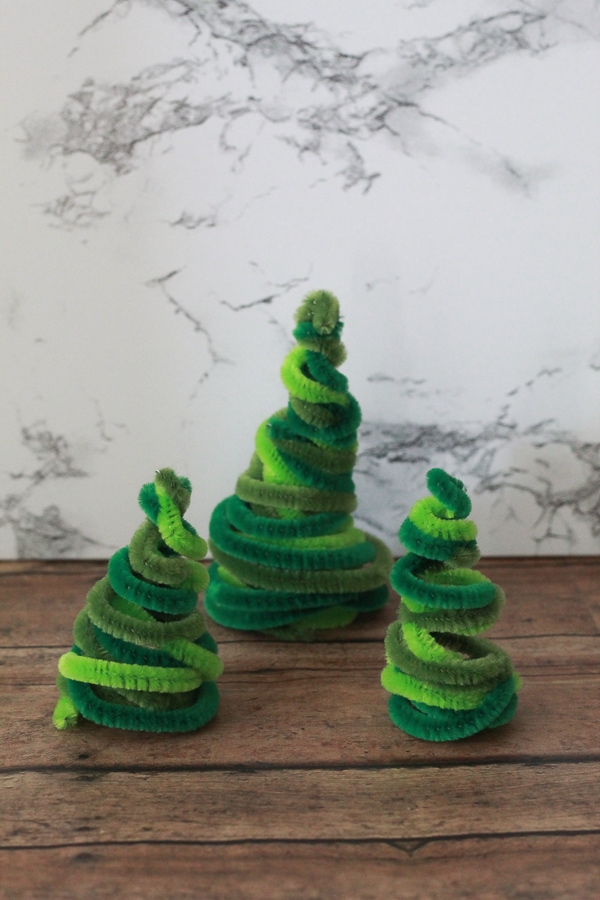 Who would have thought pipe cleaners could form such cute Christmas trees!
Making Your Pipe Cleaner Tree a Grinch
Ok, so we're not really forming the trees into the grinch himself, but we are going to add a big red heart to represent him.
Remember the part in the story where is heart just grew and grew.
This is our interpretation of that.
So now cut out red hearts from a piece of felt or even leftover fabric from around the house.
Glue them to the trees and now you have adorable Grinch Christmas tree ornaments.
Aren't they cute!
We think they dig up a pretty grinchy feel!
Plus they look super cute on the Christmas tree. Its a fun and easy DIY Christmas ornament!
This fun pipe cleaner craft is a perfect quick and easy Christmas activity to do with the kids. We hope you enjoy!