Dinosaur Easter Basket Ideas + Free Dino Printable!
Looking to create a dinosaur Easter basket for a special kiddo to find on Easter morning? Well, here is a big list of things to add to a Dinosaur themed basket that will be fitting for an Easter bunny to bring.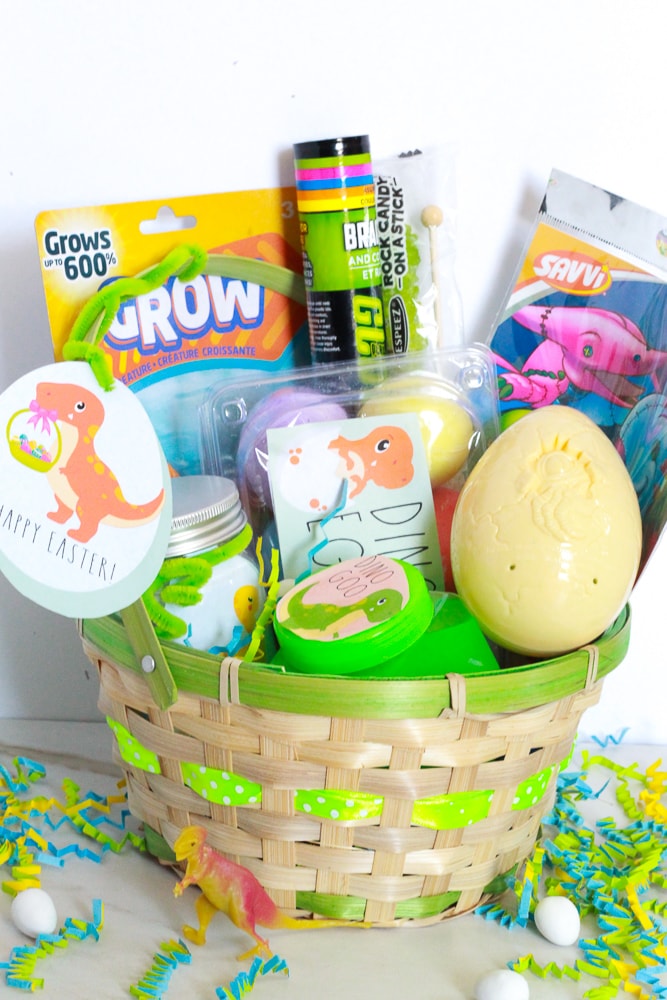 Creating cute Easter baskets is so much fun! This time we wanted to try something new for our 3 year old, who is currently loving dinosaurs.
So it just made sense to come up with some fun dinosaur Easter basket ideas.
This little dino basket was so much fun and we filled it with a bunch of fun dinosaur themed Easter fun, and minimal candy.
To help bring the whole prehistoric concept together, I whipped up some cute dinosaur printables to help add to the fun.
We have tons of fun Easter printables by the way.
We also made these dinosaur printables available for you to grab for free!
We'll show you what we put in our basket, and give you a few other ideas that would be perfect for the dinosaur theme!
How to Make a Dinosaur Themed Easter Basket
To start with, we grabbed a few items that were already dinosaur themed. We also grabbed a few non-dino objects that would be fun, and easily themed with our Easter basket.
The supplies we used we got from the local dollar store.
Green slime "egg."
Egg-shaped chalk (We turn them into Dino eggs!)
Growing dinosaur
Glow sticks
A small plastic jar
The obviously dinosaur themed stuffers, we left alone. However some of the other non-dino themed items, we improvised with cute dinosaur printables.
These little egg chalk packs are super popular during Easter time.
You can grab a pack of these "Easter eggs" and cut out the "dino eggs" printable and tape it to the pack to easily turn them into Easter dinosaur eggs.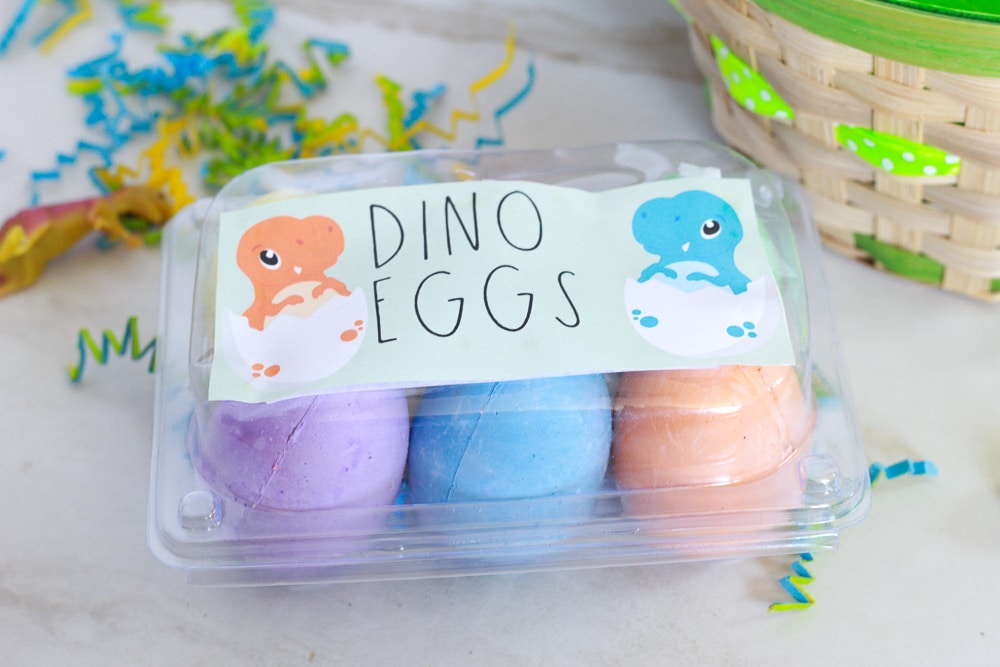 We also found a cute bright green slime jar. We turned that into dinosaur goo.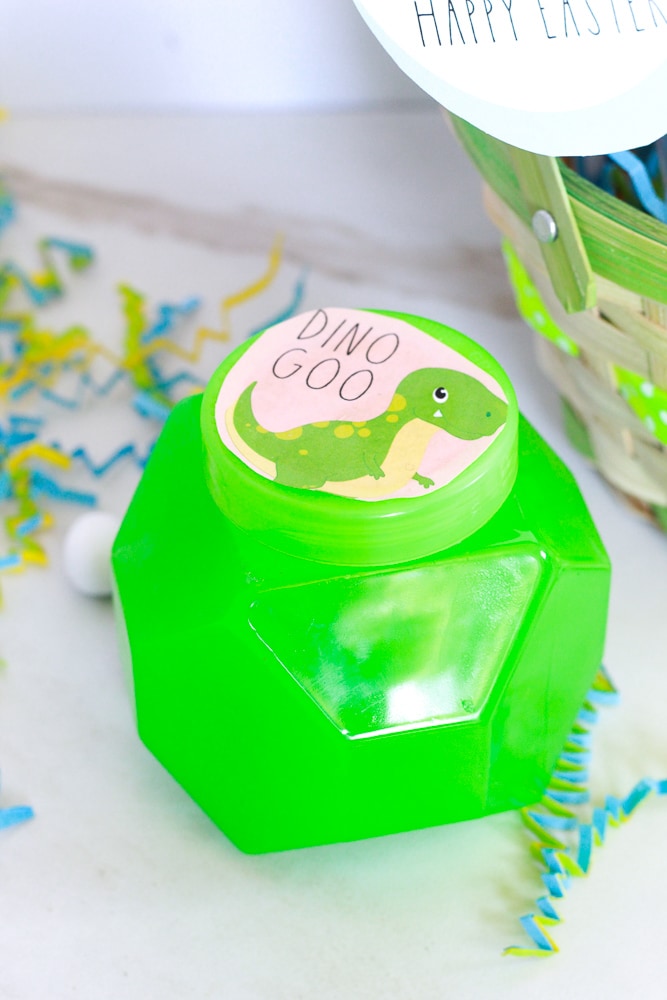 We then took our little plastic jar and put one of the egg-shaped dino printables into it and added some white mini eggs.
We then added a little green pipe cleaner we had on hand to make a cute decorative "bow."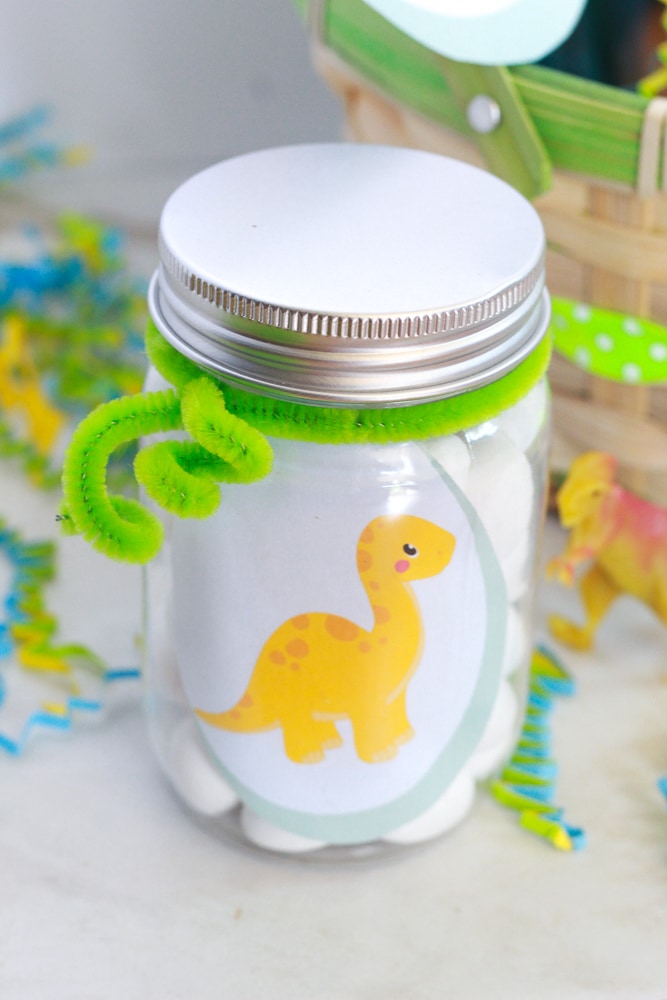 Finally, we added in a few other goodies to help round out the basket and add a little fun, like glow sticks and rock candy.
We also added a few dinosaur toys and tattoos (which were a HUGE hit!)
Then we added the Happy Easter Dino Printable to the basket and attached it using a green pipe cleaner and our basket was complete!
This was so easy and such a cute and fun little project. Plus my preschooler thought it was all so much fun.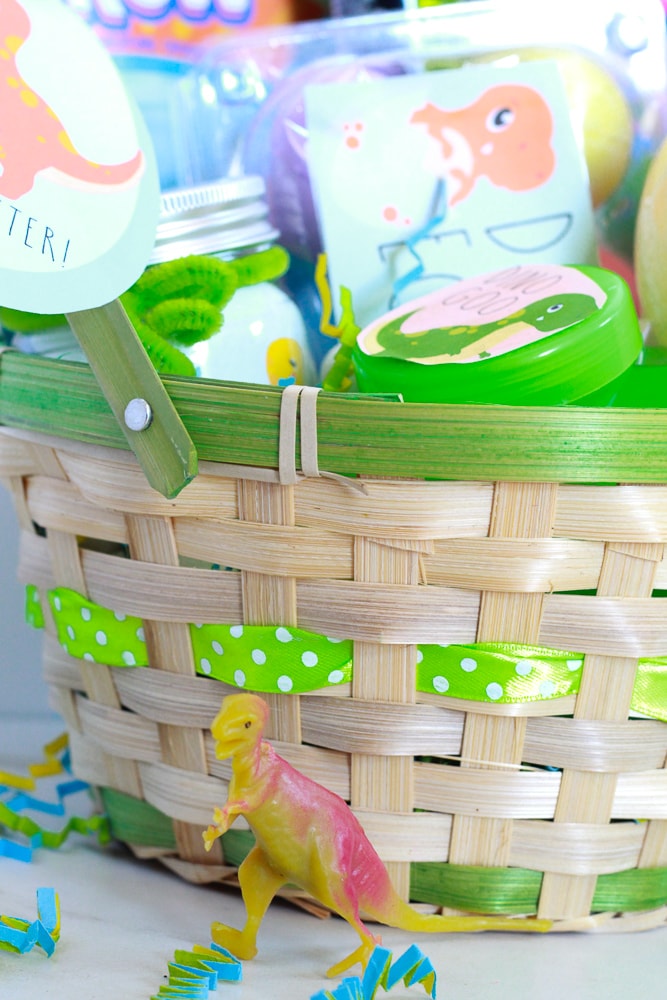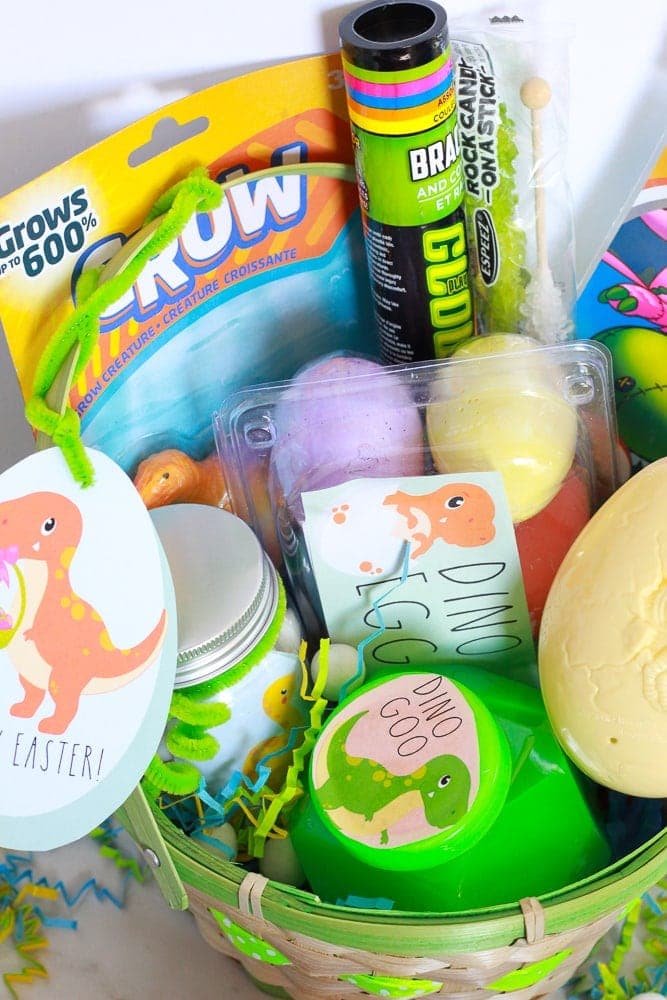 Our Dinosaur bookmarks would be another great addition to the basket.
Of course, with such a fun theme the possibilities are endless.
If you decide to grab our free printable and use it, I tried to make it work for multiple uses. We left excess colored borders so that you have space to trim it for smaller objects.
If you need it to be bigger, just cut your printable pieces bigger and leave a white border.
We didn't add any Easter eggs to our basket, because on Easter morning we usually do a big Easter egg hunt.
Which is when the kids hunt and gather the eggs stuffed with goodies! This year we stuffed our eggs with some of the dinosaur stickers and a few of his favorite candies.
Hope this helps!
Other Dinosaur Themed Easter Basket Ideas
Here are a few other Easter basket fillers things that would be AMAZING in a dinosaur Easter basket.
Any kind of dinosaur books
A Dino plushie or stuffed animal
Dinosaur themed puzzles
Super adorable dinosaur lollipops
Dinosaur chocolate Easter "bunny"
Honestly Amazon has TONs of Easter Ideas for a Dinosaur Easter basket. You should check them all out here.