This cute unicorn wreath is made from paper flowers! It's an easy craft idea for kids and adults!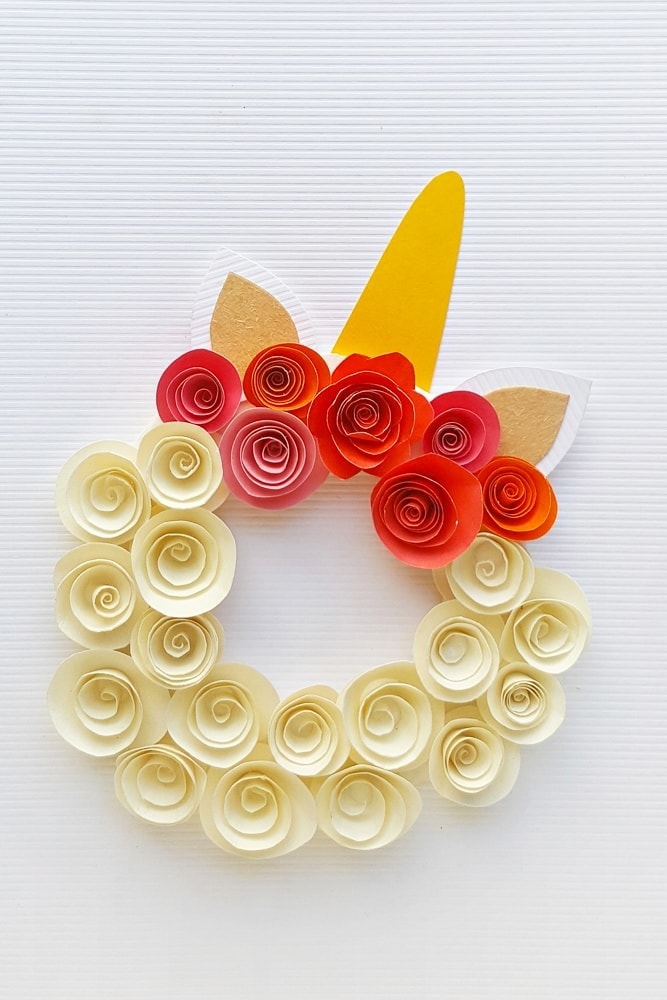 It's no secret that we love paper flower wreaths around here! This easy paper flower craft is perfect for unicorn lovers.
And with everyone loving unicorns at the moment, it only made sense that we put the two together!
Here we made a classy, yet whimsical little unicorn wreath made from delicate paper flowers. This would look great in a young girls room. Just change out the crown flowers to match your little girl's decor and bam!
You have an easy color coordinating unicorn wreath to hang up on the wall.
This also makes a fantastic craft to make and sell at craft fairs!
Either way, we'll show you step by step how to make your own flower unicorn wreath!
Paper Flower Unicorn Wreath
Materials
Colored Craft Paper: White, tan and yellow for the unicorn pieces and whatever colors you want to use for the flowers.
Cardstock Paper: For the unicorn ears and horn (optional instead of the colored craft paper)
Round wreath base: We made ours from thin card board, cereal boxes work great for this.
Printable flower unicorn wreath template: You can grab it at the end of this tutorial.
You'll also need some basic craft supplies like:
How to Make A Unicorn Wreath
When creating a unicorn wreath, you need a base wreath and then simply add ears and a horn.
I swear, ears and a horn will pretty much work to turn anything "unicorn" themed.
You can do this with crafts, treats, heck even hoodies.
But today, we are taking a paper flower wreath into a unicorn wreath. (Using the same concept!)
So let's get to it!
Step 1: Cut out Your Basic Flowers and Unicorn Parts
Grab your supplies. For this wreath, we used cream-colored craft paper for the flowers, as well as red, orange and pink flowers.
Using your printable unicorn wreath template, trace the spiral patterns on to your craft papers.
Using the same template, trace out your ear parts (Both outer ears and inner ears) and unicorn horn onto sturdier cardstock paper.
Cut out your patterns.
Step 2: Start making your paper flowers
Grab one of your spiral cutouts. Roll the spiral starting from the outer end. Roll it towards the center of the spiral creating a paper flower.
Glue the flower on the center part to secure it. Then roll the rest of your spiral cutouts to make lots of rolled paper flowers to fill in your wreath.
You'll need enough of the cream colored (white would look great too!) flowers to cover about three-fourths of your wreath base.
Step 3: Make the Flowers for Your Unicorn Crown
Now grab your colorful spiral cutouts and roll them into paper flowers.
These will fill in the rest of your wreath base and make a pretty floral crown for your unicorn wreath.
Step 4: Create a Wreath Base
Create a cardboard wreath base to place your paper flowers on. You can cut one out of cardboard or craft foam, or buy a small wreath base from the craft store.
Step 5: Start Gluing your Paper Flowers
Now you can start gluing down your paper flowers onto your wreath base. Try nestling your flowers into each other for a more natural look.
Step 6: Fill in Your Unicorn Wreath with Your White Flowers First
Fill in your wreath with your white flowers first. You should fill about ¾ of it with this base color.
Step 7: Glue on Your Crown
Now you can fill in the rest of your wreath with the colored paper flowers, forming your unicorns floral crown.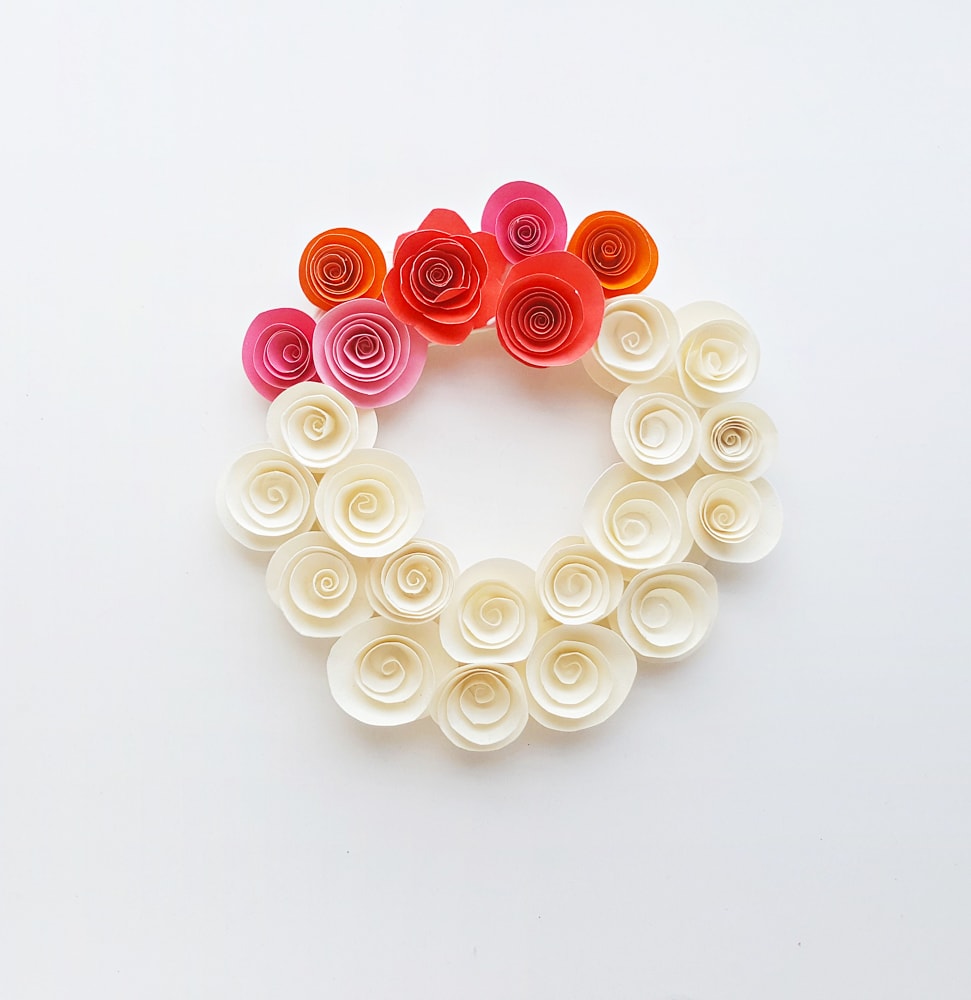 Step 8: Assemble your Unicorn Ears
Now grab your unicorn ear parts. Glue your smaller, inner ear parts into the center of your outer ear parts.
Step 9: Attach the Unicorn Pieces to Your Paper Flower Wreath
Now attach your ears and your unicorn horn to the back side of your wreath base. Ideally centered behind your colored flower crown.
Now you are all finished! Allow enough time for your glue to dry while you admire your beautiful unicorn wreath!
Grab the Unicorn Wreath Template
To grab the free printable unicorn wreath template, put your email in the box below.
We'll send it straight to your inbox, along with our other fabulous freebies.
This is for personal or classroom use only. Not for commercial use. Thank you!
This unicorn wreath is super adorable. Its made with pretty little paper flowers and is so simple but looks great!
Materials
Colored craft paper
Colored card stock
Wreath Base (Can make your own)
Printable unicorn wreath template
Tools
Pencil
Scissors
Craft Glue
Instructions
Grab your craft paper in colors that you want your flowers in. We used cream colored paper for the base flowers and red, orange and pink for the floral crown. Trace out the spiral patterns on to your selected papers. You'll need mostly white, and some of each of the colors. Also trace out your unicorn parts on card stock. (The horn and ear parts.) Cut out all of your unicorn wreath pieces.
Starting with one of your white spiral cut outs, start forming your flowers. Start rolling the pattern from outer pieces towards the center of the spiral. Glue the rolled spiral in the center to keep it in place. Roll out the rest of your paper flowers.
Roll out all of your colored flowers as well.
Prepare a wreath base by making one from cardboard or craft foam, or by purchasing one from the craft store.
Start gluing your flowers onto your wreath base, nestling your flowers into each other.
Fill in ¾ of your base with white flowers (we used cream colored.)
Fill in the other ¼ with colored flowers. Think of this as your unicorns crown.
Assemble your unicorn ears by gluing the inner ear parts into your outer ear parts.
Glue the unicorn ears and horn onto the back of your wreath, in the center of your colored flowers.
Allow your wreath to dry completely, then hang in a place to admire it!