Today we have this fun Thanksgiving scavenger hunt! It's a perfect Thanksgiving activity to help keep the kids busy before dinner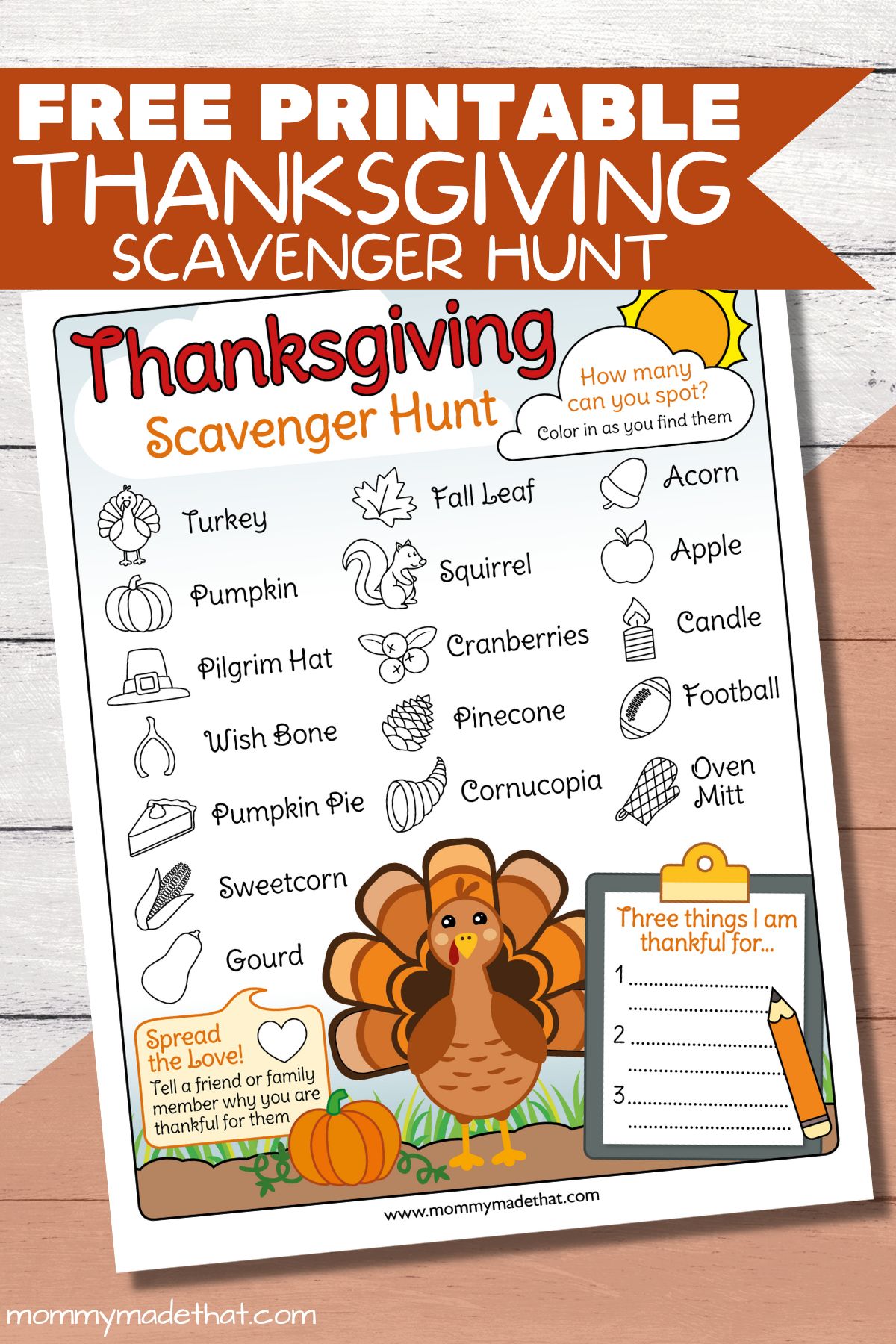 The Thanksgiving holiday is a time for family, friends and fun. Thanksgiving activities are a great way to celebrate.
This year, why not add a Thanksgiving scavenger hunt to the mix? It's one of my personal favorites of our Thanksgiving printables.
A scavenger hunt is a great way for kids and adults to have fun together while preparing for the Thanksgiving day feast.
And this free Thanksgiving scavenger hunt printable can be printed out and used at home or in the classroom.
The hunt includes 17 items that need to be found, including food items like cranberries and gourds, as well as Thanksgiving-themed objects like pilgrim hats and turkeys.
So gather up the family and get started on this festive scavenger hunt!
How to Use the Printable Scavenger Hunt
To use our scavenger hunt, simply grab the printable PDF. Download it and print it out.
Then decide how you'll play your scavenger hunt. There are a few different ways to use our printable.
Family Hunt
You can print out one copy of the Thanksgiving scavenger hunt printable and get the whole family involved.
You can designate one person to be the scavenger hunt "keeper" and color the items off of the list as they're found by the rest of the family and friends.
This is great if you are playing with lots of younger kids.
Play on Teams
If you'd rather you can split the family into two groups and compete together on teams.
This promotes a little fun family competition that older kids really like. It works especially well if you have extended family over for Thanksgiving day.
Each Player on Their Own
Of course, you could make a printout for each person who wants to play.
Everyone looks for the items and colors them in as they find them.
You can even offer a small prize for the winner.
I like the idea of giving the top two players a chance at breaking the wishbone for the year!
Time or No Timer
If you are confident that the players will find every item on the list then a timer isn't necessary.
However, it can be fun to set the timer and see how many items the players can search for around the house and find in the allotted time.
Items on the Thanksgiving Scavenger Hunt List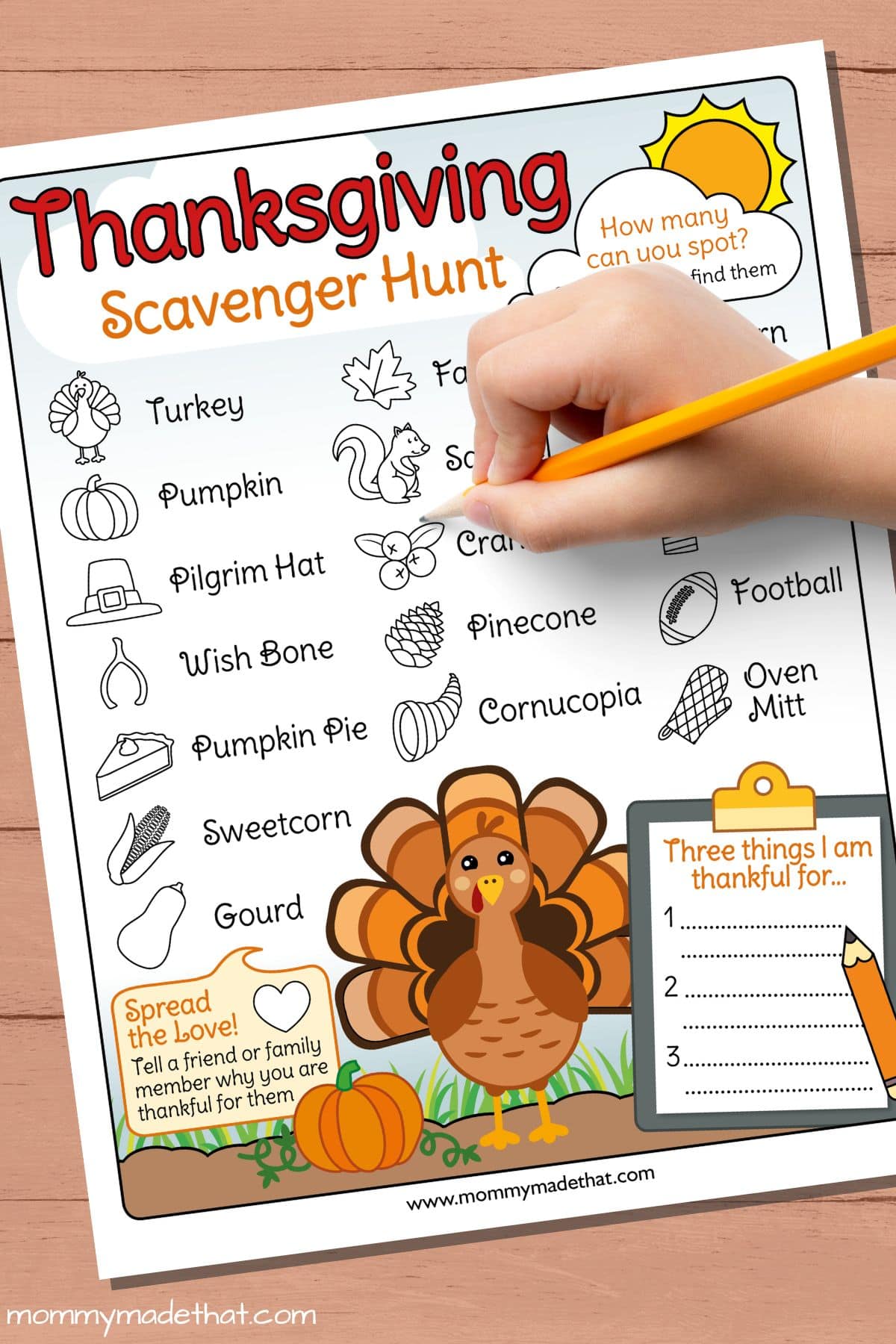 All the items on our list are related to Thanksgiving. We used pictures to let even the youngest players join in on the Thanksgiving fun.
We also have a small section in the corner for the players to write the things they're thankful for this year.
Which you can also grab our thankful turkey printable as another fun Thanksgiving day activity.
Turkey
Pumpkin
Pilgrim hat
Wishbone
Pumpkin pie
Sweetcorn
Groud
Fall leaf
Squirrel
Cranberries
Pinecone
Cornucopia
Acorn
Apple
Candle
Football
Oven mitt
We also have a fun Fall scavenger hunt and a Christmas scavenger hunt too if you want to grab those as well.
Grab the Printable Thanksgiving Scavenger Hunt
To grab the free printable just put your email in the box below. We'll send the free Thanksgiving scavenger hunt PDF straight to your inbox so you can start playing!
Do you think you'll be trying out some fun Thanksgiving scavenger hunt ideas? Let us know what you come up with!