Printable Unicorn Bookmarks (Free Coloring Bookmarks!)
Today we have these cute printable unicorn bookmarks. Just download, print and color in the magical unicorns.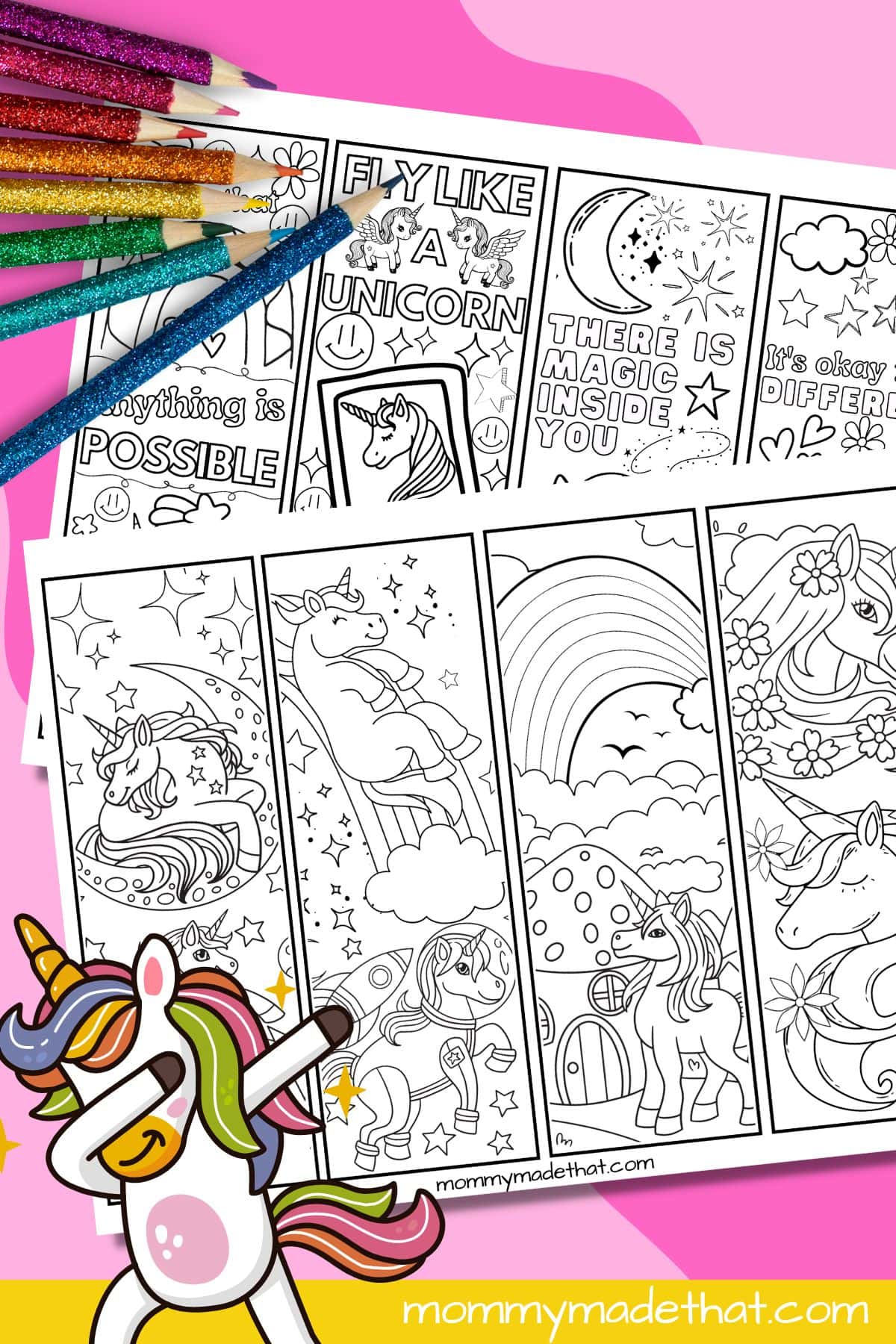 Today we have some fun printable coloring bookmarks!
In the digital age, it's easy to forget the simple pleasures of holding a physical book and using a bookmark to save our place.
Bookmarks not only help us keep track of where we left off in our reading adventures, but they can also serve as a personal touch, reflecting our interests and personalities.
That's where these enchanting unicorn bookmarks come in.
Unicorns have captured the hearts and imaginations of both children and adults alike, making them the perfect theme for our bookmarks.
Their whimsical nature adds an extra layer of joy to the reading experience, sparking our imagination every time we open our books.
We've got lots of other fun unicorn printables too! If you like these you'll love our unicorn color by number and our unicorn coloring pages.
Materials Needed
To create your very own unicorn bookmarks, you'll need the following materials:
Our printable unicorn bookmarks: You can grab at the end of the tutorial.
Paper: Regular paper will work, but cardstock will hold up better, if you don't plan on laminating your bookmarks.
You'll also need:
Scissors
Coloring materials
Laminator (optional)
With these items in hand, you're ready to embark on your journey to creating the perfect unicorn bookmarks for yourself or as thoughtful gifts for fellow book lovers.
Using the Unicorn Bookmark Printable
We've got two pages of bookmarks, with 8 bookmarks in total. The first page is a little cleaner and probably preferred more for older kids and adults.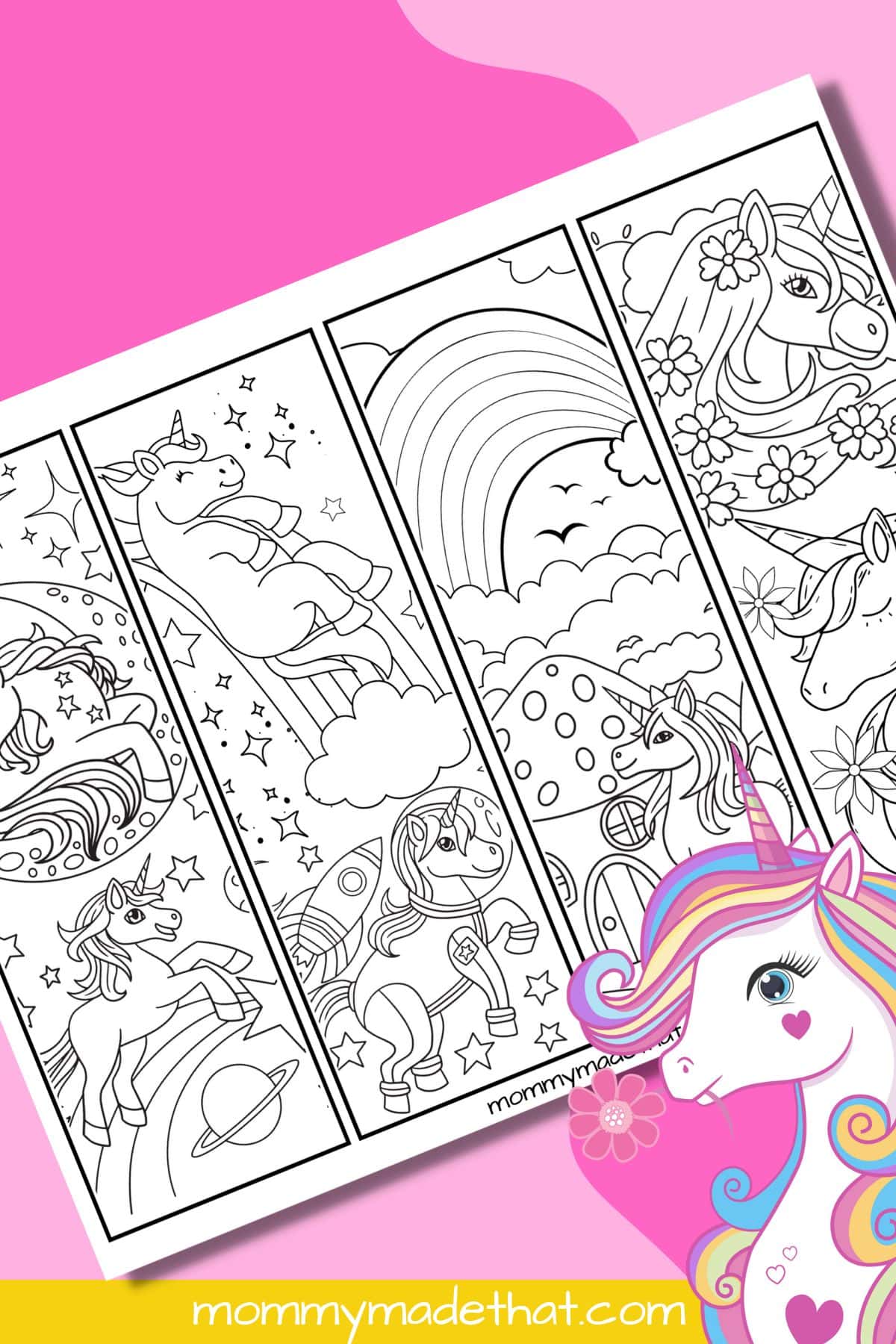 The second page is fun and bright with lots of fun sayings to coloring in, which is geared more for kids.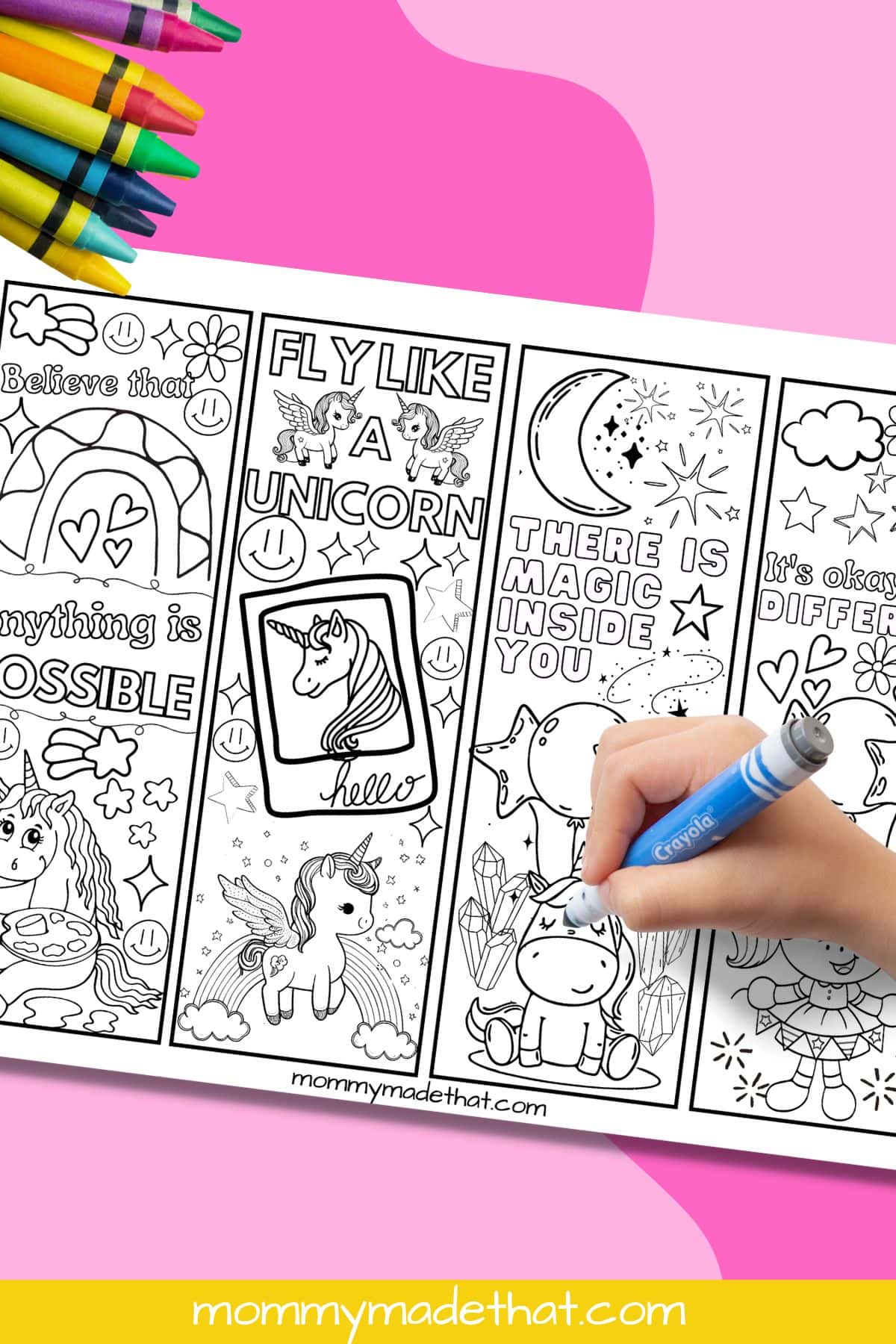 Follow these simple steps to create your very own magical unicorn bookmarks:
Download the free printable unicorn bookmark templates: Search online for a variety of unicorn bookmark templates, or create your own using design software.
Print the templates on your choice of paper: Choose between cardstock for a sturdier bookmark or regular paper for a more lightweight option.
Carefully cut out the unicorn bookmarks: Use scissors to cut along the outline of each unicorn, taking care not to leave any jagged edges.
Optional: Laminate or cover with clear tape for durability: To protect your bookmarks from wear and tear, you can laminate them or cover both sides with clear tape.
Optional: Punch a hole at the top of the bookmark and add ribbon or tassel: For an extra touch of flair, punch a hole at the top of your bookmark and thread a ribbon or tassel through it.
Tips for Customizing Your Unicorn Bookmarks
Make your unicorn bookmarks truly one-of-a-kind with these personalization ideas:
Coloring or painting the unicorns: Add a splash of color to your bookmarks by coloring or painting the unicorns with your favorite shades.
Adding glitter or stickers: Give your bookmarks some sparkle by applying glitter or embellishing them with stickers.
Writing names or quotes on the back of the bookmarks: Make your bookmarks extra special by writing your name or a favorite quote on the back.
Using Your Unicorn Bookmarks
Here are some fun ways to use your new unicorn bookmarks:
As a gift for friends or family members: Share the magic of reading with loved ones by gifting them a personalized unicorn bookmark.
As a party favor for a unicorn-themed event: Delight your guests with these whimsical bookmarks as a memorable keepsake from your celebration.
As a fun craft project for kids: Encourage creativity and a love for reading by having children create their own unicorn bookmarks.
Grab the Free Printable Unicorn Bookmarks
To grab the free printables, put your email in the box below. We'll send them straight to your inbox.
These are for personal or classroom use only please. Not for commercial use.
Thank you!
These free printable unicorn bookmarks offer a delightful way to enhance your reading experience, while also serving as a creative outlet for personalization.
By downloading the templates and following our step-by-step guide, you'll have a collection of charming bookmarks in no time.
We encourage you to get creative with your designs and share your finished bookmarks on social media or in the comments section below. Happy reading!