Unicorn Finger Puppets (Free Printables)
Today we have some free printable unicorn finger puppets. These fun unicorn printables are fun for all sorts of creative play.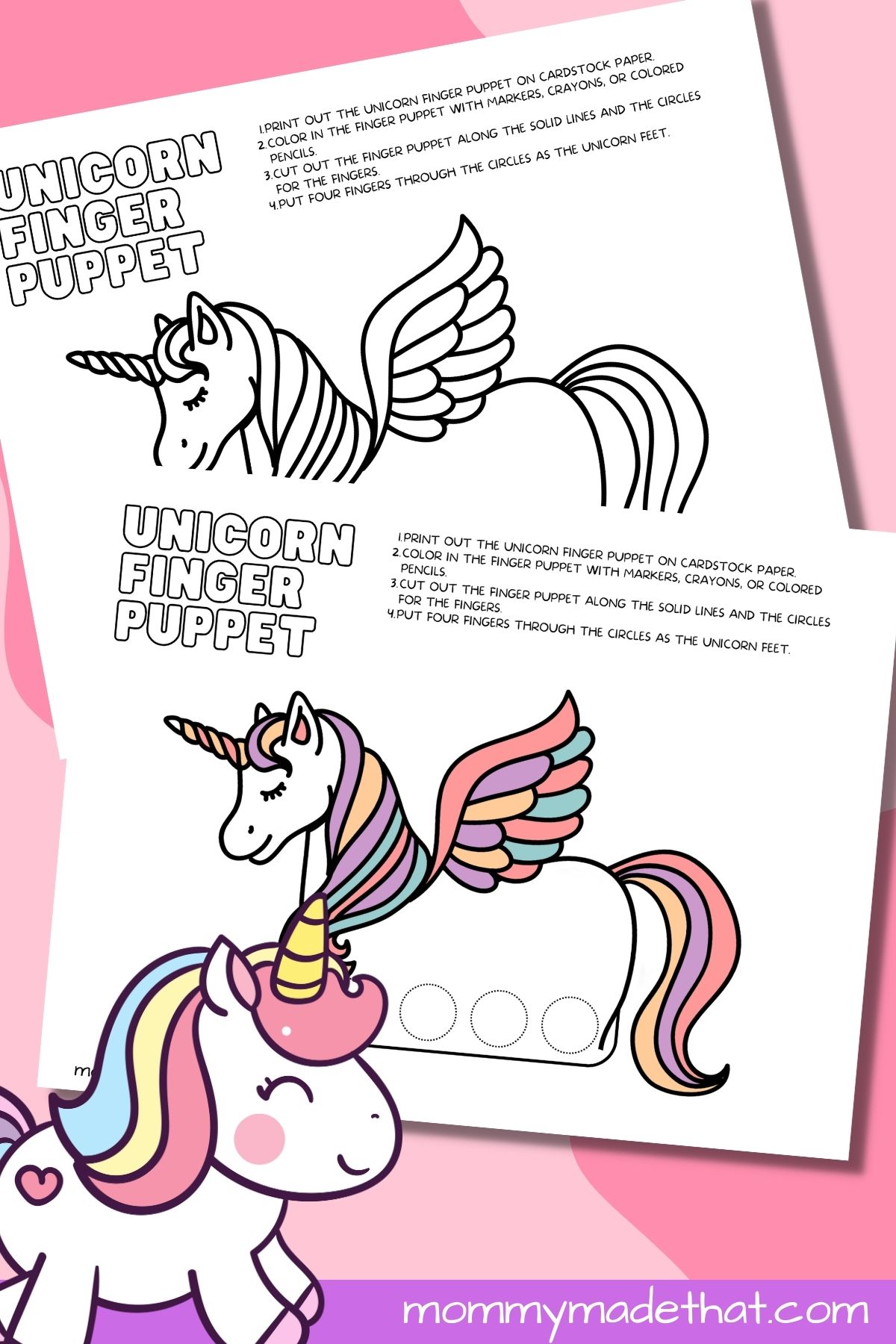 Today we've got some magical unicorn finger puppets! These delightful little creations are designed to bring joy and imagination to both children and adults alike.
With two charming versions available – a vibrant, colored version and a customizable black & white version – there's something for everyone.
Whether you're looking for a fun activity to do with your kids or seeking a creative outlet for yourself, these unicorn finger puppets are perfect for sparking creativity and playtime.
Get ready to embark on a magical journey with these whimsical friends!
And if you like these, you'll like some of our other unicorn crafts and activities like our rainbow unicorn bookmarks.
Materials Needed
To create your very own magical unicorn finger puppets, gather the following materials:
Our unicorn finger puppet templates: You can grab at the bottom of the tutorial.
Paper: While printer paper works, card stock is much better. If you don't have card stock you can print out the unicorn puppets and them glue them out onto thin card board like a cereal box. Then cut the whole thing out.
You'll also need some basic supplies like:
Scissors
Coloring materials (If you plan on coloring in your own.)
How to Make the Unicorn Finger Puppets
Ready to make your own unicorn puppets? Our templates come in two version. A colorful version.
And a printer-friendly black and white version. This one is perfect for kids to color in their own unicorns.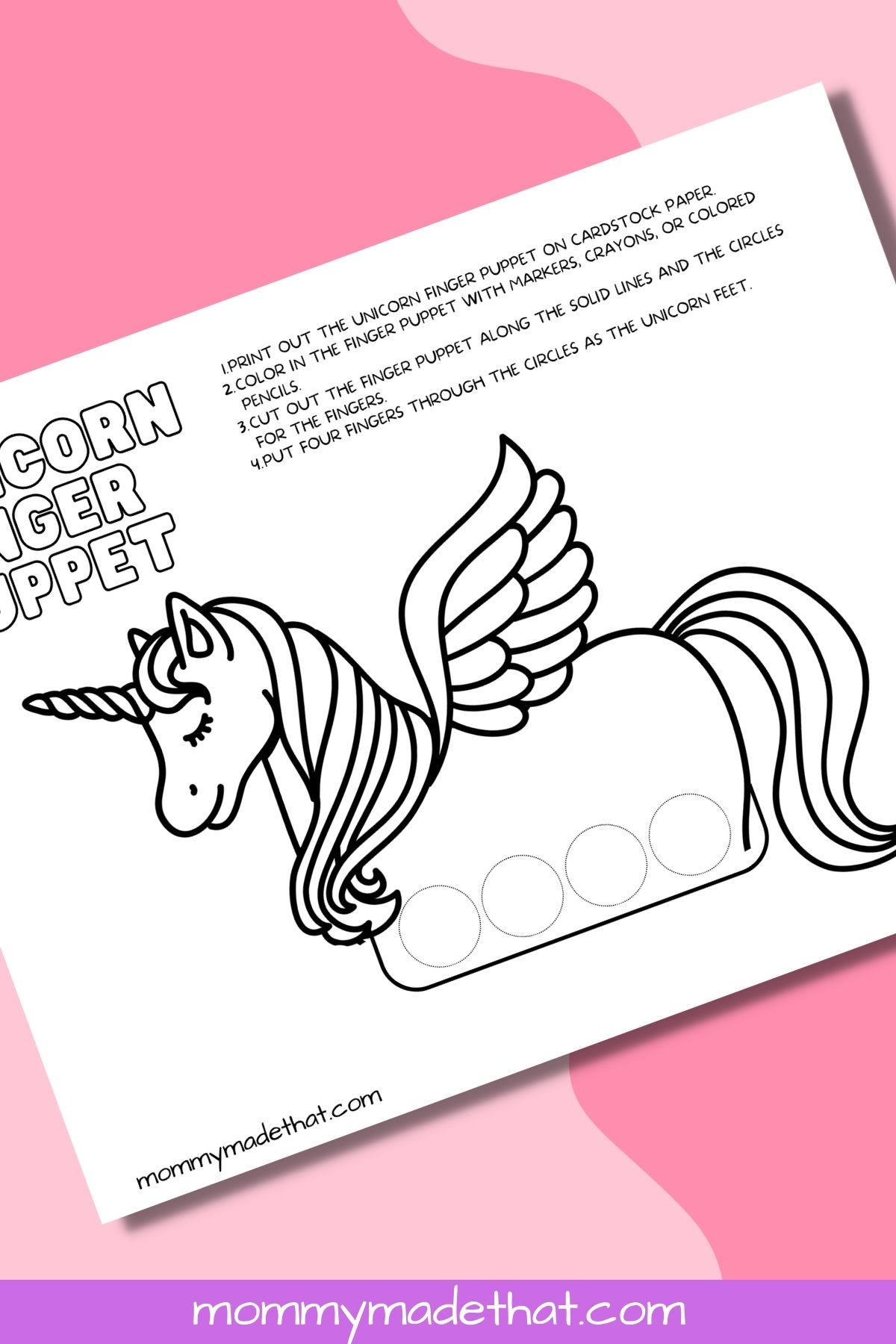 Step 1: Choose Your Unicorn Finger Puppet Version
Before you begin, decide which version of the unicorn finger puppet you'd like to create.
The colored version is vibrant and ready-to-use, perfect for those who want to dive right into playing with their new magical friends.
On the other hand, the black & white version offers a blank canvas for you to personalize, allowing you to unleash your creativity and make your unicorn uniquely yours.
Step 2: Print the Template
Once you've chosen your preferred version, download the printable template.
For best results and durability, we recommend printing the template on cardstock or thick paper.
This will ensure that your unicorn finger puppets can withstand hours of playtime and fun.
Step 3: Cut Out the Unicorn Finger Puppets
Next, carefully cut out the unicorn finger puppet shape along the solid lines using scissors.
Remember to take your time and be precise with your cuts.
For younger children, adult supervision is recommended during this step to ensure safety.
Step 4: Customize Your Black & White Unicorn Finger Puppet (Optional)
If you've chosen the black & white version, now is the time to let your imagination run wild!
Use coloring materials like markers, colored pencils, or glitter to decorate your unicorn finger puppet.
You can even add stickers, gems, or other embellishments to make your unicorn truly one-of-a-kind.
Step 5: Cut Out the Finger Holes
With your unicorn finger puppet cut out and customized, it's time to create the finger holes.
Carefully cut out the four small circles on the bottom of the puppet, where your fingers will act as the unicorn's legs.
We suggest starting with smaller holes and adjusting as needed for a perfect fit.
Remember, it's easier to make the holes larger if needed, but you can't easily make them smaller again.
Step 6: Put Your Fingers Through the Holes and Start Playing
Now that your unicorn finger puppet is complete, it's time to bring it to life! Insert your fingers through the four holes at the bottom of the puppet so that your fingers act as the unicorn's legs.
Once your fingers are comfortably in place, you can make your unicorn "stand" and start moving it around.
Let your imagination run wild as you create various play scenarios with your new unicorn friend.
You can have your unicorn embark on magical adventures, meet other mystical creatures, or even save the day!
Fun Ways to Use Your Unicorn Finger Puppets
Unicorn finger puppets offer endless possibilities for creative play and learning. Here are some fun ideas for activities and games that you can enjoy with your finger puppets:
Storytelling: Create a captivating story featuring your unicorn finger puppets as the main characters.
This can help develop narrative skills and encourage imaginative thinking.
Puppet shows: Put on a show for your friends and family using your magical unicorn finger puppets.
You can even design a stage and create props to enhance the performance.
Interactive learning activities: Incorporate your unicorn finger puppets into educational activities, such as teaching colors, numbers, or even spelling words.
Arts and crafts projects: Use your unicorn finger puppets as inspiration for other arts and crafts projects, like creating a unicorn-themed diorama or painting a scene featuring your unicorns
Grab the Free Unicorn Puppet Templates
To grab our free printable finger puppets, put your email in the box below. We'll send them straight to your inbox.
This is for personal or classroom use only please. Not for commercial use. Thank you!
These unicorn finger puppets offer a world of creative play and learning opportunities for both children and adults.
They're an excellent way to spark imagination, develop storytelling skills, and simply have a great time.