Snakes and Ladders Printable Game Board (Free Template)
Today we have a printable snakes and ladder game board for you to grab, completely free!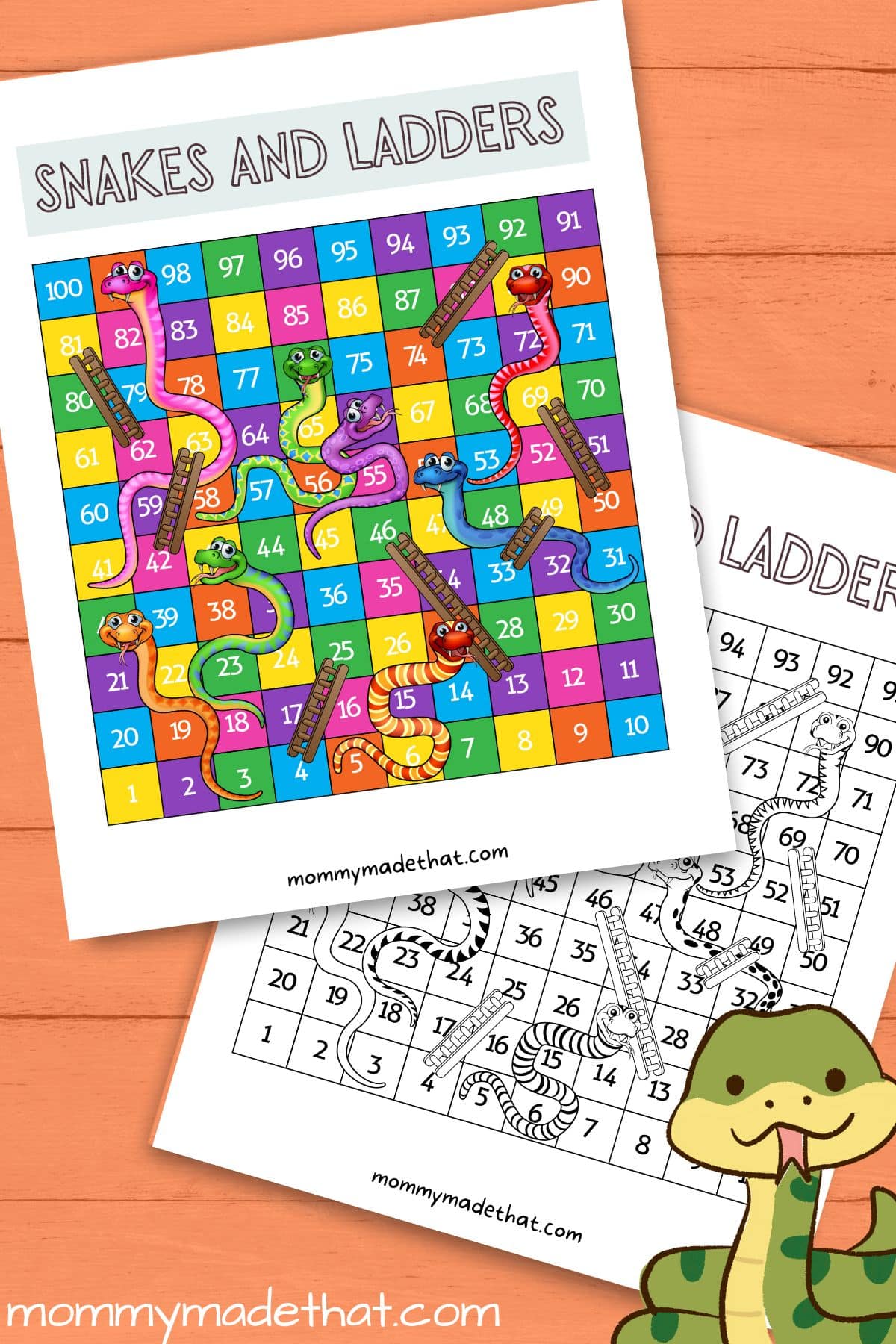 Are you looking for a way to keep your kids entertained on a rainy day? Look no further than the classic game of Snakes and Ladders!
With a printable snakes and ladders game board, you can provide hours of fun for your children without having to leave the house.
And if you enjoy printable games like this, make sure to check out our others like our printable battleship game and our dots game printable.
How to Play Snakes and Ladders
Snakes and Ladders is a roll the dice game where players take turns moving their pieces along the board.
On each turn they roll dice, move their piece forward, and follow directions based upon what space they land on. So if they roll a 6, they move 6 spaces.
If they land on a ladder they climb up it but if they land on snake they must slide back down. Hence the game name "snakes & ladders".
The first player to get their piece to the end of the board wins! It's an easy yet exciting game that can be enjoyed by people of all ages.
Add Some Variations
If you're feeling adventurous, why not throw in some variations? For instance, instead of rolling one die per turn, you could allow each player to roll two or even three dice (make sure everyone gets an equal number though!).
Or perhaps create your own rules like adding bonus points for every time someone slips down a snake or climbs up a ladder.
There are endless possibilities when it comes to creating fun variations that will keep your kiddos entertained for hours!
The Snakes and Ladders Board Game Printable
We have 2 versions of the printable snakes and ladders game. A bright colorful version or a printer-friendly black and white version.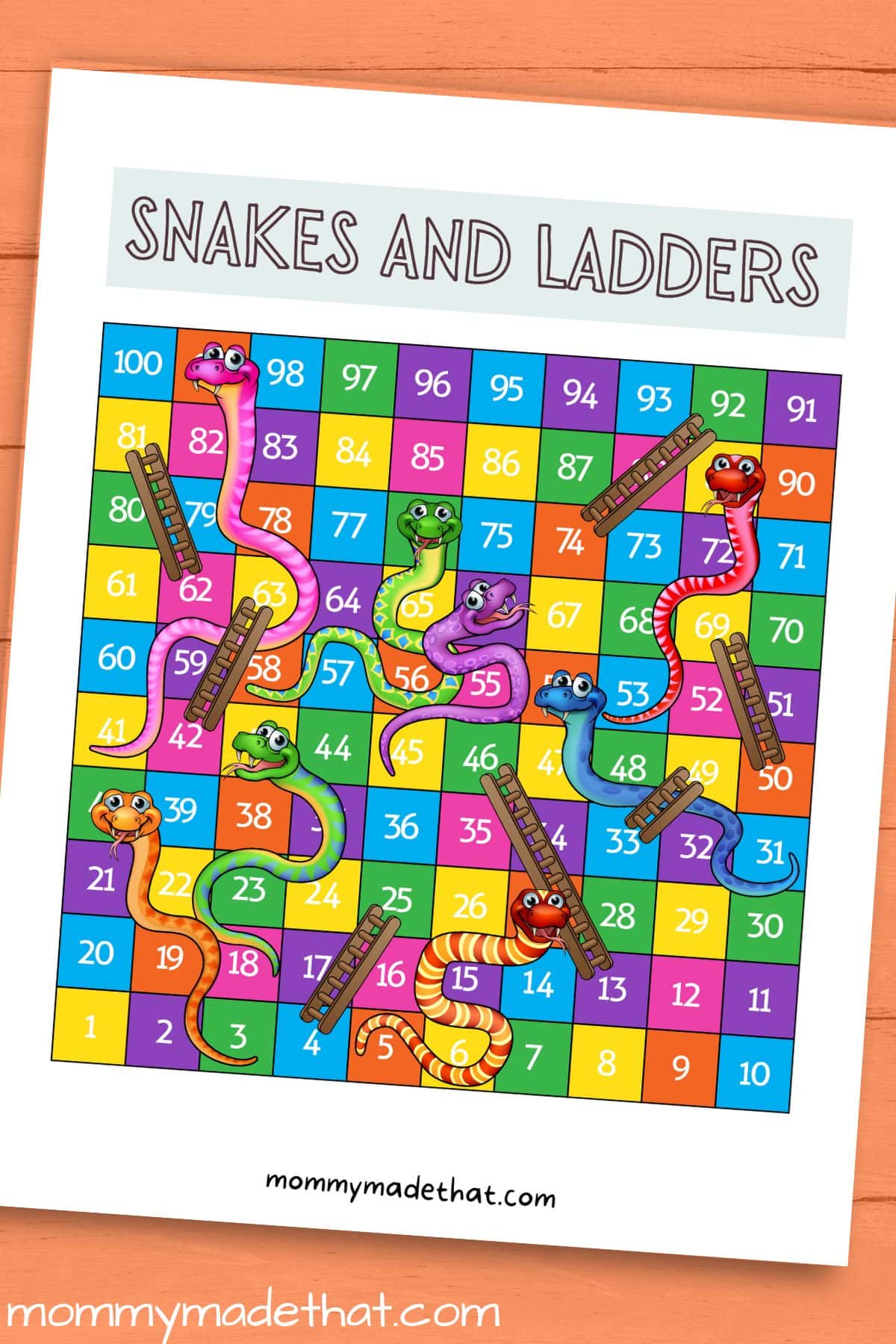 Simply print out your favorite version of the board game and grab some dice. (Or you can print out our printable dice template if you don't have dice handy.)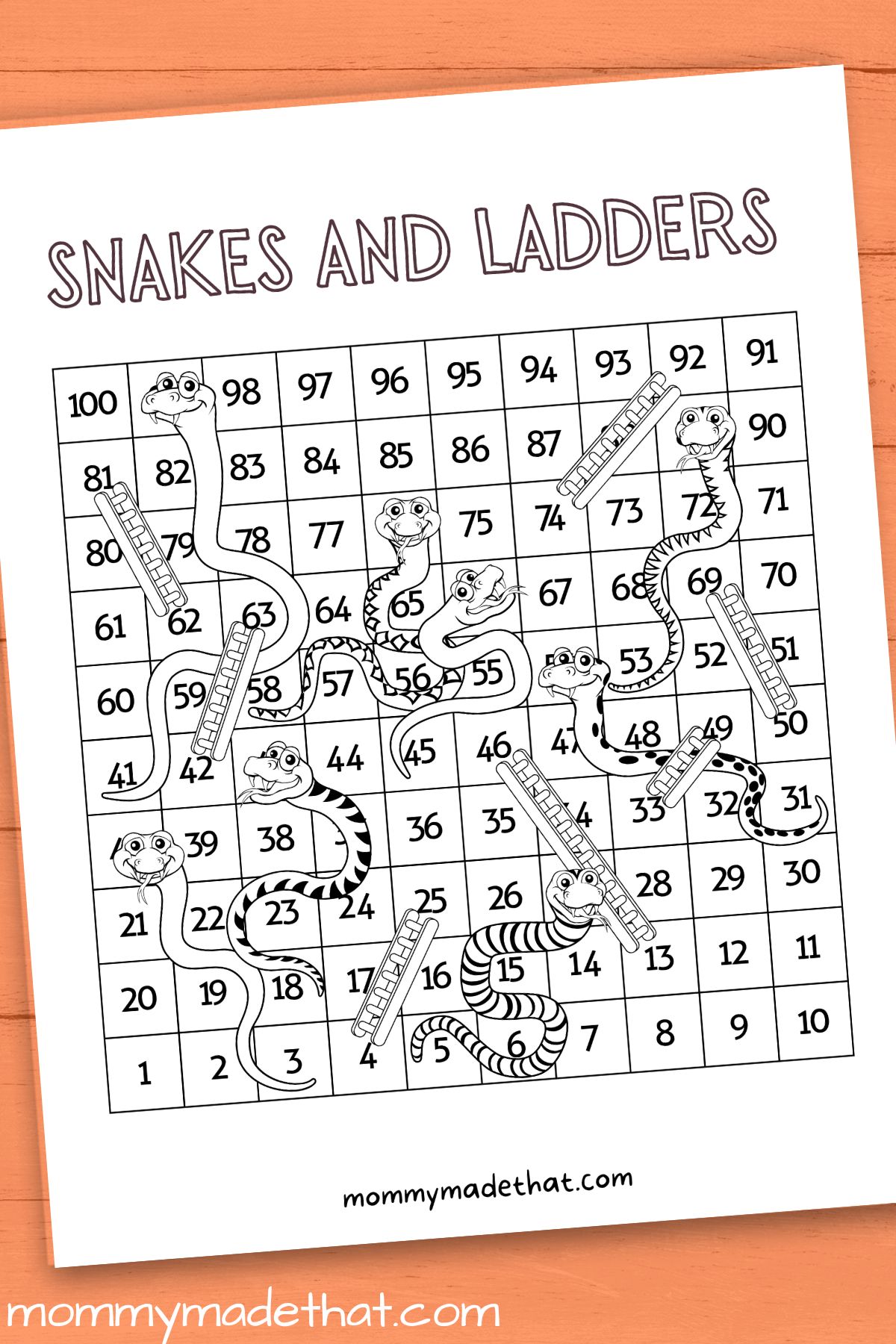 Printing your game board is simple, but there are a few things you'll need in order to get started.
You can print this game out onto regular paper, but cardstock is preferable and will last longer. You could even laminate it and use it over and over again!
You'll also need "markers" or a game piece for each player. You could use a piece of candy, a coin or anything else that makes for a good game piece.
Game Play Tips
Once you've printed out your game board, it's time to start playing! Here are a few tips on how to play the game correctly:
Make sure everyone understands the rules before starting the game; this includes understanding which pieces move where on the board and what happens when someone lands on a snake or ladder square.
Decide who goes first by having each player roll one die; whoever rolls highest gets to go first. Then, move clockwise around the board after each turn.
Each player should roll both dice together (or use one die if playing with two players). If doubles are rolled, then they get two turns instead of one.
The winner is whoever reaches 100 first (or whichever number was predetermined before starting).
Grab the Snakes and Ladders Games
To grab the free printable games, put your email in the box below.
We'll send both versions straight to your inbox.
These are for personal or classroom use only, please. Not for commercial use, thank you!
Hope you have fun playing with the snakes and ladders template!