Printable Penguin Craft (With Free Template)
Today we've got this super cute printable penguin craft. It's a fun build a penguin activity that's perfect for preschool and younger kids.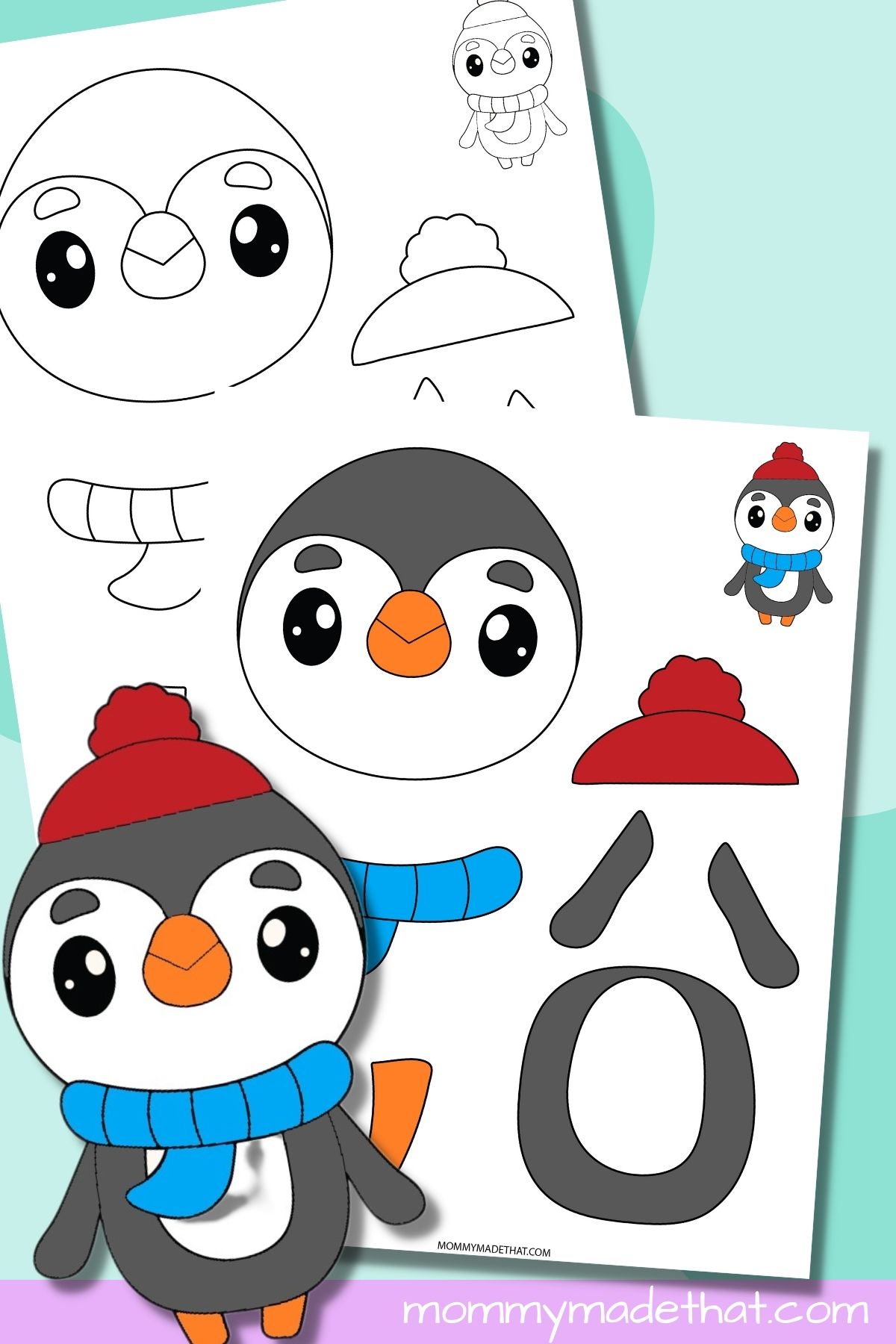 Welcome to our fun and engaging printable penguin craft for kids!
This activity is perfect for parents, teachers, and caregivers looking to inspire creativity and learning in children.
Our free cut and paste craft is designed to help you create a build-a-penguin project that will not only entertain but also educate your little ones about these fascinating birds.
This cute penguin craft is suitable for various age groups and skill levels, making it an ideal activity for the whole family to enjoy.
This easy craft is perfect to use as a winter craft for kids and great for helping with fine motor skills and scissor skills.
While working on the craft, you can also share some delightful penguin quotes and penguin jokes to add an extra layer of fun and laughter to the experience.
So gather your materials and get ready to dive into the world of penguins with this delightful craft!
We also have some other fun penguin crafts, like our paper bag penguin and our popsicle stick penguin.
Materials
Before you start creating your adorable penguin friend, make sure you have the following materials on hand:
Printable penguin template: We have 2 versions, a full color version and a black and white version you can grab at the end of this post.
Printer and paper: You'll need a printer to print out the free penguin craft template. Cardstock is recommended for a sturdier result, but regular printer paper will also work.
Scissors: A pair of scissors will be needed to carefully cut out the penguin parts. Remember, adult supervision is essential when younger children are using scissors.
Glue or glue stick: To assemble your penguin, you'll need some glue or a glue stick to attach the various pieces together.
Optional: Coloring materials: If you're using a black and white template, gather some coloring materials like crayons, markers, or colored pencils to bring your penguin to life.
With these materials ready, you and your kids can embark on an exciting journey to create your very own penguin craft.
How to Use the Penguin Printable
Follow these simple steps to create your very own printable penguin craft. Don't forget, you can grab the penguin template at the end of this post.
Download and print the free penguin craft template: You can grab our template at the end of this post.
Print it out on your preferred paper (cardstock recommended for sturdiness).
We offer two versions. A fully colored version.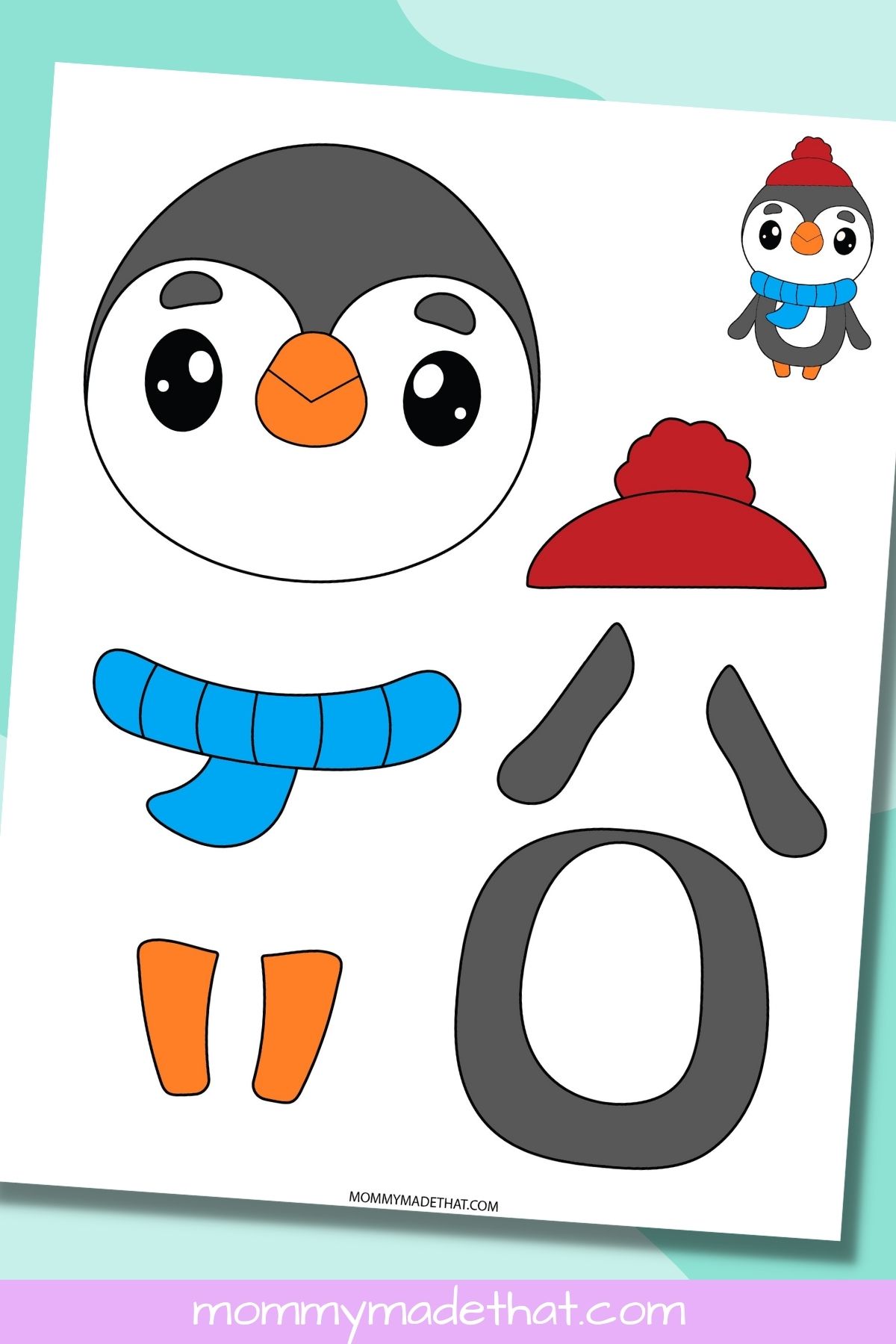 And a printer friendly black and white version. Perfect for using as a penguin coloring page.
Color the penguin pieces (if using a black and white template): If you've chosen the black and white version of the template, let your kids unleash their creativity by coloring in the penguin parts with crayons, markers, or colored pencils.
Carefully cut out all the penguin parts: With adult supervision, help your kids use scissors to carefully cut out each piece of the penguin.
Take your time to ensure clean edges and avoid tearing the paper.
Assemble the penguin by gluing the pieces together in the correct order: Now it's time to bring your penguin to life!
Use glue or a glue stick to attach the various penguin parts in the correct order. Refer to the template or an example image if needed.
Essentially, start by gluing the arms and legs to the penguin's belly. Then attach the penguin's head.
Finally glue on his hat and scarf. If you aren't a fan of the hat and scarf you can leave them off.
Allow time for the glue to dry: Once your penguin is assembled, give the glue some time to dry before handling or displaying your new creation.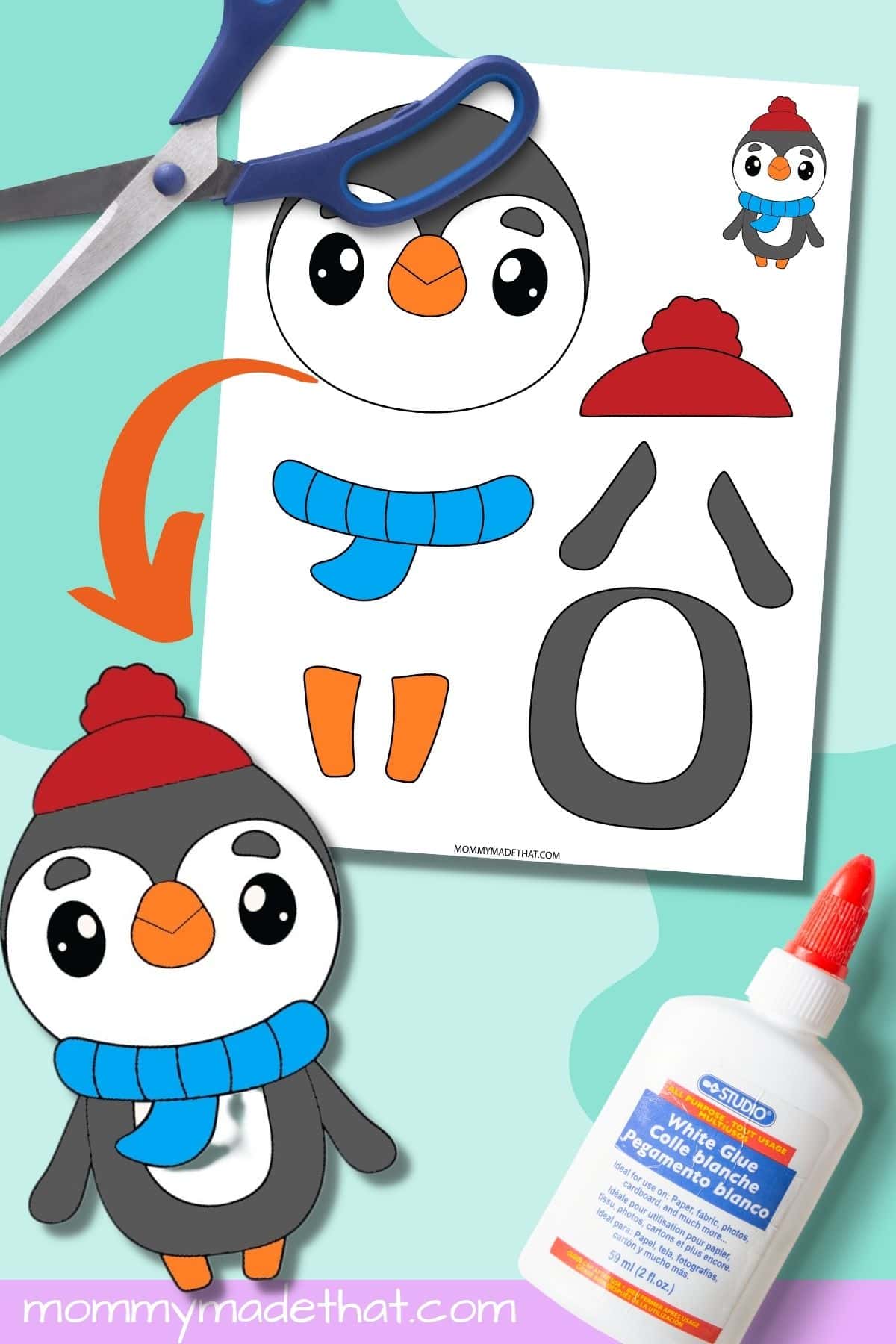 Congratulations, you've successfully created your very own printable penguin craft!
Enjoy the sense of accomplishment and have fun showing off your adorable new penguin friend.
Tips for a Successful Penguin Craft
To ensure your cute penguin craft is a hit, follow these helpful tips and tricks:
Customize your penguin craft: Make your penguin unique by adding accessories, patterns, or textures.
Encourage your kids to express their creativity by using glitter, stickers, ribbons, or fabric scraps to personalize their penguins.
They can also create different penguin species by varying the colors and markings.
Adult supervision with scissors: Safety is essential when working on crafts, especially for younger children.
Make sure an adult is present to supervise and assist with cutting out the penguin parts.
This will help prevent accidents and ensure a smoother crafting experience for everyone involved.
Create a stable penguin: To make your penguin more stable, consider using a thicker paper like cardstock when printing the template.
Alternatively, you can glue your completed penguin onto a cardboard base to provide extra support and prevent it from toppling over.
Grab the Penguin Template
To grab the free penguin craft, put your email in the box below. We'll send it straight to your inbox.
This is for personal or classroom use only. Not for commercial use. Thank you!
This fun winter craft is perfect for preschool and kindergarten kids. Grab the penguin templates and get started crafting!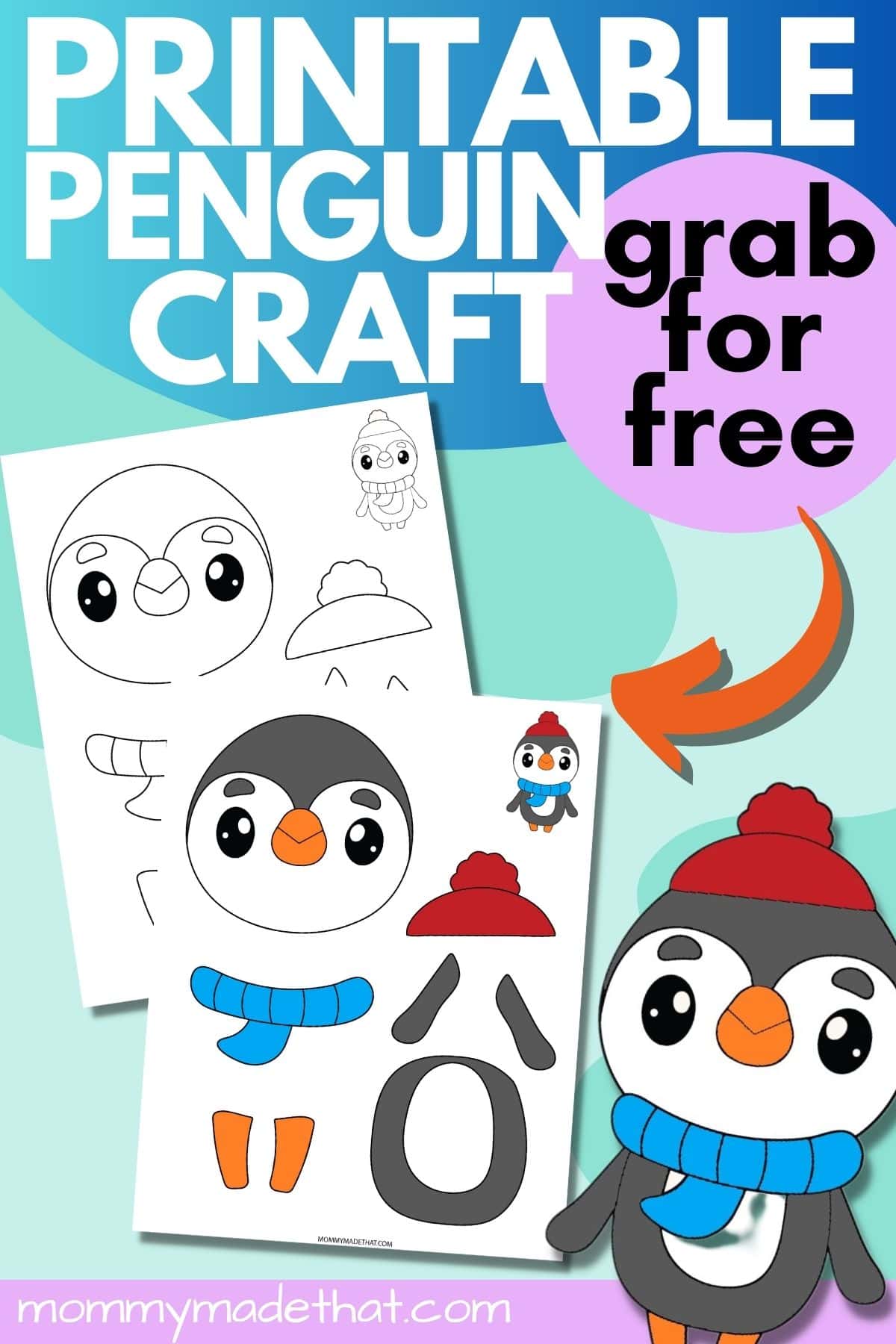 Additional Penguin Activities
Take your penguin craft to the next level with these exciting extension activities:
Make a penguin-themed diorama: Use a shoebox or any other small container to create a penguin-themed diorama.
Add elements like icebergs, snow, and water to recreate the penguins' natural habitat. This is a great way to teach kids about the environment and ecosystems.
Use the craft for storytelling: Incorporate your penguin into storytelling activities.
Encourage your children to create stories involving their penguin characters, helping them develop their imagination and narrative skills.
In addition to these extension activities, inspire your kids to learn more about penguins through various resources:
Read books about penguins: Explore a variety of children's books featuring penguins, both fictional and non-fictional. These books can help teach kids about penguin biology, behavior, and habitats.
Watch documentaries: Find age-appropriate documentaries about penguins that showcase their fascinating lives and the challenges they face in the wild.
Visit a local zoo or aquarium: If possible, plan a trip to a nearby zoo or aquarium where your kids can observe penguins up close and learn more about these amazing creatures from experts.
By engaging in these extension activities, your kids will not only have fun but also gain valuable knowledge about penguins and their incredible world.