Paper Bag Puppet Eagle Craft (Free Printable Template)
This super cute bald eagle paper bag craft makes for an adorable paper bag puppet craft.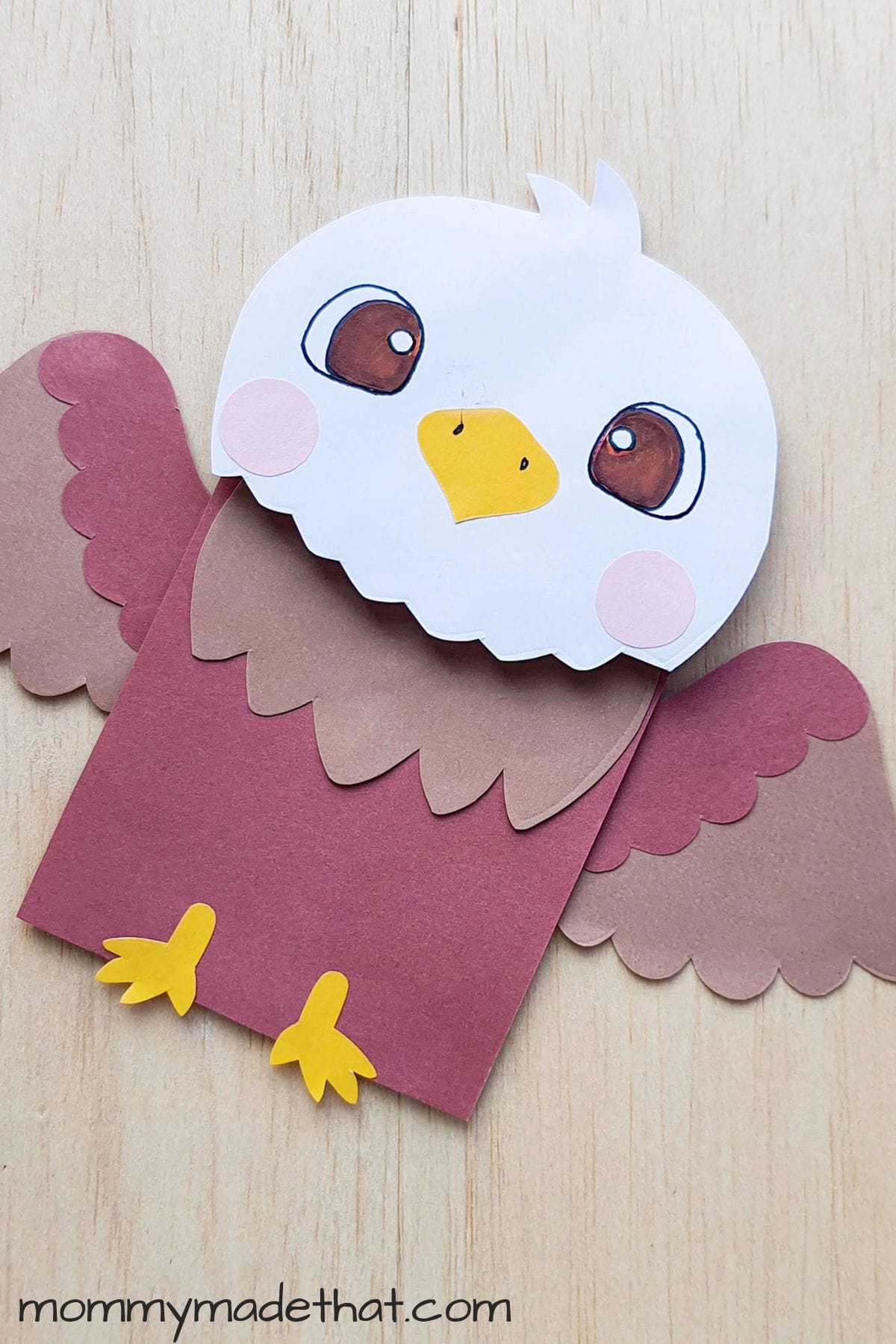 Create a fun paper bag puppet of a bald eagle using this free printable template!
It's an easy craft that only requires a few materials and is great for kids of all ages.
Not to mention, it makes for a wonderful educational activity by discussing the endangered species status of bald eagles.
It's also a fun 4th of July craft for kids like our DIY confetti poppers or our felt bald eagle craft.
So let's get started on this fun paper bag puppet craft with your free printable template!
Materials
Colored craft paper: We used brown's, white and yellow for the feet. But you can use any colors you like. Or just color in the template with colored pencils.
Paper bag: We used the small lunch sack paper bags.
Eagle Template: You can grab the template at the bottom of the craft tutorial.
You'll also need some basic craft supplies like:
Black marker
Craft glue
Pencil
Scissors
Instructions
Start by grabbing and printing our bald eagle template. Then you can either color in the template pieces and cut them out. Or use them to make all the pieces from colored craft paper.
The template includes pieces for the wings (2 large pieces and 2 smaller pieces) 2 legs, a beak, eyes and feather pieces for his neck.
Trace the template pieces onto colored paper and cut them out.
Once you have all your pieces, you can start by assembling the eagle's face. Color both eyes and add pupils.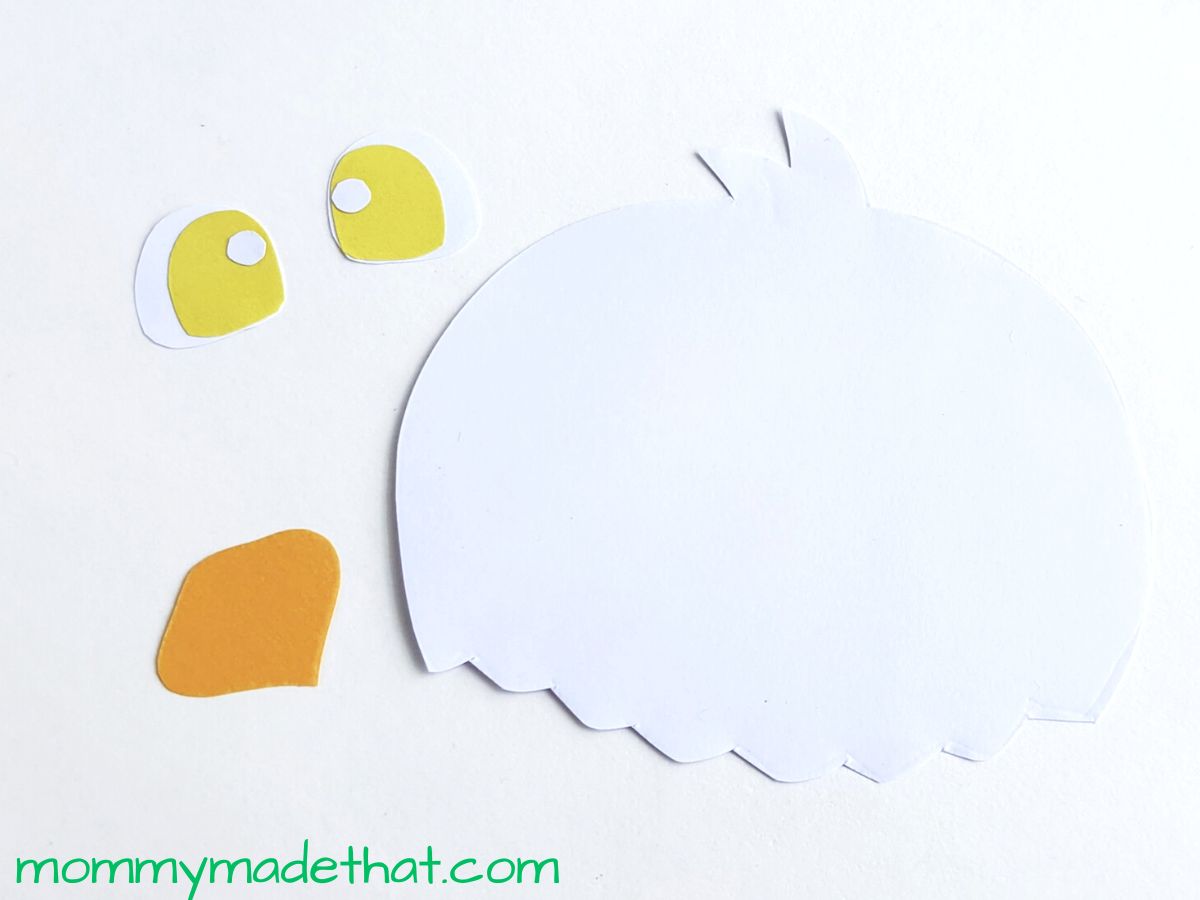 Then attach them to the head along with the beak.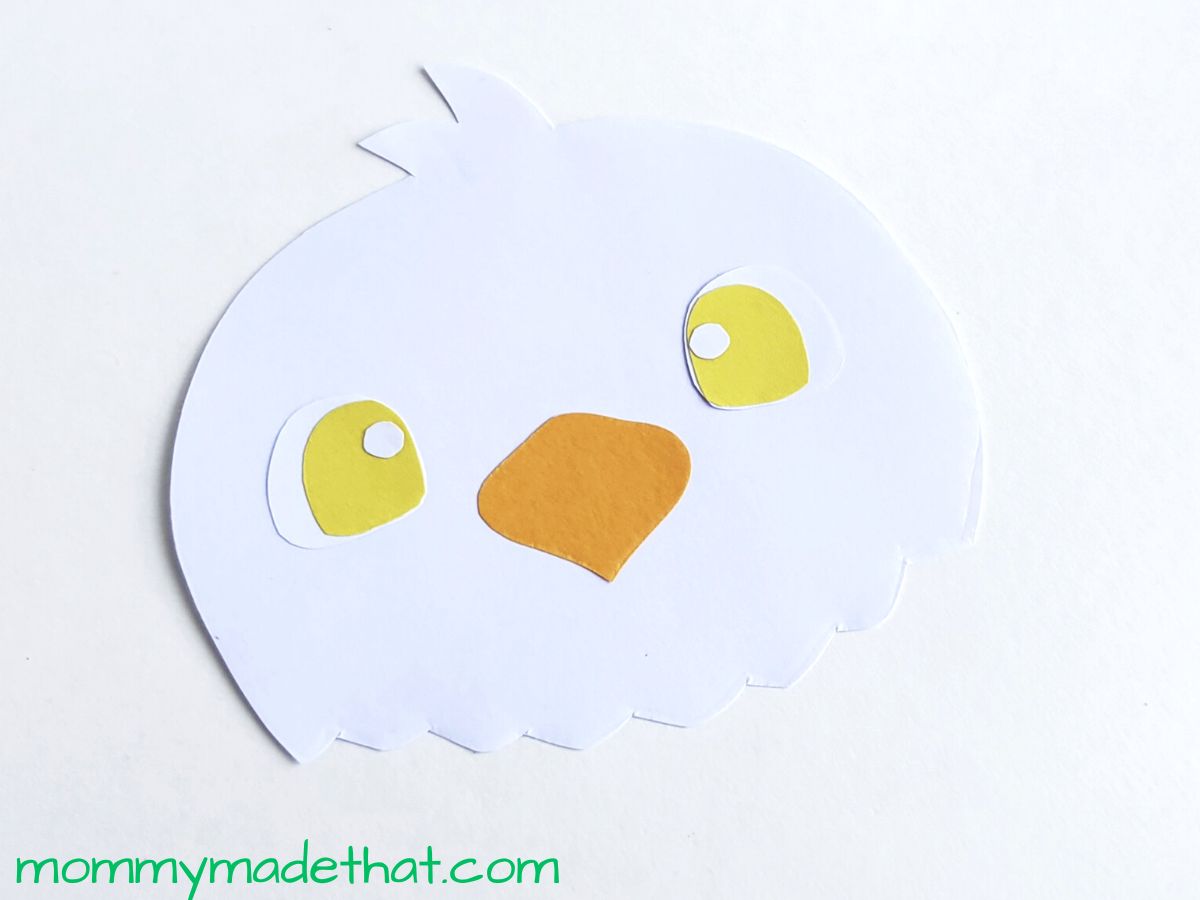 With a black pen you can add detail by tracing around the eyes and adding nostrils to the beak.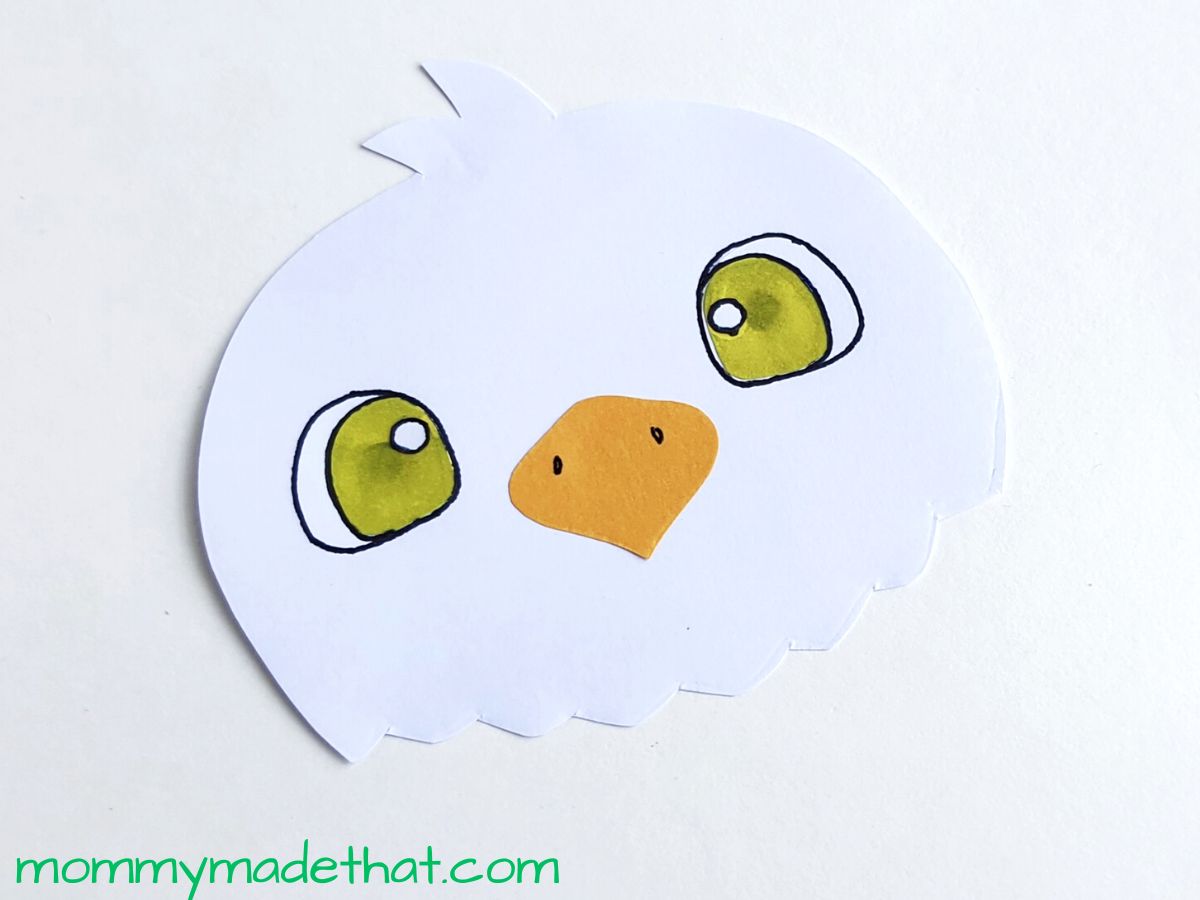 Then attach the smaller wing pieces to the wing bases.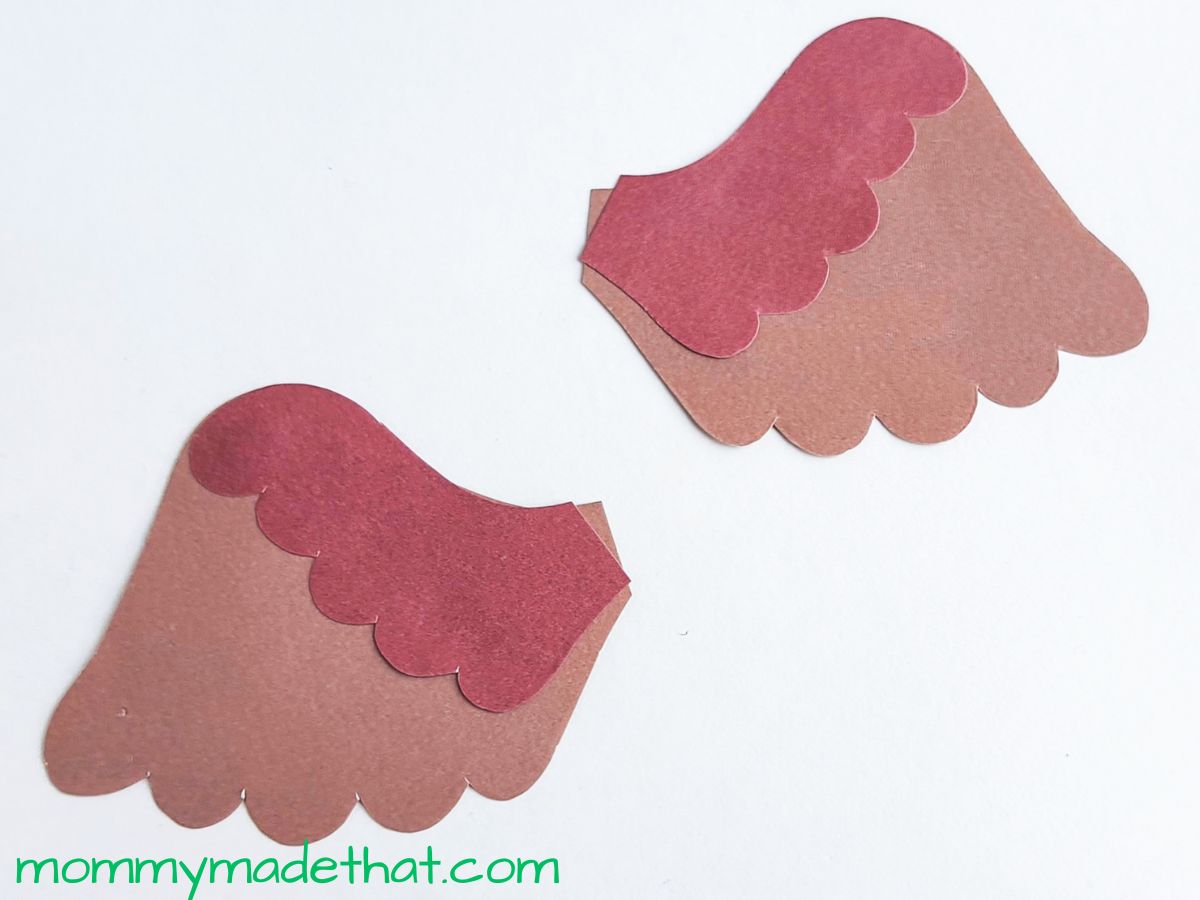 Using a piece of brown paper, measure out enough to cover the surface of the paper bag like shown below.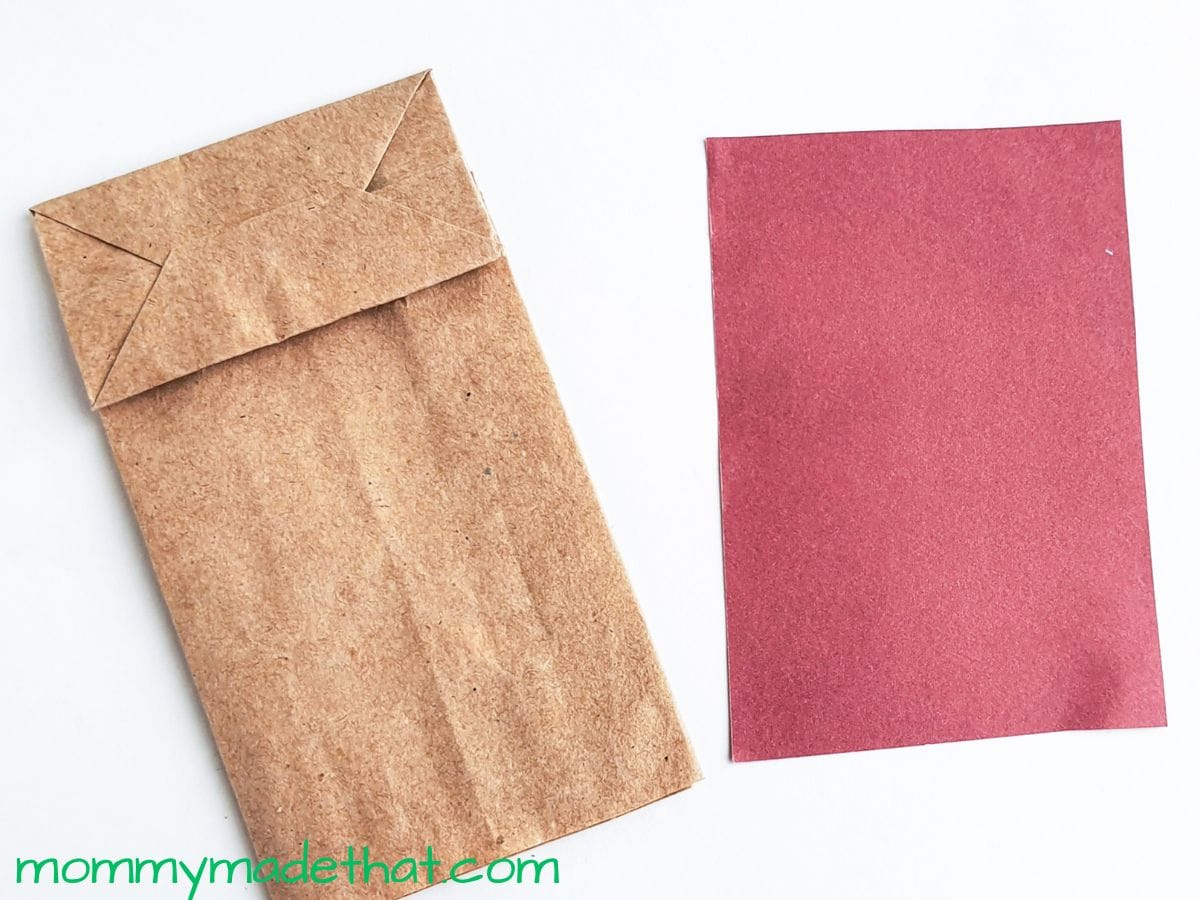 Attach it to the bag and trim it if necessary, careful not to cut the bag.
Then attach the feather piece where his neck should be, under where the head will go.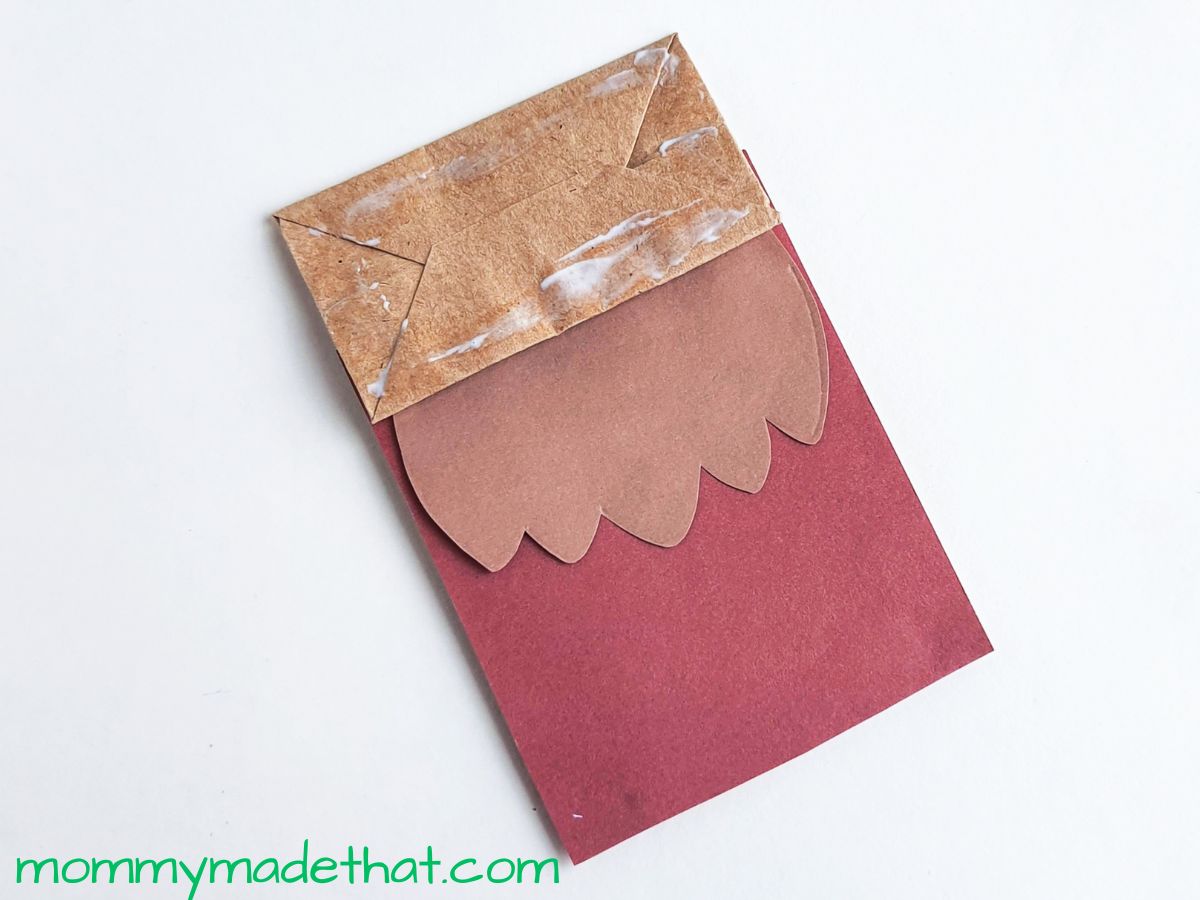 Attach the head to the bottom of the bag, so that it can move up and down. The open area of the bag will be the bottom of the eagle puppet. Attach his feet.
Then attach the wings on to each side of the paper bag.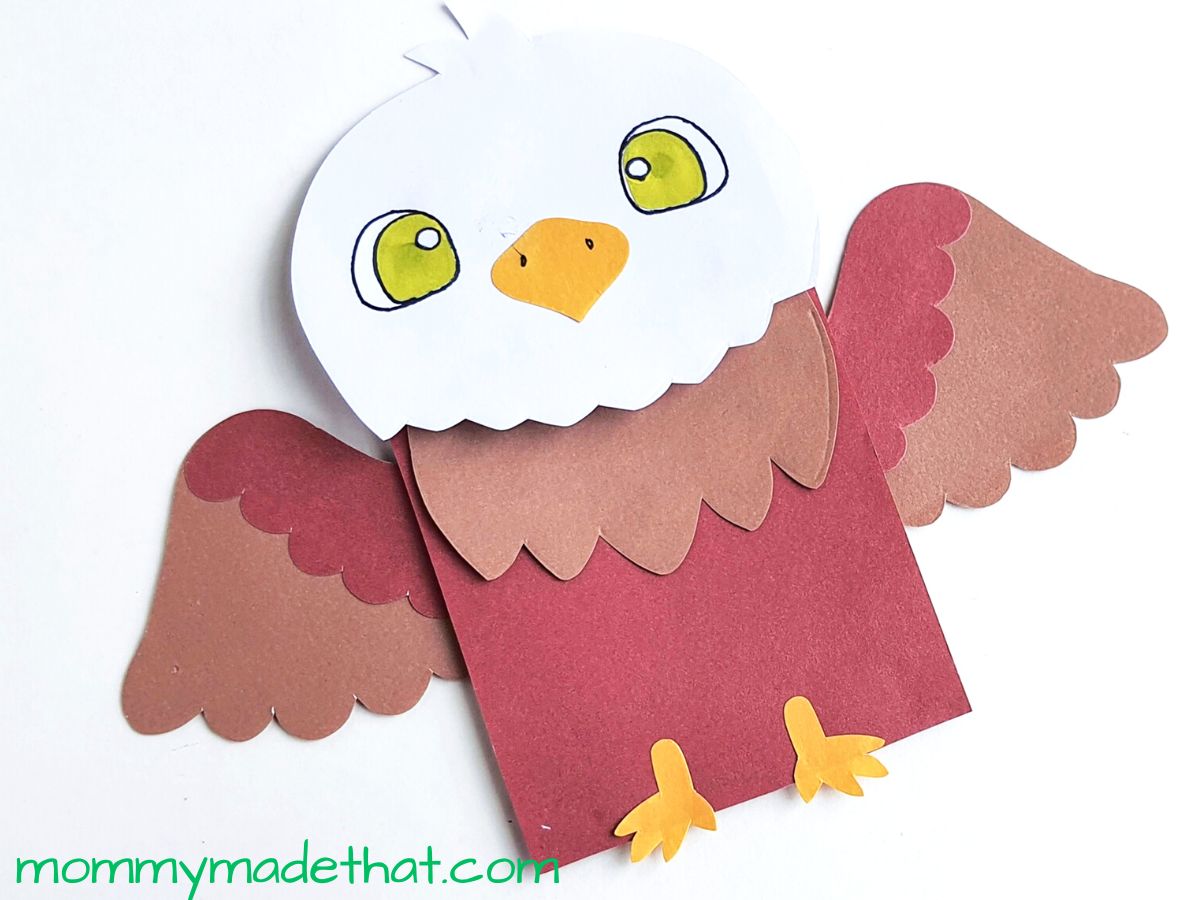 And that's it. You have an adorable little finished eagle craft that kids can use as a hand puppet.
It's great for storytelling and for creative play. If you want darker eyes, you can use a marker and change the eye color too if you like.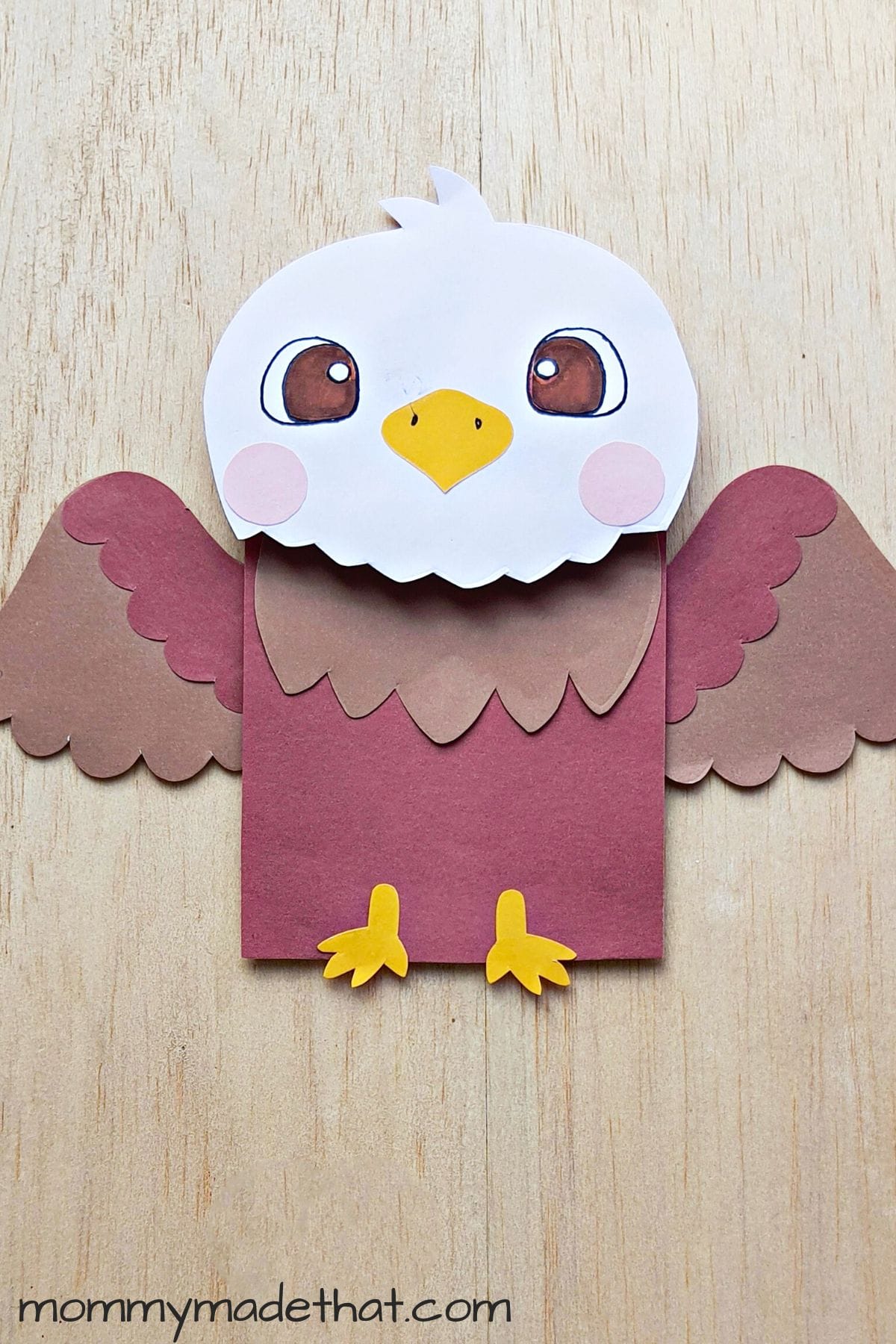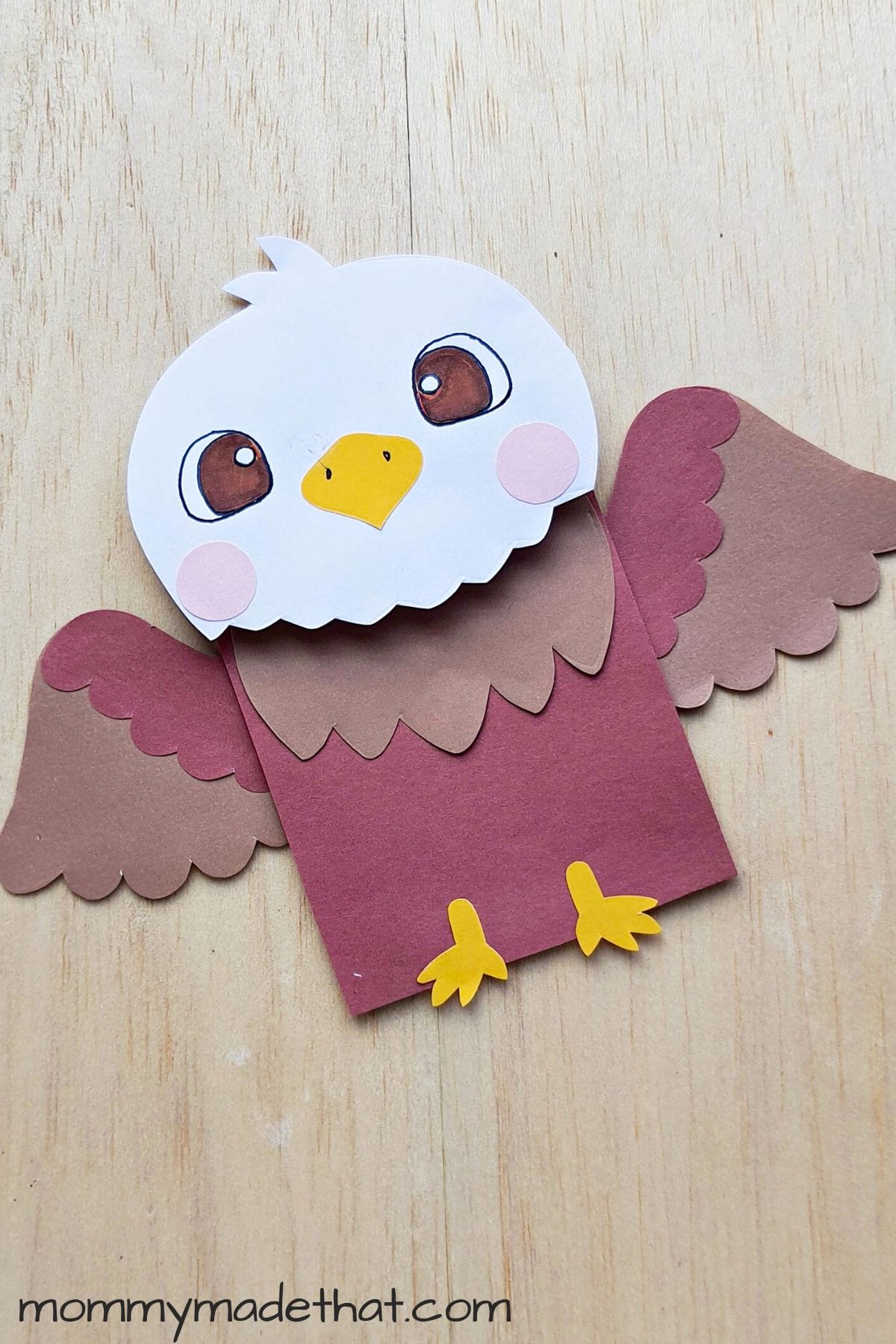 Grab the Free Eagle Template
To grab the free bald eagle template, put your email in the box below. We'll send it straight to your inbox.
This is for personal or classroom use only, please. Not for commercial use. Thank you!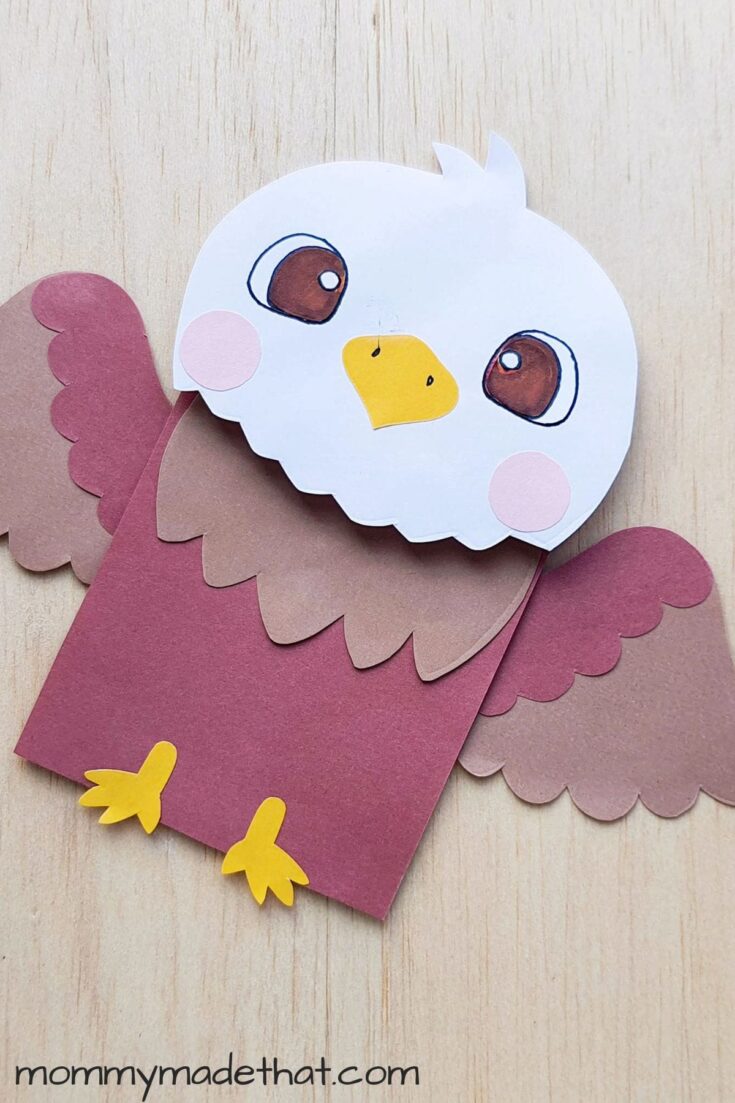 Yield:

1 Eagle
Paper Bag Eagle Craft
This adoralbe little bald eagle paper bag puppet makes for a fun 4th of July craft or to talk about endangered species.
Materials
Colored craft template
Bald eagle template
Paper bag (lunch sack size)
Tools
Scissors
Pencil
Black marker or pen
Craft glue
Instructions
Cut out all template pieces onto colored paper, or color them in using crayons or colored pencils, and then cut them out.
Assemble the face by adding eyes and beak to Eagle.
Trace around eyes and add nostrils.
Assemble wings by attaching smaller wing pieces to larger wing bases.
Cut out a piece of paper the size of the paper bag for the eagle's body. Attach to one side and trim if necessary.
Attach neck feather piece to eagles neck.
Attach head to the bottom of the bag, and feet toward the bottom part of the eagle (the open end.)
Attach wings to either side of eagle.
Notes
Have fun with varying colors or even textures of paper.