It's that time of year again. When all the wonderful things become spooky! Today we have an easy and awesome little Halloween Treat. Oreo Spider Cookies!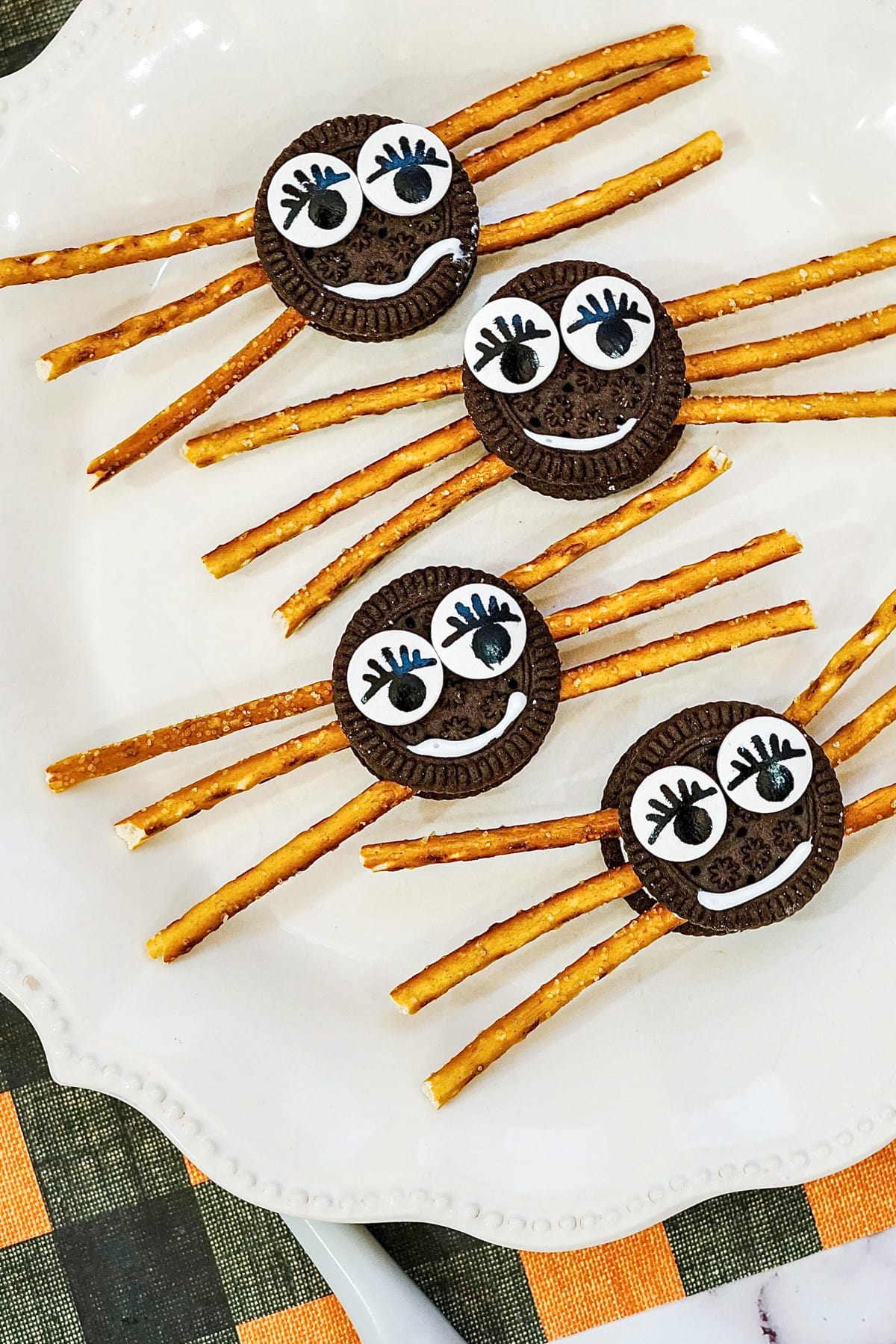 These cute little spider cookies are fabulous, see the eye lashes.
But you can make your spider cookies with our without the eye lashes. And they'll turn out great.
We created a little tutorial to show you how to make these spider cookies with pretzels, but the process is so easy you'll barely need it.
Ingredients for the Oreo Spider Cookies
Turning Oreos into spiders isn't anything new. It's been a fun and popular Halloween party food for a few years now.
But when we saw these darling eye candies, I knew we had to do something fun this Halloween with them.
For these cookies you'll need
Oreos: The double stuffed ones. This gives more cream filling to stick your pretzel stick legs into.
Pretzels: 6 for each Spider cookies you're going to make
Candy eyes: 2 for each Spider cookies
White Cookie Frosting: The one in the pouch makes this so much easier!)
If you can't find the frosting in the pouch, you can put some icing in a small zip lock bag and cut a tiny hole in one corner to make it easier to control the frosting.
Unless you want to get real fancy and use a piping bag. Both will work well for this.
How to Make Spider Cookies
To start grab all your ingredients in one place. If you have kids that can help, get them in on the fun.
They'll love helping you create these little spiders!
Start by sticking 6 pretzels into the cream of the Oreo cookies. These pretzels will be their legs.
I found that gently twisting the pretzels into the cookies was the easiest way to avoid breaking the Oreos.
Next, you'll want to put a small dab of icing on the back of 2 of your candy eyes and stick them onto the top of your Oreo Spider.
Leave enough room for a mouth below your candy eyes.
Finally, make a small mouth using the frosting on each of the spider cookies.
We wanted happy spiders, so we made smiles.
We were going for cute Halloween treats vs spooky ones.
And that's it! Time to eat your cute little treats up!
Kids will love these as part of the snack after school, but everyone would find them amusing at a Halloween party or school function.