Yummy Grinch Sugar Cookies
Looking for a fun and easy way to make grinch sugar cookies. These adorable cookies represent the grinch's heart with an adorable little sprinkle on each cookie!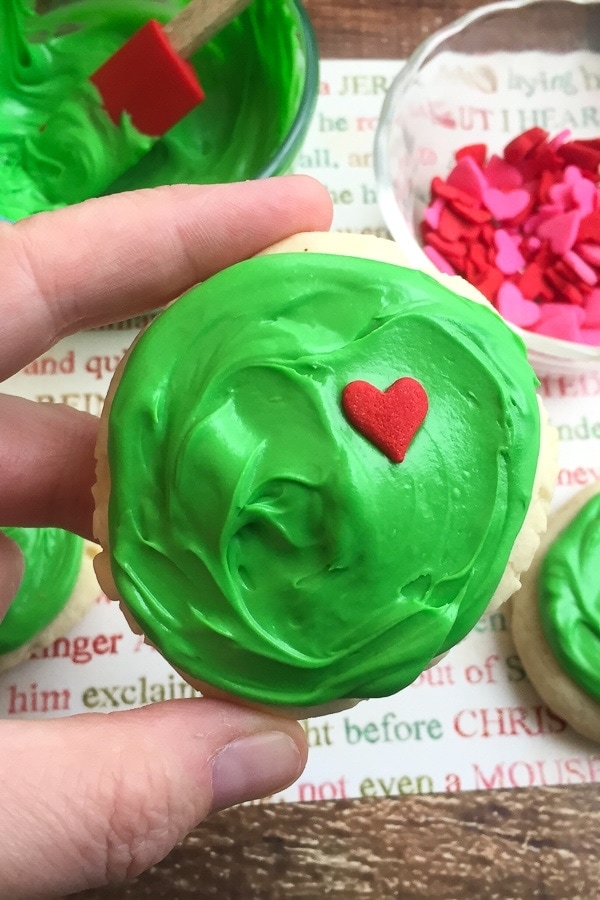 The Grinch is a wonderful story for Christmas time!
So many great lessons in love, joy and the true spirit of Christmas.
If you've got young kids at home, why not try making these grinch cookies while talking about the lessons!
These have the same grinch concept as our grinch ornaments. A green base and red heart.
We'll show you how to decorate these cookies step by step!
Ingredients for Grinch Sugar Cookies
To make these grinch sugar cookies you'll basically just need all the basic ingredients for sugar cookies. This is our personal favorite recipe.
For the Sugar Cookies You'll need:
6 Cups of Flour
1 ½ tsp of baking soda
1 Cup of softened butter
2/3 Cups of Sugar
2 Eggs
1 Cup of sour cream
2 tsps of vanilla extract
If you are in a pinch, you could use store-bought sugar cookies and just decorate them to look like grinch heart cookies following our decorating instructions.
After all, the special thing about most Christmas cookies are the decorations!
For Decorating the grinch cookies you'll need:
White frosting

Green gel food coloring

Small red candy hearts or heart shaped sprinkles
How to Make The Christmas Grinch Cookies
To make these grinch cookies, start by preheating the oven to 400 degrees.
Combine the flour and baking powder and set aside. In a large bowl combine the butter, sugar, egg, sour cream and vanilla.
Slowly fold in the flour and baking powder mixture into your wet ingredients.
Sccop the cookie dough into 2 inch balls and place on a baking pan about 2 inches apart.
Use a flat bottom glass to gentley flatten each dough ball to about 1/4 inch thick.
Bake for 6-8 minutes. Don't over bake the cookies!
Decorating The Grinch Heart Cookies
To decorate your sugar Christmas cookies to look like the green grinch, you'll need green frosting!
You can buy already green tinted frosting, or use plain vanilla frosting and dye it green.
To turn your vanilla frosting green, simply add a few generous drops of green food coloring.
Generously apply a good amount of green frosting to each sugar cookie. After all, the green is totally the grinch's color!
Once all of your cookies are frosted you can add a heart to each of your grinch cookies.
These cookies are seriously cute and a fun twist on the typical Christmas cookie!
Plus they are so easy. I'm sure the kids would have loads of fun decorating these themselves too.