Dollar Tree Fall Wreath: Adorable and Affordable!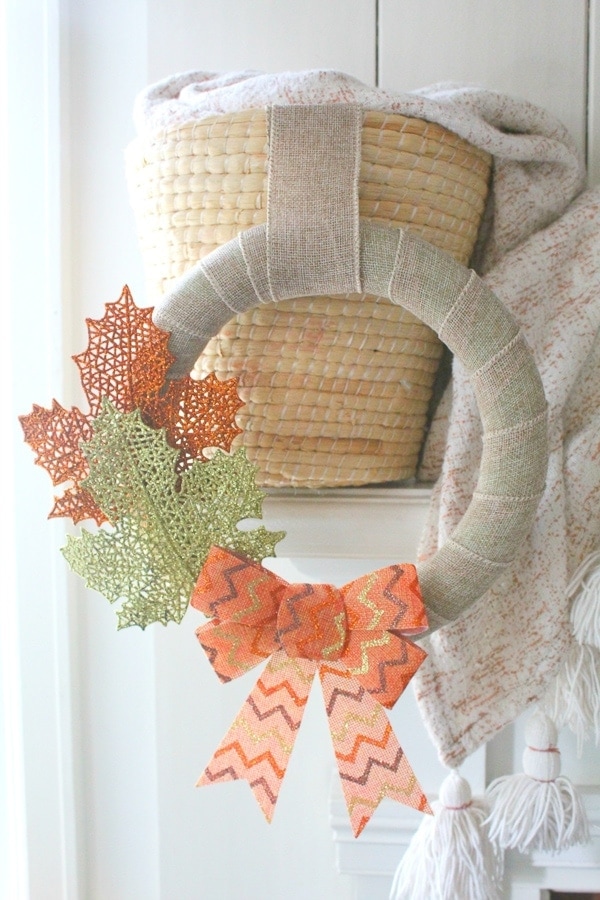 I'm so excited about this dollar store fall wreath!
It looks amazing, and much more expensive than what the supplies actually cost.
Heck, this whole cost under $10!
But it's definitely a classy looking wreath that just screams, it's fall, bust out the pumpkin spice!
We'll even show you how to make this fall-themed wreath yourself entirely from dollar store supplies.
Dollar Store Fall Wreath Supplies
For this craft, we made the wreath entirely supplies found at the local dollar tree. Of course, you can improvise with whatever type of ribbon and accents you like.
Make sure to check out both their craft section and seasonal section to see what they have.
The hot glue gun and scissors we already had on hand, but you could easily pick those up there too.
Green floral foam wreath form
Thick burlap wire ribbon
Large glittery leaves
Burlap Bow
Hot glue
Scissors
How to Make Your Dollar Store Fall Wreath
Start by grabbing your green wreath form. Dab a bit of hot glue on the end of the burlap ribbon.
Pree it on to the inside of your green wreath form and hold for a minute until the glue dries.
Wrap the burlap ribbon around the wreath tightly, and overlap the edges a little as you go.
Cover the entire wreath with the burlap ribbon until no green is visible.
Secure the end of the burlap in place with a few extra drops of glue.
Grab your glittered leaves (or other chosen accents) and add a generous amount of hot glue to the back.
Press the leaves against the wreath in a spot of your choice.
We put ours toward the bottom.
Add a few leaves in a cluster form and allow the glue to dry. We only ended up using two of them.
Now add your decorative fall bow. We placed ours toward the bottom right where the leaves ended.
Add a good amount of glue to the back of the bow and pres tightly against your wreath until the glue dry's.
Now your wreath is ready to hang!
You can use a wreath mount or an extra piece of burlap at the top to hang it from.