How to Make DIY Confetti Poppers: 4th of July Fun!
Looking for a fun and easy DIY Confetti popper? These simple poppers are a blast to make, super easy to put together and fun to pop!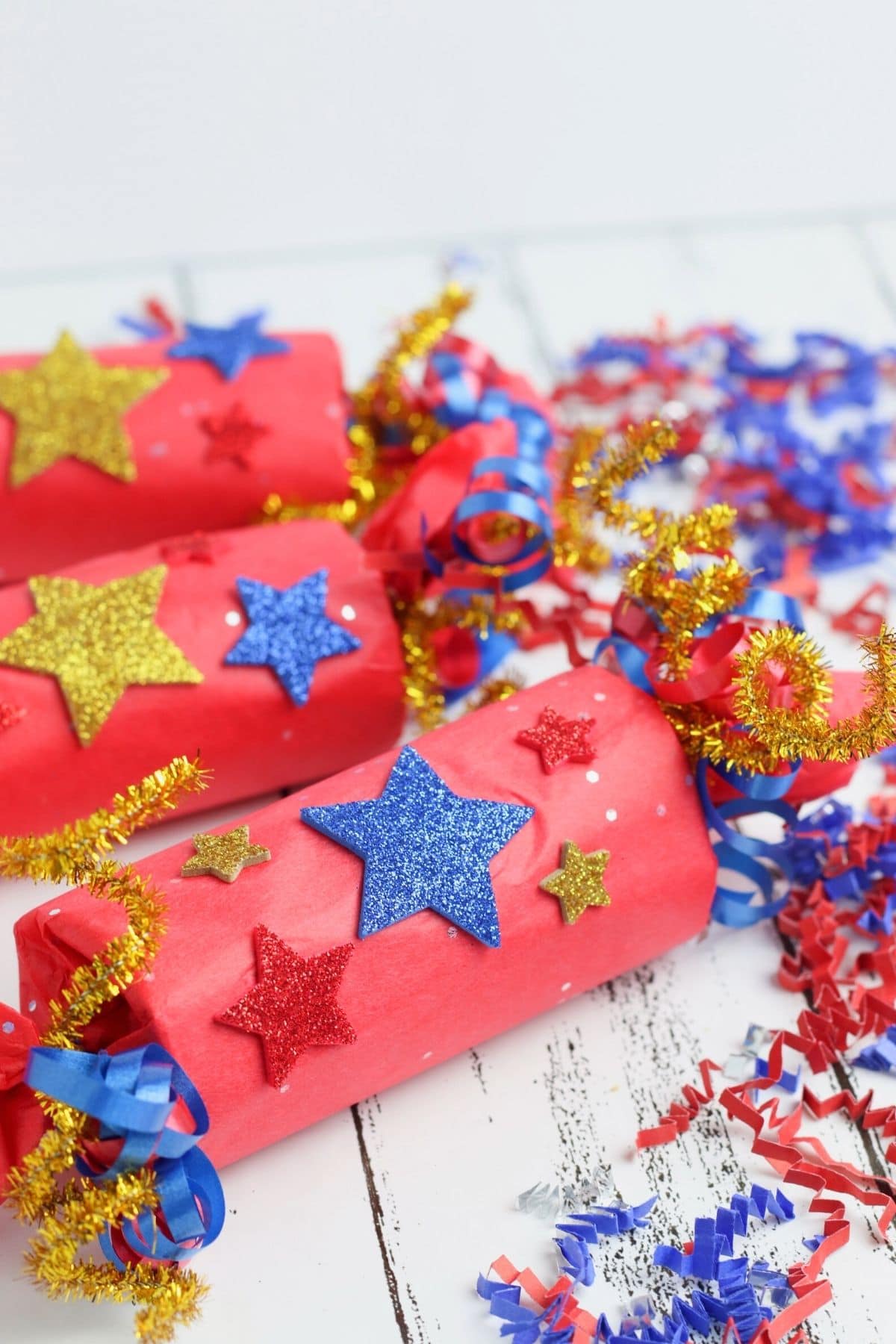 With 4th of July coming around the corner, we made some DIY confetti poppers to help us celebrate! 
We've been whipping up lots of fun summer crafts for kids. And these have been a blast to make.
These handmade poppers are made from paper tubes, aka toilet paper tubes, and our own diy confetti. Best part is they are so easy!!
We made these without balloons, because we didn't have any on hand. But that didn't stop us from making a party popper fit for the occasion.
Supplies Needed for DIY Confetti Poppers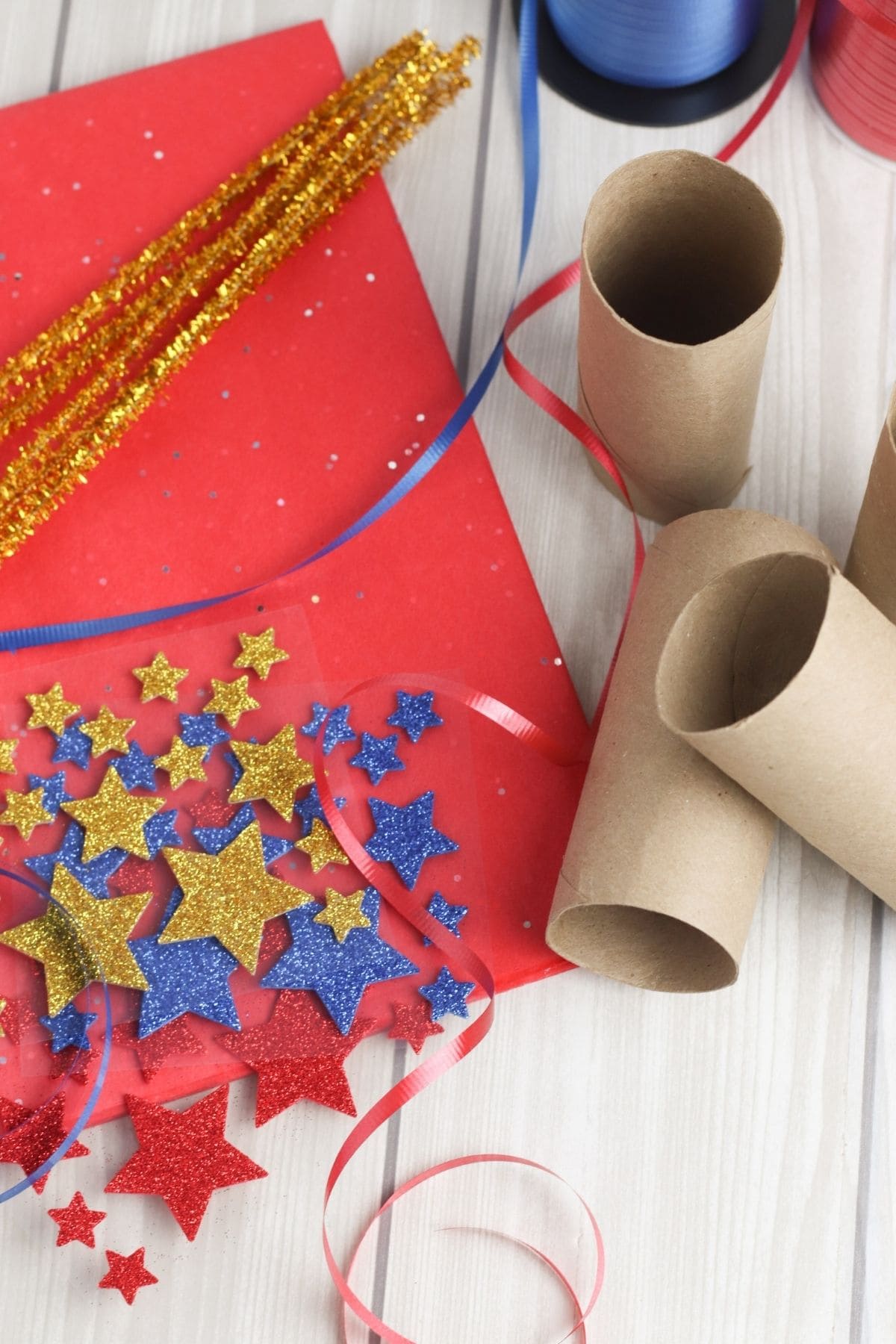 For these party poppers you'll need the following supplies:
Empty toilet paper roll
Colored tissue paper (we used red)
Paper Confetti
Red and blue ribbon
Gold pipe cleaners
Star stickers or cutouts
How to Make DIY Confetti
For these poppers, we wanted to use homemade confetti.
To do this, we simply crinkled up red and blue construction paper, and cut them into thin strips
.If you want smaller confetti, you could just as easily cut the paper into tiny squares.
Of course you can totally purchase confetti instead! There are tons of great options out there. And it doesn't even have to be actual confetti, you can use curled up pieces of ribbon or candy or whatever else you'd like to fill them with.
Here are some fun things we found that we may try next time:
How To Make Party Poppers
First, gather all of your supplies so they are in easy reach.
You can make just one popper if you like, but the more poppers you have, the more fun!
I also suggest reading through the instructions once and then attempt your craft while you follow along.
To make your own confetti poppers start by gathering your supplies. Grab one piece of your tissue paper and fold it in half.
Wrap it around an empty paper roll and use a bit of glue it in place. A little glue will go a long way when using tissue paper.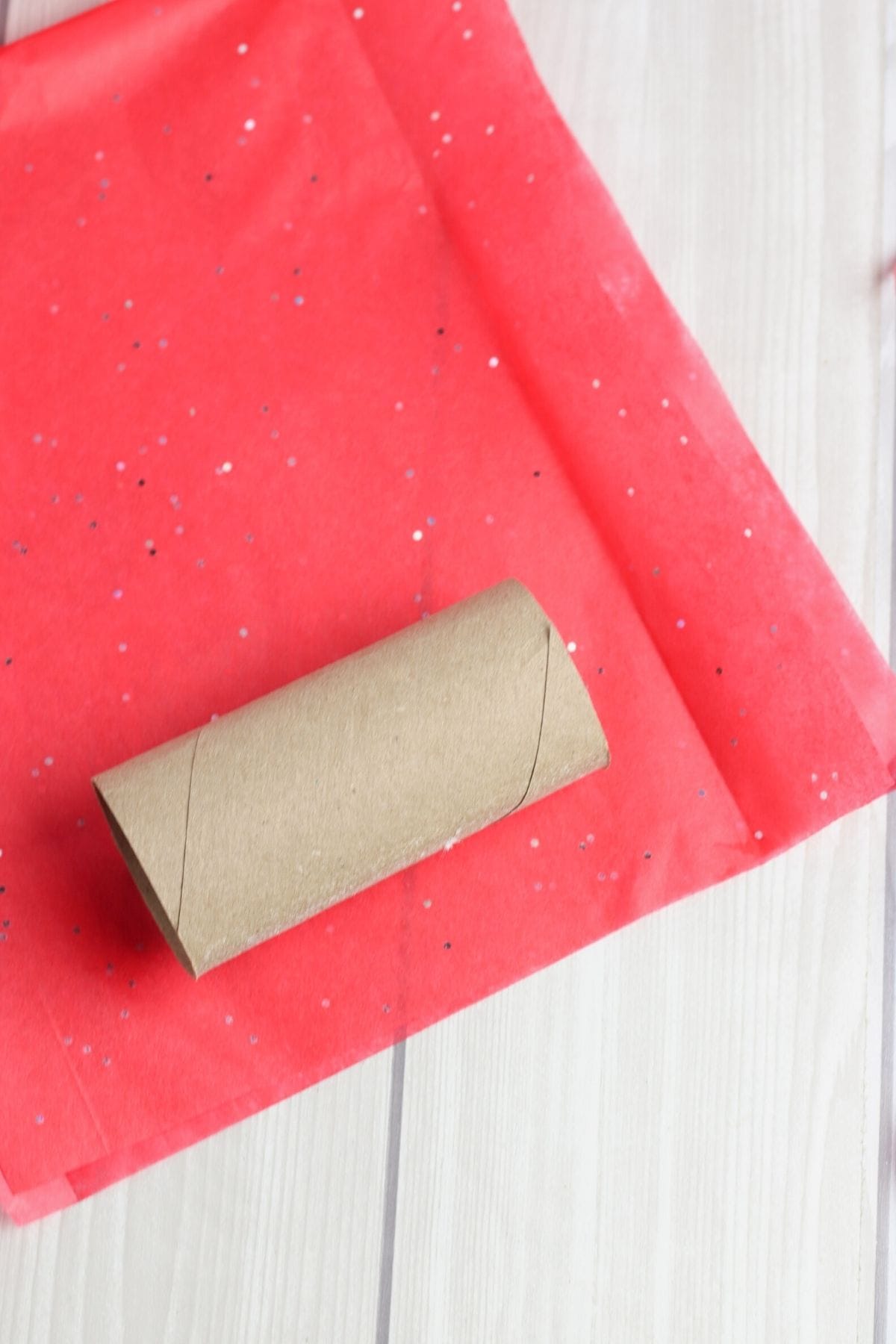 The tie a ribbon around one end of the tissue paper to close it off. Make sure to use firm but gentle pressure as you don't want to tear the tissue paper.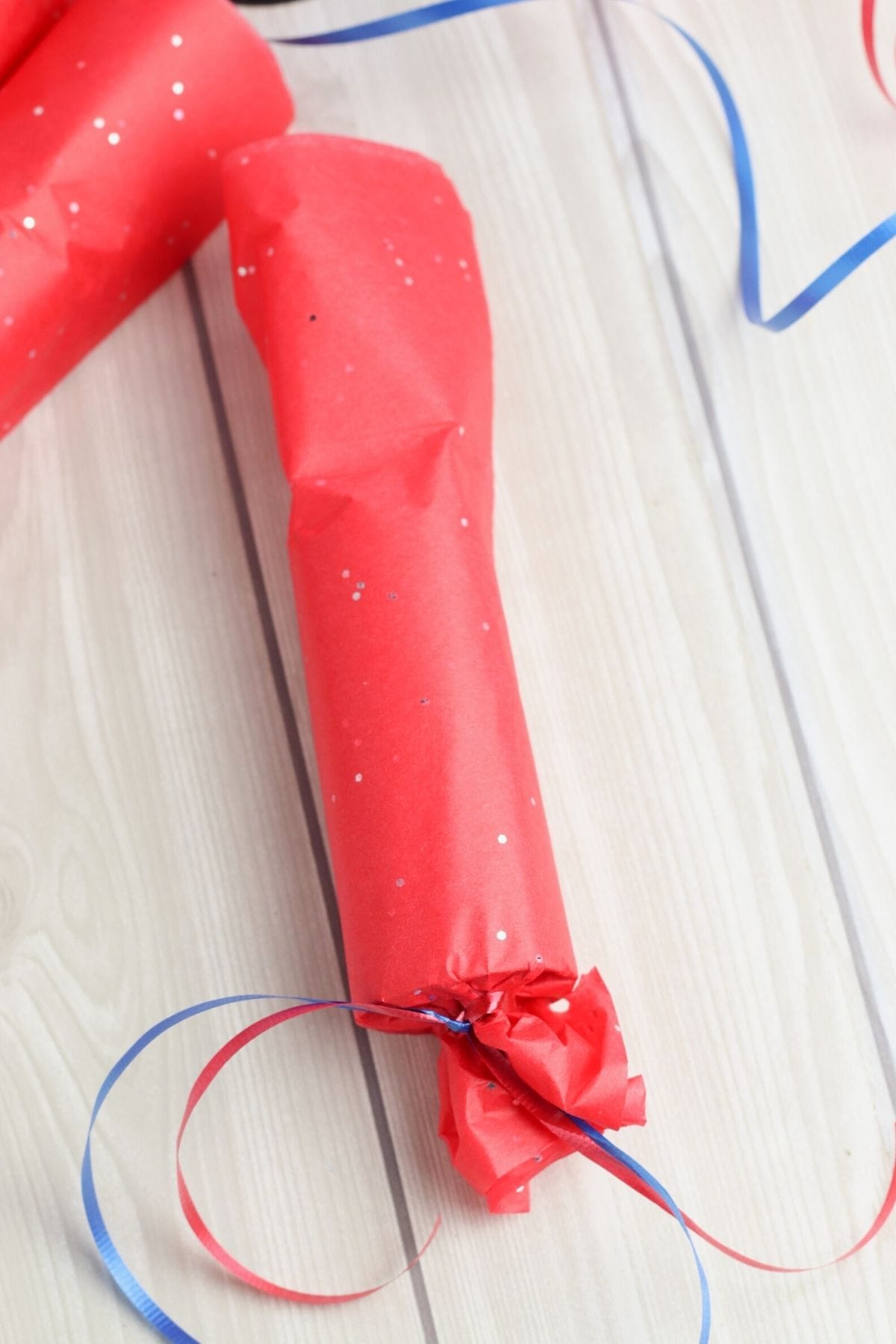 Now, pour your paper confetti or other fillers into the tube through the open end.
When the toilet paper roll is full of your confetti, you can then tie off the open end of your popper with red or blue ribbon to close it off.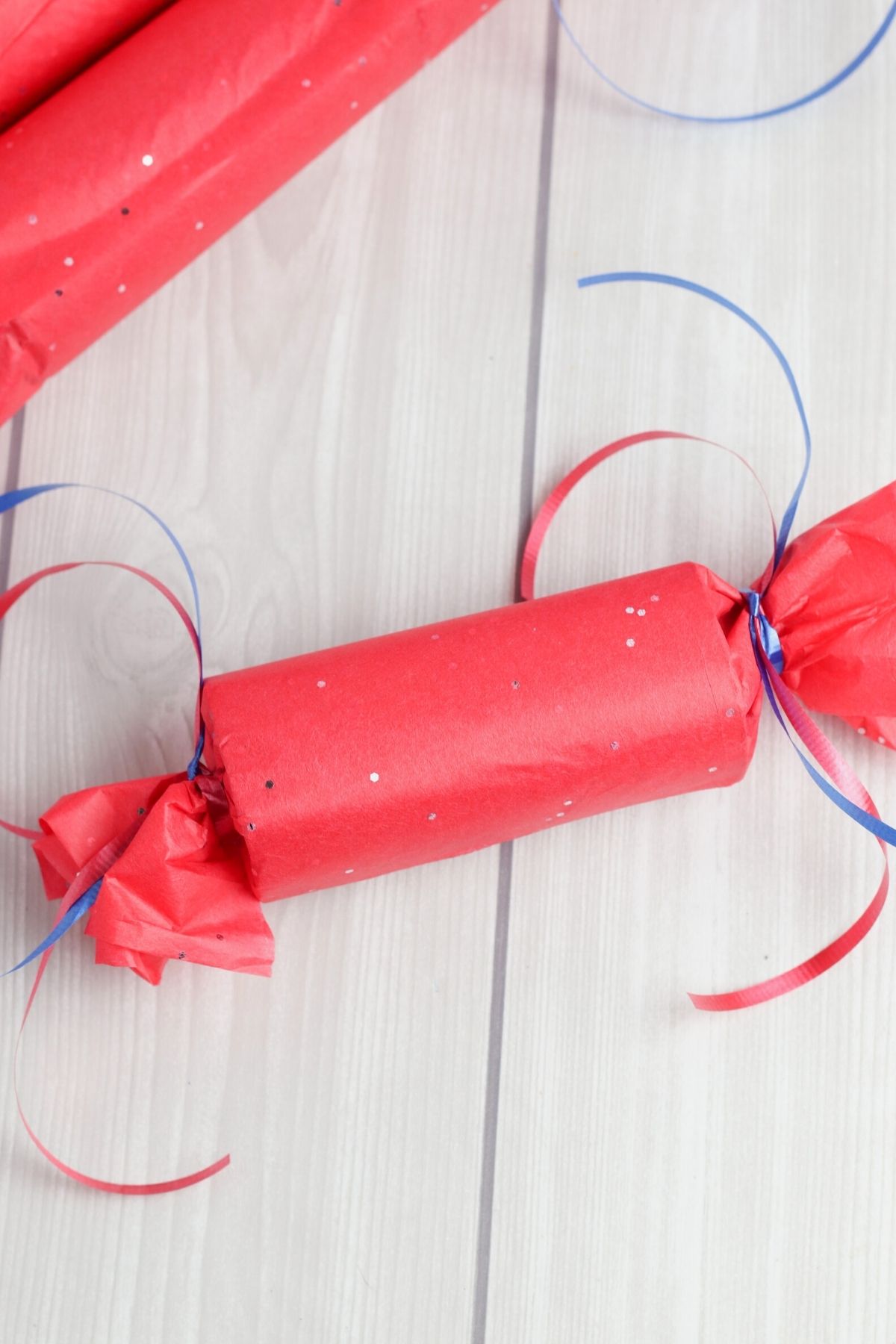 Using scissors, curl the ends of your ribbon by running the side of the ribbon over the sharp edge of a pair of scissors.
Then use a gold pipe cleaner to decorate each end of your handmade confetti poppers. It adds a fun pop of shiny party fun.
You can curl the pipe cleaner by wrapping it around a pencil or pen.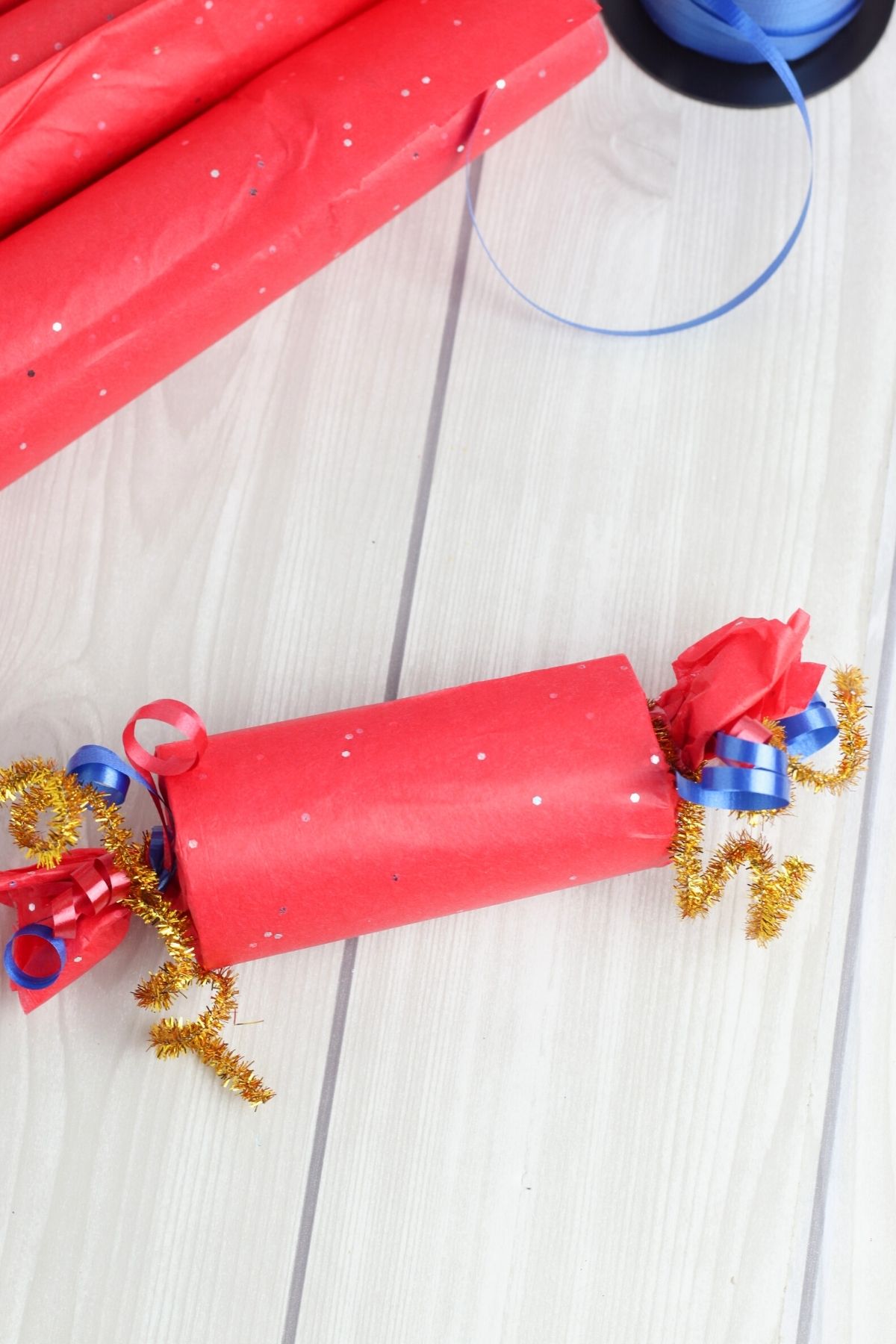 Aren't they cute already!Now you can decorate the popper however you like. Since we are using these for the 4th of July, we used star shapes.
This is a part that the kids love doing most. You can decorate your popper with anything you like. If you don't have the star stickers, no problem!
You can grab some of our star templates and cut out your own from craft paper and glue them on with a dot of glue.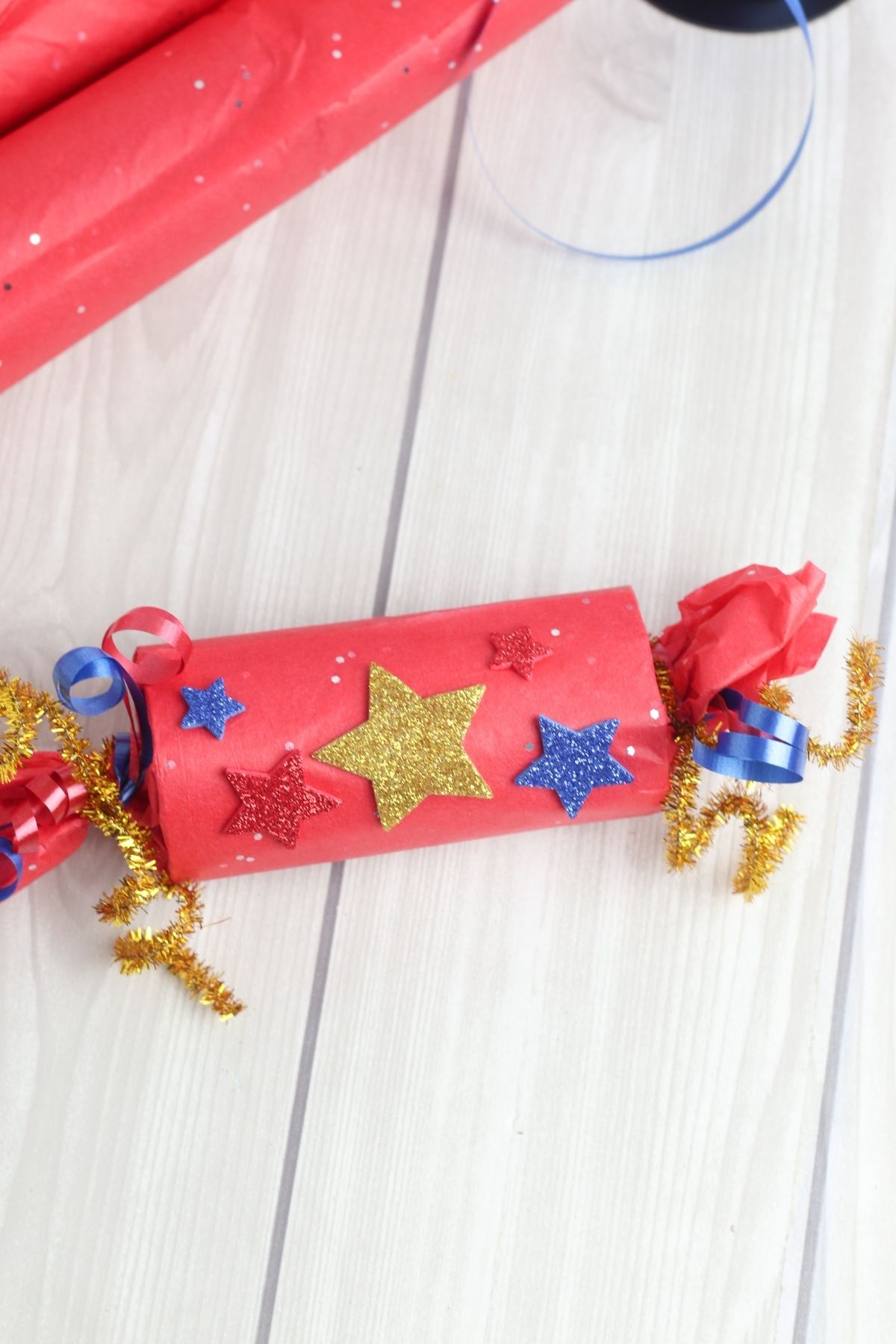 And now your homemade party poppers are all done!Of course, next comes the fun part!
Once you're ready to use your poppers, simply pull hard on both ends at the same time while holding it high in the air.
The confetti will release! They may not be as quite dramatic as poppers made with ballons, but they are still loads of fun.
And I certainly didn't get any complaints.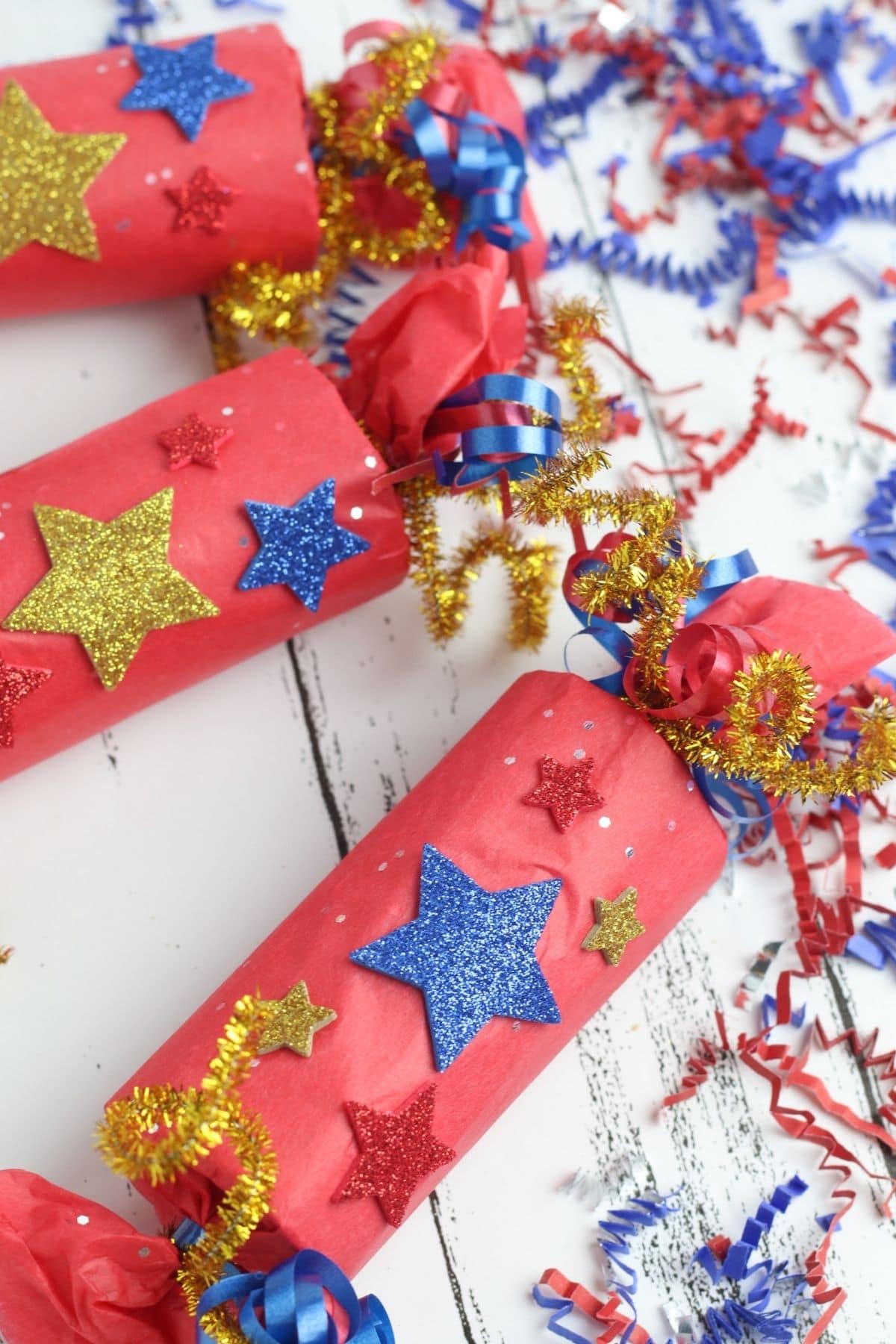 You could also fill the poppers with little candies if you want an extra surprise.
These would look great stacked in a bowl for a 4th of July BBQ or party, or used as place holders!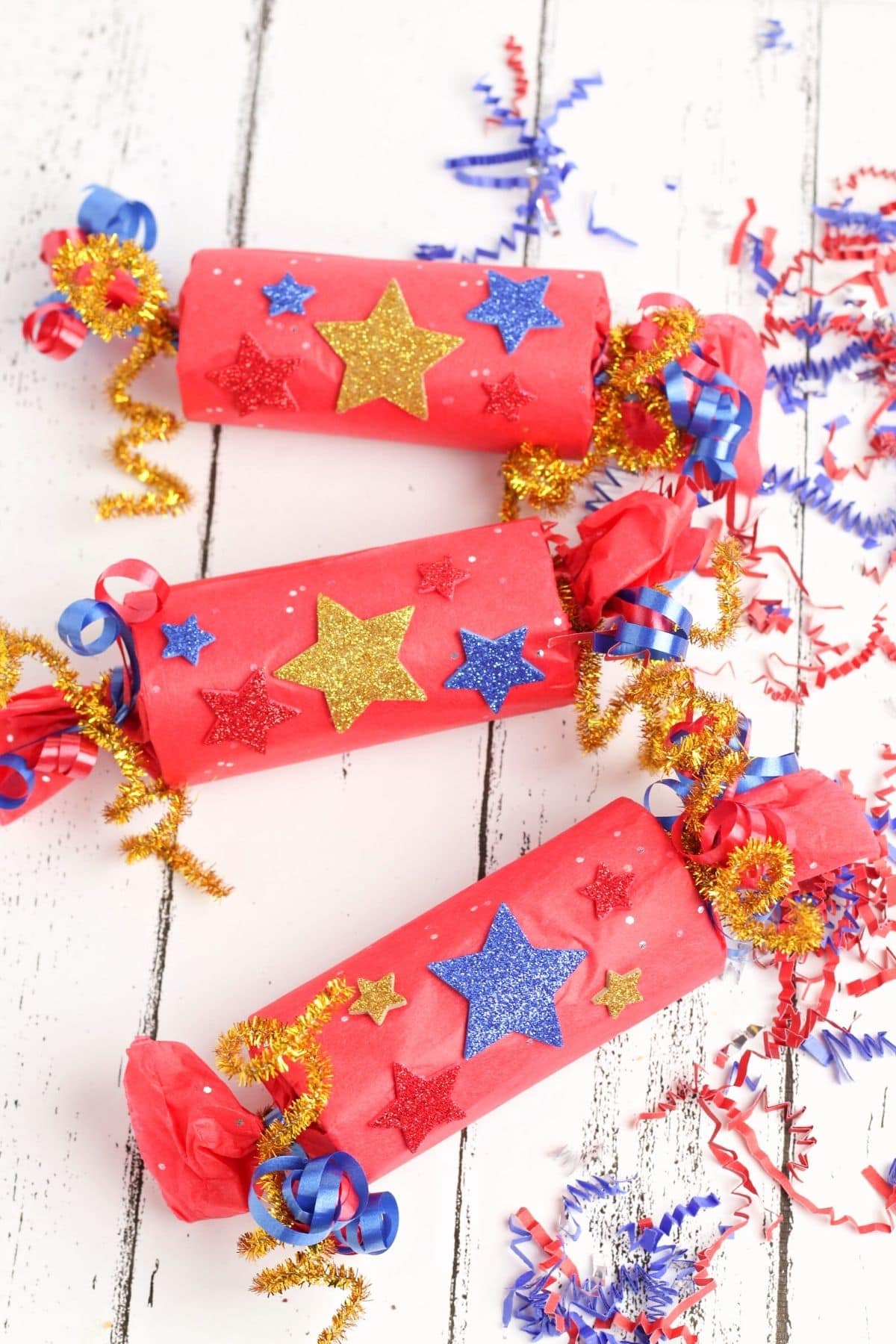 Occasions to make Party Poppers for
We think that DIY confetti poppers are great for all sorts of occasions. Here are some of our favorite holidays and events that would be perfect to create your own party poppers for:
Gender Reveals: Gender reveal confetti poppers would be so much fun to make and use! You could make a popper for each guest and everyone can pop them together to reveal the baby's gender.
New Year's Eve: New year's eve is the perfect time for confetti and celebration! Create a few gold and silver ones for your next new years eve party.
Easter: Pastel confetti and pretty pale poppers would be great Easter basket fillers!