Easiest Christmas Stovetop Potpourri (Best DIY Gift)
This Christmas stovetop potpourri gift is a perfect DIY Christmas gift to give during the holidays! The simmering spices will fill the house with Christmas spirit and make every day during the season feel just like Christmas day.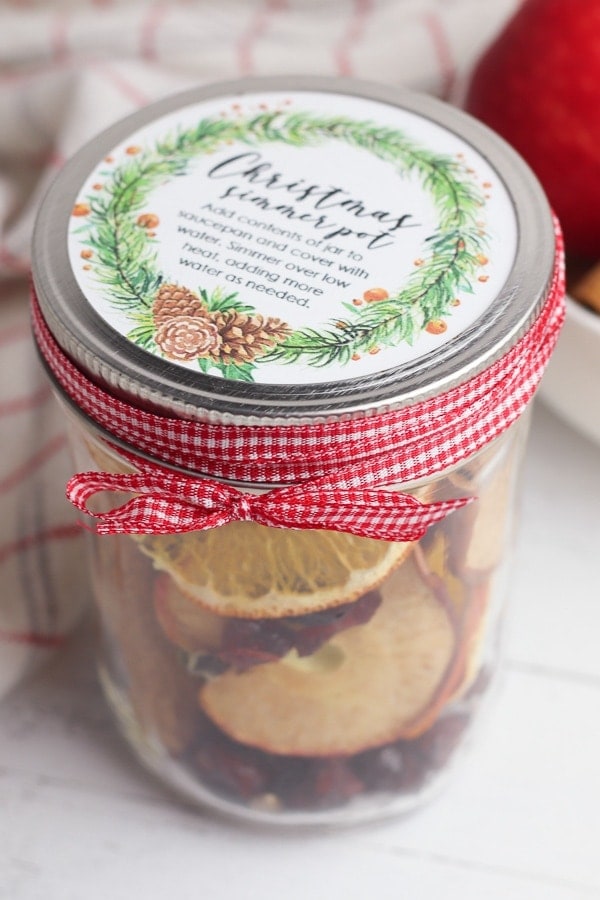 Who doesn't love all the wonderful smells of Christmas during the holiday season?
The aroma of simmering spices for Christmas, like orange, apple, cinnamon and cranberry can make the whole house feel comforting and warm.
This potpourri recipe has been one of my favorite mason jar Christmas gifts to give.
We even included a special printable with the potpourri simmer pot instructions to include on the lid of your jar to complete the gift.
Supplies Needed for Stovetop Potpourri Gift
We used easy to find ingredients for our potpourri recipe. You can get all of these items in the grocery store.
If you are making these to give as gifts, you'll need the following for each jar you plan to make.
1 pint-size jar
1 orange, sliced thinly
1 apple, sliced thinly
1/2 cup of dried cranberries
3 cinnamon sticks
So, if you plan on making 4 jars to give as gifts, you'll need to times the ingredients above by 4.
You'll also want to grab our free printable gift tag to put on the top of your mason jars and maybe a bit of ribbon to finish each jar off. 
You can find the printable gift tag in our printable library!
Lastly, you'll need a baking sheet and a wire rack to dry your fruits.
Simmering Spices for Christmas
The best part about creating a Christmas stovetop potpourri, is that you can customize the scents you want your's to have.
When making homemade potpourri for Christmas, you'll want to include spices that remind everyone of the holidays.
Even though we only used cinnamon in our stovetop potpourri, you can include other simmering spices that smell like Christmas.
Some of the most recognized spice smells for Christmas include:
Cinnamon
All spice
Star Anise
Whole Cloves
Nutmeg
Fresh Rosemary sprigs
Cedar Sprigs (Like from a Christmas tree!)
Fresh cranberries
Vanilla Extract
Really you can use either ground spices or whole spices. While I prefer the look of cinnamon sticks, ground cinnamon would work too. Along with ground nutmeg instead of whole nutmeg.
You can add more of these spices to your potpourri recipe, or just keep it simple and use our recipe.
I will say, I love the idea of cutting off branches from your own Christmas tree to include as a gift.
What a personal and special way to give a bit of your Christmas spirit to your loved ones.
It's a fantastic gift and will make their home smell amazing.
How to Make a Christmas Stovetop Potpourri
Time to Make: 4 hours 10 minutes
To make this Christmas potpourri, you first need to dry your fruits.
Since we are starting with fresh apples and fresh oranges, you'll want to slice both fruits very thinly.
Place the orange slices and the apples slices on a single layer on a wire rack. To make this part easier, I recommend place the wire rack over a baking sheet.
Space the apple and orange slices in a single layer, allowing enough room between them to fully dry out.
Place the wire rack on top of your baking sheet and bake at 200 degrees for 3 to 4 hours.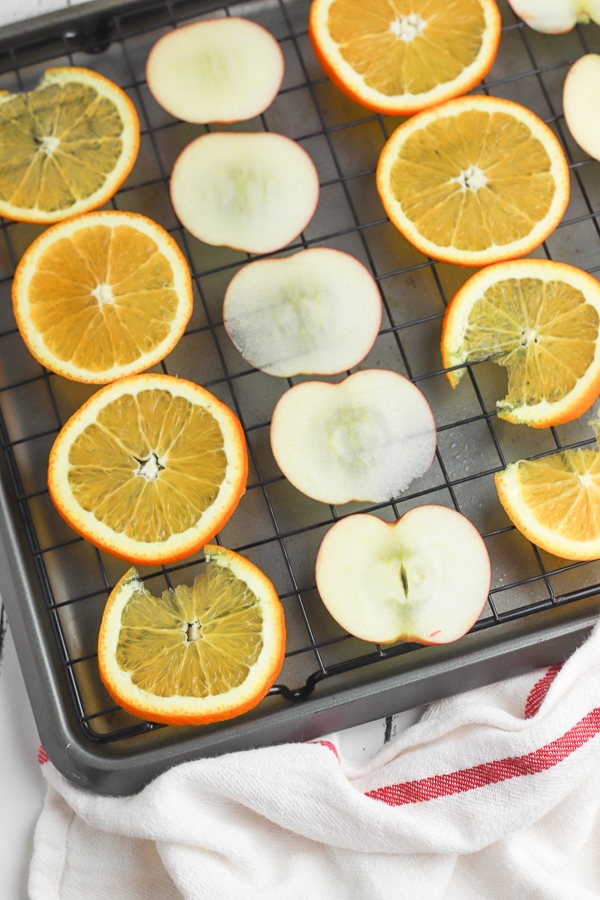 Once you remove your dried fruit from the oven, allow them to cool completely before putting together your Christmas gift jars.
Putting Together Your Stovetop Potpourri Gift
Once your fruits are completely cooled, start assembling your potpourri into the mason jars.
We layered our potpourri to make it look pretty in the jars.
First, we layered some cranberries, then the apples and oranges,
Next, we placed the cinnamon sticks in and relayed more of the fruits until the jar was full, but not overcrowded.
Once your homemade potpourri jars are finished, now you can start to decorate them.
Print out the printable Christmas gift tag and cut out around the edges.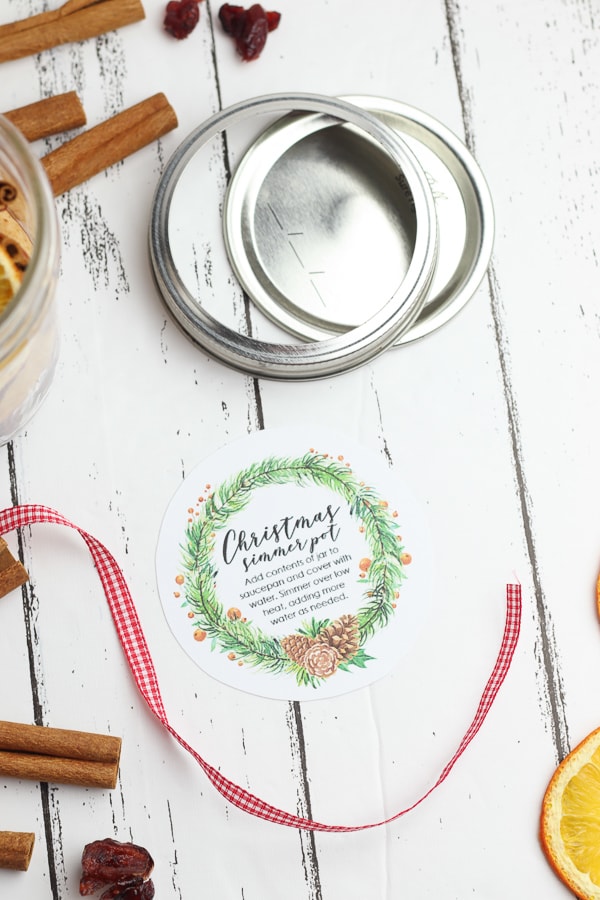 Put the gift tag on top of the mason jar lid and screw the outer ring into place to secure it down.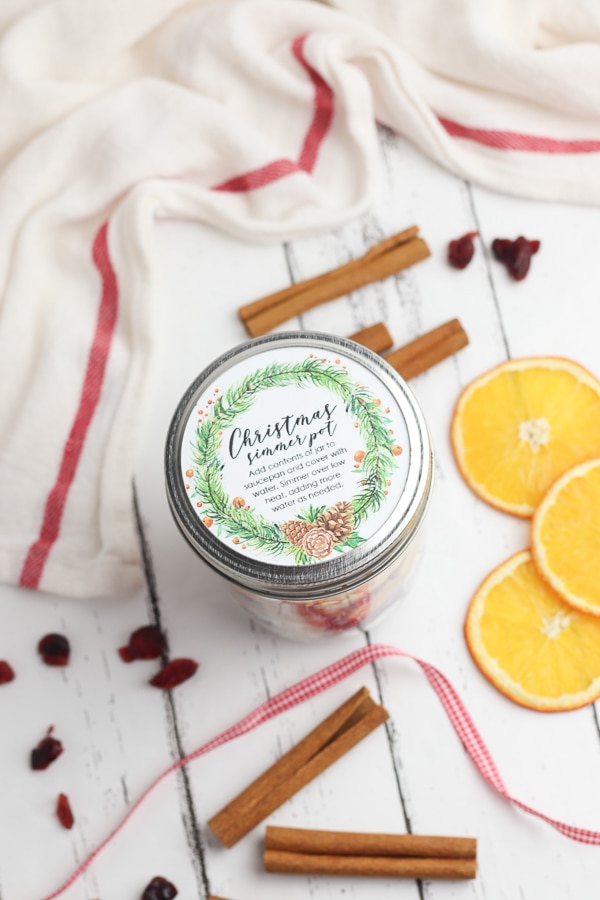 Lastly, decorate your jar with a bit of Christmas themed ribbon. You can wrap it around the jar, or wrap it around the lid like we did.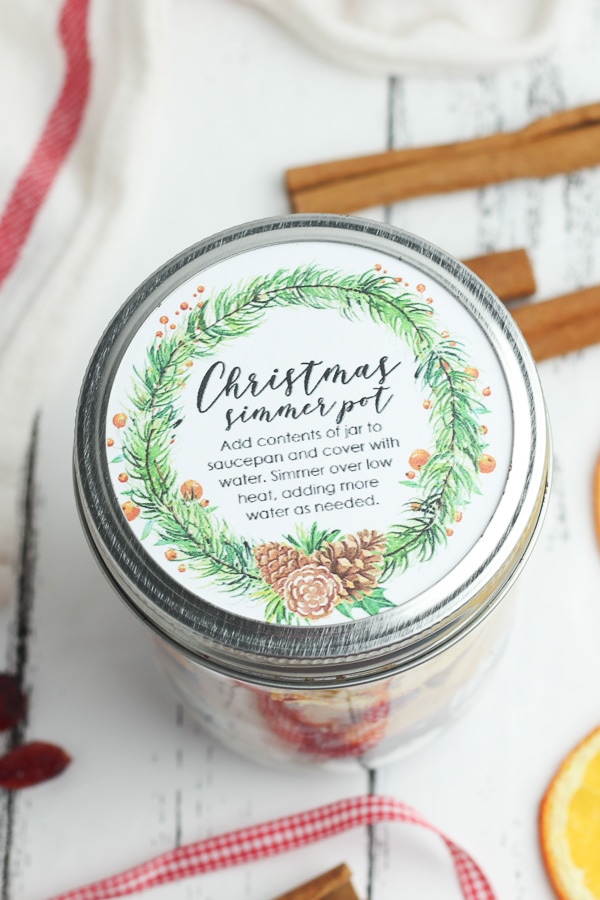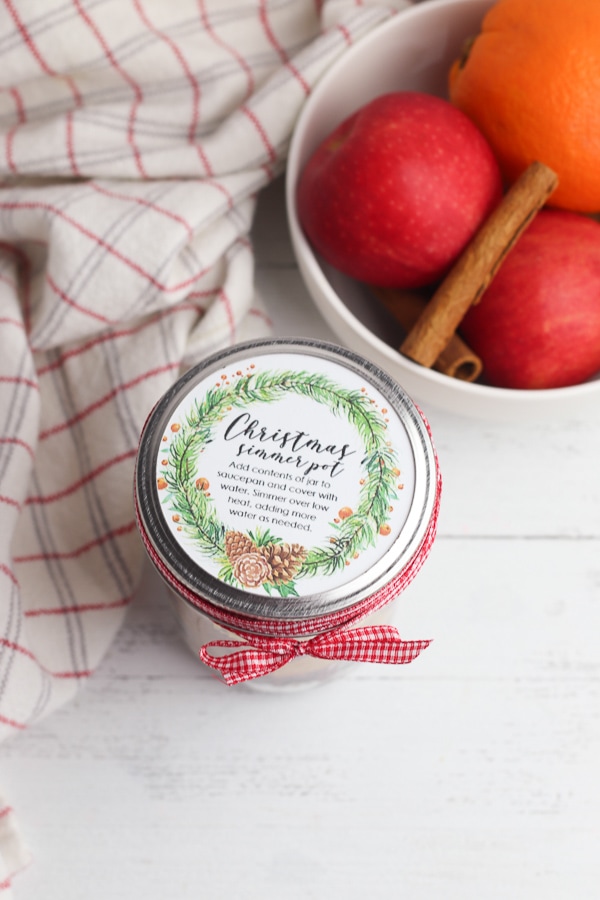 And that's it. This Christmas stovetop potpourri is always a hit. And don't forget to grab the free printable tag if you are using this as a gift idea.
How to Cook Christmas Potpourri Mix on Stovetop
We included the instructions for use on the printable gift tags.
Basically to make your house smell like Christmas, simply empty all the contents of the jar into a medium-sized pot.
Cover everything with water and bring to a boil.
Then let the Christmas potpourri simmer over medium-low heat. Soon the whole house will be filled with the delicious scents of Christmas morning.
Make sure not to leave a simmering pot unattended.
Trust me, Anyone who gets this Christmas scented potpourri from you, will love it! I know i sure would appreciate such a sweet handmade gift.