Today we are making these east American flag cupcakes! Turning regular cupcakes into fun 4th of July cupcakes is so easy using just a few M&M's.
It's going to be 4th of July before we know it!
We thought we'd get ready and celebrate by creating these adorable American flag cupcakes!
We turned regular vanilla cupcakes into a patriotic cupcake, but making an American flag on the top of the cupcakes using only red and blue M&M's!
This recipe is so stinkin easy that it totally feels like cheating. But the cupcakes are so delicious and so much fun, that no one will notice!
These would be perfect to bring to a 4th of July BBQ! 
Ingredients
Your favorite premade white cupcakes (It can from a cake mix or a homemade cupcake.)
White frosting
Red and blue mini M&Ms
Decorating piping bag
Piping bag tip
Cupcake liners
How to Make Your American Flag Cupcakes
We choose to make American Flag Cupcakes because what else screams 4th of July then the good ol Red White and Blue flag?
These cupcakes are seriously so easy and fun to make. The only problem you may run into is eating up the M&Ms before you are finished.
So make sure to just avoid the red and blue ones!
Bake your cupcakes according to your favorite recipe, or by following the directions on the box.
Now let your cupcakes cool completely before icing them.

Ice your cupcakes with the vanilla icing. We used a piping bag to get a smoother more finished look for cupcakes.
If you've never used a piping bag, its pretty easy. You simply cut off the tip and stick in your decorating tip. You then use a big spoon to fill up your piping bag.
Yes, you can even use store bought icing for this! I've done it and it worked great.
In a pinch, you could ice your cupcakes without the decorating bag, but it really adds a finished look.
Now place 6 of the blue M&M's in the left corner of your cupcake, in a triangle shape.
Then use the red M&M's to create the stripes of your American flag.
Repeat using all of your cupcakes.
You'll have an adorable, American flag themed cupcake batch ready for any 4th of July party!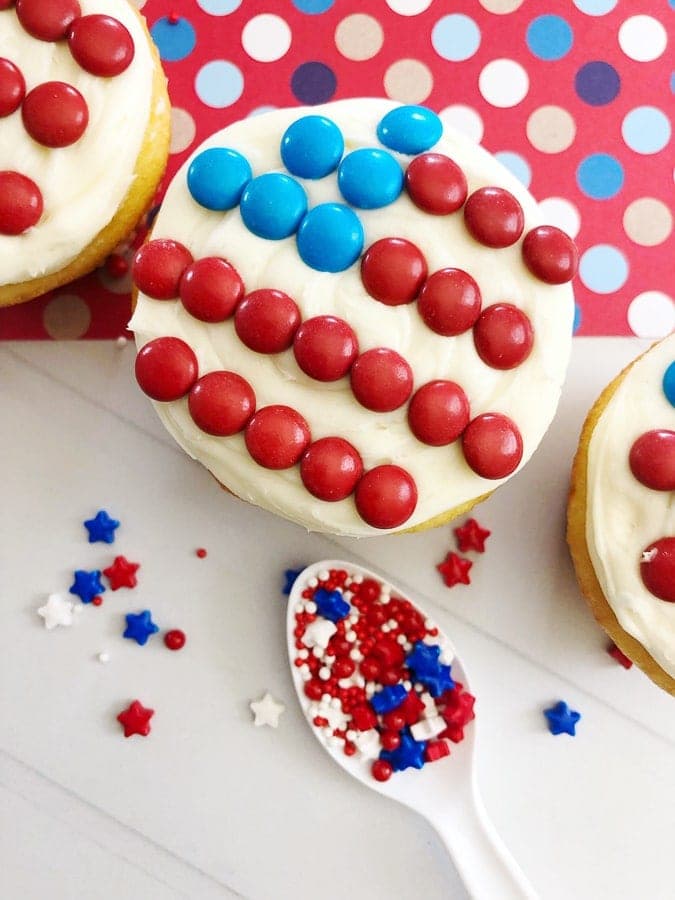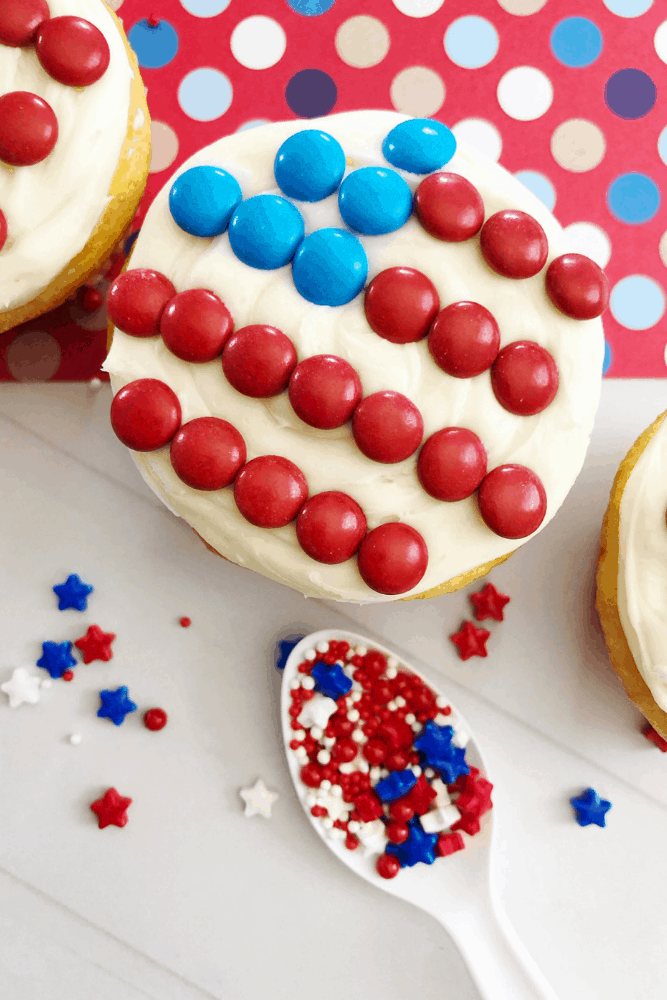 Yield:

12 Cupcakes
American Flag Cupcakes
Additional Time:
30 minutes
Super cute American Flag Cupcakes. These are so easy yet so tasty!
Ingredients
White Cake Cupcakes
Vanilla Icing
M&M minis
Instructions
Bake up your favorite white cupcakes.
Let your cupcakes cool completely.
Using a piping bag, pipe vanilla icing onto each of your cooled cupcakes.
Separate blue and red M&M candies from the rest of your M&Ms.
Starting with the blue M&Ms, create a blue triangle with 6 of the candies in the upper right corner of your cupcake.
Finish your American flag design by creating stripes down the rest of your cupcakes with the red M&M's.
You'll have a dozen American flag cupcakes in no time!
Notes
We recommend buying a big bag of the M&M minis. If you plan on making more than a dozen of these cupcakes, you may want to purchase more than one bag.