Today we are making some 4th of July Oreos! This is a super easy and quick treat that look amazing at parties and celebrations. We used oreos, candy coating and fun patriotic sprinkles!
4th of July is right around the corner!
It's time to break out all the fun patriotic treats and crafts to celebrate. 
We already made some 4th of July poke cupcakes and 4th of July cake pops.
So today we have a special treat for your Independence day party.
4th of July Oreos!
I'll admit the first time I made Oreo pops (like these St. Patties Day ones) I wasn't sure they'd taste all that great.
But these things are delicious! The kids love them. I love them. Plus these are rich enough one or two go a long way!
Why not whip up a batch for your 4th of July party or BBQ?
Supplies needed for 4th of July Oreos
1 Pack of Oreo Cookies (16oz)
2 Packs of Blue Candy Melts (12oz)
2 packs of red candy melts (12oz)
4th of July Sprinkles
How to Make These DIY 4th of July Oreos
With the supplies above, you should be able to turn the entire package of Oreos into 4th of July Oreo Pops. If you don't need that many, you could use only 1 pack each of the blue and red candy melts.
Step 1: Prep Your Area
Line a baking sheet with wax paper. This will help make sure your Oreos don't stick to the pan.
Step 2: Melt your Red and Blue Candy Coating
Next, melt your candy melts according to the directions on the bag. If the candy is too thick after it's melted, you can add a small amount of vegetable or coconut oil to it. Add in a teaspoon at a time until you get a good consistency.
Whatever you do, do NOT add water. You'll end up with a separated mess. (I know from experience.)
Step 3: Dip the Cookies
Dip each of your cookies into the candy melts. Remove your cookie and tap the extra off back into the bowl.
If air bubbles for you can pop them with a toothpick or smooth your candy with a spoon.
Place your cookie on the lined pan and allow it to set completely before moving to the next step. We popped ours into the freezer to speed up the setting process.
Step 4: Add Stars and Stripes
While your cookies set, transfer some of your melted candy into zip lock freezer bags. Snip one corner, creating your own makeshift piping bag. (Of course, you could use a real piping bag if you have one.)
Once your Oreos have hardened enough, create solid lines of alternating colors across your cookies in stripes. Then add some 4th of July sprinkles.
Step 5: Finish Your Cookies
Allow your cookies to completely set at room temperature or in the fridge. You can leave them as is or add cake pop sticks to the bottom to create Oreo Cookie Pops.
Store in an airtight container at room temperature until ready to serve.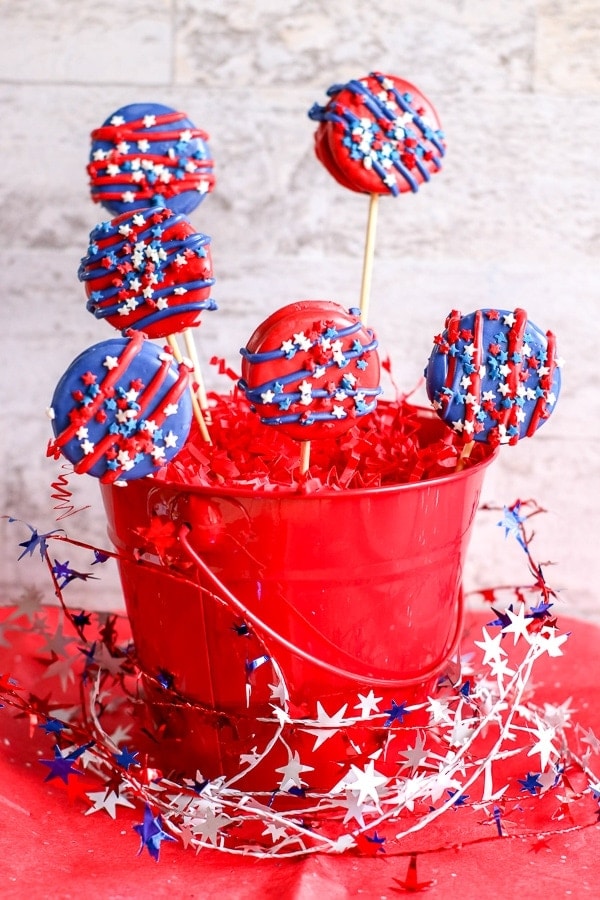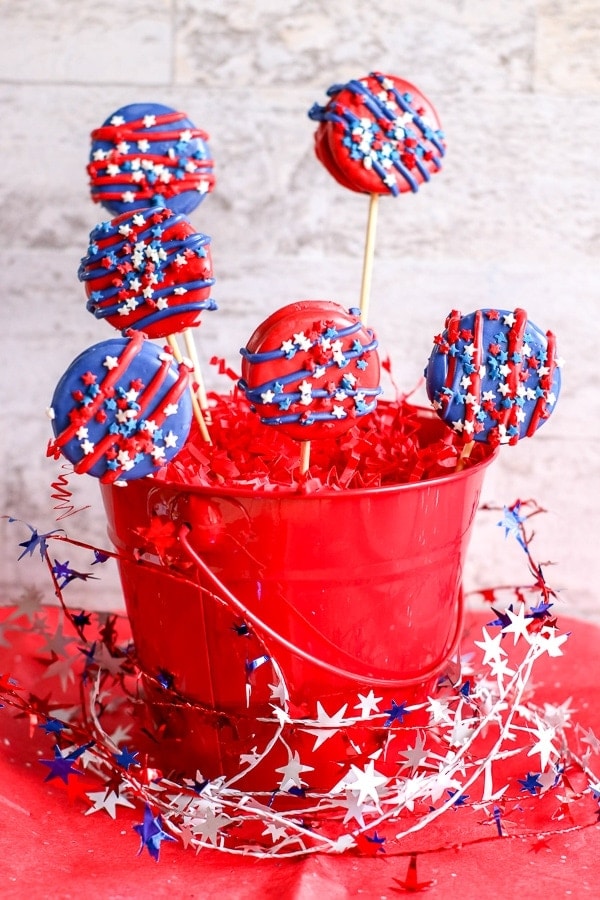 4th of July Oreos: Adorable Red White & Blue Oreo Pops
Materials
1 Pack of Oreos
2 Packs of Red Candy Melts
2 Packs of Blue Candy Melts
4th of July Themed Sprinkles (Red, white and blue)
Instructions
Line a baking sheet with waxed paper and set aside.
Melt your candy melts according to package directions.
Dip each cookie into melted candy. Remove cookie, tapping gently against the side of the bowl, allowing excess candy to return to the bowl. If air bubbles form you can pop them with a toothpick.
Place the cookie onto the waxed paper. Allow to set completely before proceeding to the next step.
Transfer the rest of your melted candy coating to a ziplock bag and cut the corner. (Or use a piping bag.)
Create solid lines of an alternating color across the cookie in stripes and add your 4th of July sprinkles.
Allow cookie to set completely at room temperature or refrigerate for faster results. Store in an airtight container at room temperature.